They shall grow not old, as we that are left grow old
836 Guests, 33 Users (4 Hidden)
MilEME09, Old Sweat, LexG, cavalryman, Quirky, Crossfire, SGT-RMSCLK, dshulga, Old EO Tech, Chief Stoker, Technoviking, GK .Dundas, SupersonicMax, Bruce Monkhouse, wordsmith, MARS, CaptPilk, colinreid16, PuckChaser, CF1994, Remius, ringo, Alpha dog, FosterHask, Tango2Bravo, kkwd, WestCoaster, marvp90, Mike Bobbitt
Total Members: 59,512
Total Posts: 1,381,822
Total Topics: 71,497
Total Categories: 14
Total Boards: 121
Army.ca Subscriptions
Frequently Asked Questions
Q: What is an Army.ca Subscription?
A: An Army.ca Subscription is an annual payment of $30 which gives you additional features and capabilities on Army.ca (as well as Milnet.ca, Navy.ca and Air-Force.ca), and allows you to publicly show your support for the site.

Q: How do I subscribe?
A: Simply select the Subscription Item you'd like sent to you and click on the image below:
NOTE: You must log in before you can purchase a Army.ca Subscription.

Q: What if I'm not a PayPal user? Can I still subscribe?
A: Yes! Although PayPal is the easiest way to pay, you can also send payment via these methods:

e-mail transfer to Army [at] Army.ca
Personal Cheque, made out to Army.ca Technologies Inc., PO Box 144, Port Williams NS, B0P 1T0
Money Order cashable in Canada
--> Please click here to use the non-PayPal registration system. <--

Non-electronic payments will be processed once they have cleared. Note that when paying by any of these means you can pay for more than one year's worth of subscription if desired.

Q: What does a subscription entitle me to?
A: As a new Subscriber, you get the following:
First year: A subscription item (see list above), Army.ca temporary tattoos, and an Army.ca badge, mailed to your door *
All external site advertising will be disabled
Your account will be publicly "tagged" as an Army.ca Subscriber
Access to a "Subscribers Only" forum
Ability to post events to the forum calendar **
Ability to edit existing Quotes in the Military Quote database **
Ability to edit existing Definitions in the Military Terms database **
Ability to delete your own posts
Ability to Request Notifications on New Topics (Subscribe to a forum)
Ability to edit photo information and comments in the Photo Gallery
Unlimited Personal Message storage
Ability to set your own unique "personal status" visible to all users
* Canada only, users from other countries may need to pay additional shipping. Item size and colour preference will be honoured based on available stocks. If your selection is not available you will be contacted and may elect for an alternate choice or to wait for the next re-order.

** Any submissions or modifications may be rejected if they are deemed unsuitable.

Note: The services and features available to subscribers are subject to change at any time without notice. Historically, this has meant the addition of a few small features here and there.

Q: What do the badges look like?
A: They are 6" wide and 2" high with a velcro back, and come in Cadpat TW (woodland) or Cadpat AR (Desert). Here is a photo to give you an idea of the size and quality: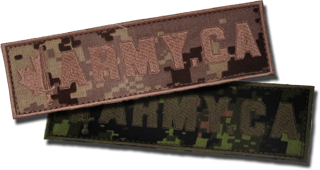 Q: Do I need a subscription?
A: No. All core services are available to everyone, subscriber or not.

Q: So why would I get a subscription?
A: In addition to all the features listed above, a subscription is the best way to help Army.ca stay alive, and even improve. More subscribers means a bigger "budget" which allows us to improve or add services.

Q: How much is a subscription?
A: $30 annually. Your subscription will automatically be renewed every year unless you cancel it.

Q: How long will it take before my Subscription is activated?
A: That depends on how you pay. Subscriptions purchased via PayPal will be activated instantly, while other methods will not be activated until the payment has cleared.

Q: What if I don't want anyone to know I am a subscriber?
A: By default, the profile of all Subscribers is marked to show that they have contributed to the site. If you do not want any public recognition of your Subscription, simply send me an e-mail and your profile will be reverted back. Note that you will still have all the rights and privileges of a subscriber, though your profile will not indicate your status.

Q: How do I cancel my subscription?
A: Simply click here to view or cancel your subscription. Please note that past subscription payments will not be reimbursed.


February 26
1852:
The troopship HMS Birkenhead was en route to Cape Town when it hit an uncharted rock during the night, about 3 miles off the South African shore, near Danger Point. The ship is believed to have had 638 passengers and crew aboard including 476 soldiers from a number of different regiments of the British Army, on their way to reinforce the garrison in the Cape Colony, but also 7 women and 13 children. The rock tore open the hull, and about 100 soldiers asleep below were drowned drowned immediately. Everyone else mustered on deck, where it was clear the ship was sinking quickly. Only three lifeboats could be used; all the women and children were placed in these, with a few crew to man them.  The senior army officer aboard, Lieutenant Colonel Seton of the 74th Foot, drew the soldiers up on parade on the deck, and emphasised the need for absolute discipline if the lifeboats were not to be swamped.  Some cavalry horses aboard were freed and driven into the sea in the hope that they might be able to swim themselves ashore.  The soldiers stood firm, even as a mast crashed down around them and the ship split in two.  She sank in less than 25 minutes.  Only 193 people survived the ordeal - although the weather was excellent, sharks claimed many of the men in the water, as well as most of the horses.  The tradition of "Women and children first" is popularly ascribed to have its roots in this incident.
1903:
The Kano-Sokoto expedition was mounted to extend British rule thoughout the northern territories of Nigeria, and in particular to suppress the slave trade. On 26 February, a small party of 45 locally recruited soldiers from the Northern Nigerian Regiment, commanded by Lieutenant Wright, were attacked by no less than 3,000 tribesmen, including 1,000 cavalry. For two hours, the soldiers beat back repeated attacks, until eventually the tribesmen started to withdraw in good order. Lieutenant Wright then led his men forward in a charge, and succeeded in turning the withdrawal into a rout. He was awarded the Victoria Cross.
1916:
During the continuing efforts of the Franco-British naval force at the Dardanelles to destroy the Turkish coastal defences, a small party of seamen was landed under the command of Lieutenant Commander Robinson, to demolish a battery at Kum Kale. They were met with heavy fire, and Robinson feared that the men's white uniforms made them too easy a target. He therefore ordered them to remain under cover, and went forward alone. Despite the enemy fire, he succeeded in reaching a gun whose crew had fled, and laid a demolition charge. That gun destroyed, he returned to his men, collected a further supply of explosives, and returned alone to destroy a second position. He subsequently played a leading role in four operations to clear minefields in the straits, and was awarded the Victoria Cross.
1942:
Although the Scharnhorst, Gneisenau and Prinz Eugen had succeeded in escaping from Brest to Germany in the Channel Dash, they remained priority targets. Gneisenau was spotted by reconnaissance aircraft in drydock in Kiel, undergoing repairs to the damage inflicted by a mine during the dash. 49 Bomber Command Wellington, Hampden and Halifax aircraft attacked, and a direct hit was scored on the battlecruiser, in the bows, killing 116 crew and causing such severe damage that she never returned to service. Three bombers failed to return.
1945:
THE HOCHWALD, efective dates for battle honour begin (to 4 Mar 45)
1945:
VC won by Sgt Aubrey Cosens, The Queens Own Rifles of Canada, Mooshof, Germany (posthumous)
1971:
Ottawa Ontario - Ottawa starts program to raise Francophone numbers in the Canadian Armed Forces to at least 28%.
» Download the iPhone/iPad Military History app! «