539 Assault Squadron RM
From Army.ca Wiki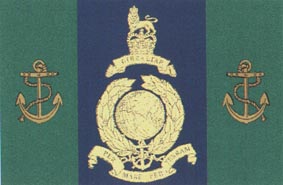 539 Assault Squadron Royal Marines
---
539 Asslt Sqn RM was formed on 2 April 1984 and commissioned operational on 24 July 1984, giving 3 Commando Brigade an integral amphibious movement capability. This was in direct response to lessons learned during the Falklands Conflict in 1982.
Today the Sqn consists of over 100 personnel and is equipped with a variety of Landing Craft including Hovercraft (LCAC), Rigid Raiding craft (RRC), Inflatable raiding craft (IRC) and Landing Craft Vehicle/Personnel. The Sqn is based in Turnchapel on the outskirts of Plymouth, Devon.
539 Asslt Sqn is named after 539 Assault Flotilla which landed on D-Day as part of assault group two onto Gold beach. During the landing Cpl George Tandy (aged 19) was the coxswain of LCA 786 which had lost its steering wheel, so he stood on the rudder with water up to his waist and guided his craft into the beach, under fire for seven miles to land his troops. He was subsequently awarded the Distinguished Service Medal (DSM).
During the Falklands campaign the Sqn was formed for the duration of the operation, carrying out operations to support advance forces, the main formation landings and numerous covert landings of SBS and SAS troops. Most notably the Sqn was pivotal for the amphibious part of the push forward to Bluff Cove.
The Sqn continues to flourish today. It has undertaken no less than 8 operations since in recent years ranging from flood relief in Bangladesh through to evacuation of expatriates from Kinshasa in former Zaire. This is in addition to the supporting the very high tempo of exercises and deployments within 3 Cdo Bde RM with a variety of boat groups and coxswains.
COMMANDING OFFICER
---
Lieutenant Colonel M G H Green Royal Marines
Lieutenant Colonel Mick Green was commissioned into the Royal Marines in 1984 as a non-graduate entry. After completing young officer training he joined 45 Commando as rifle troop commander, during which period he deployed to North Norway and completed an operational tour in West Belfast, Northern Ireland. He then specialised as a Landing Craft Officer and was appointed to HMS Intrepid for 2 years. During this appointment he exercised in Norway, the Mediterranean, the USA and Caribbean. He then served between 1988-90 as a Forward Air Controller in 3 Commando Brigade before returning to landing craft duties as OC Raiding Troop and Operations Officer of 539 Asslt Sqn Royal Marines. This included deployment to North Iraq and Turkey on Operation Haven as the SO3 Coordination in the UK Joint Force HQ.
On completion of junior staff training he served at the Royal Military Academy Sandhurst as the exchange RM Instructor, in this period he instructed 4 officer training platoons before returning in 1994 to 539 Asslt Sqn RM as Second in Command. In 1996 he was appointed as the SO2 Ops(O&) in HQRM where he managed the RM's minor commitments and establishment tables. He was selected for the first Advanced Command and Staff Course at Bracknell in 1997 where he earned an MA in Defence Studies. In September 1998 he joined the Staff of CINCFLEET's HQ at Northwood as the SO2 N1(Personnel); in this personnel staff appointment he led on the implementation of the Investors in People Standard within the CINCFLEET Command, this included securing accreditation for the HQ itself and strategic recognition for CINCFLEET Command as a whole. In addition, he led on the expansion of the Operational Welfare Package into the Fleet Command.
In September 2000 he joined 40 Commando as the senior company commander and the first Officer Commanding Command Company under the new 'Commando 21' Orbat. After developing new procedures and tactical development the Unit assumed the role of Lead Commando Group which included a period on Spearhead duties and standby for operations in Macedonia. The Commando then supported HMS Ocean's BOST and deployed in HMS Ocean to Oman on Exercise SAIF SAREEA 2. After the 11 September 2001 terrorists attacks the Commando was committed to supporting operations in Afghanistan until October 2002; during this period he led the RM Marching Contingent at the Queen Elizabeth the Queen Mother's Funeral. In late 2002 he deployed to 29 Palms, California, USA to complete a Commando Group fire support co-ordination live firing package with the USMC. After returning to UK he deployed in January 2003 with 40 Commando Group in HMS Ocean on Operation TELIC, the UK contribution to the liberation of Iraq. With responsibility for plans, battle management and C4ISTAR he was actively involved in the planning and coordination of the Commando Group aviation assault to secure the Al Faw oil infrastructure and subsequent Commando Group deliberate attack on Abu Al Khasib near Basrah.
On return to UK he was selected for promotion to Lt Col in May 2003 and after 3 busy years of company command he moved in August 2003 to the Joint Arms Control Implementation Group at RAF Henlow. This one year appointment as a Senior Inspecting/Escort Officer involved hosting Russian and Ukrainian inspections and included outbound inspections to Moscow, Georgia, Moldova, Uzbekistan and Kyrgyzstan. He also took a lead role in developing the MOD's Small Arms and Light Weapons and MANPADS strategy; this included extensive cross government work with the FCO and DFID.
He assumed command of 539 Asslt Sqn RM in September 2004. Lt Col Green is married to Ella and they have two young children. A keen sportsman he has played cricket for the Corps and now only occasionally plays rugby; he is now concentrating on his golf handicap and coastal sailing.

RSM
---
WO2 Ronson (RSM)
WO2 Ronson was born in 1962 Hull East Yorkshire, and entered the services on July 28th 1986. After completing basic training he joined 40 Commando RM and was employed in 3 Troop Alpha Company. During this first draft he saw active service in Northern Ireland as a Mne and participated in major exercises in Norway and the Mediterranean.
Late in 1988 saw him join the Landing Craft Branch and join 539 Assault Squadron Royal Marines were he went on to attend the Junior Command Course in 1989 and subsequently qualifying as an LC2 in late 1989. On completion of LC2 training he rejoined 539 Assault Squadron Royal Marines and went on to serve on board HMS Fearless till 1994. WO2 Ronson then went on to Royal Marines Poole for two years as an instructor within the Landing Craft Wing.
During early 1995 he was selected to attend and successfully pass his LC1 Course and Senior Command Course in the same year. On completion of his Senior Command Course he joined the SBS for a busy two year draft.
Upon gaining promotion to Colour Sergeant in 1999 he was to rejoin HMS Fearless as the Amphibious Beach Unit Beachmaster. After a successful 2 year draft on board HMS Fearless WO2 Ronson went on to serve in Northern Ireland for six months before gaining his Advanced Command Course 1/02 in May 2002. Successful completion saw him appointed as the first Sergeant Major aboard the newest Landing Platform Dock HMS Albion. A two year draft was followed by a further 9 months on board HMS Ocean as the detachment Sergeant Major before joining 539 Assault Squadron in December 2004.
David and his wife Sue live in Plymouth, Devon with their son James and daughter Alice

all content on Royal Marines Pages courtesy of the Royal Marines and the MOD