Commando Logistic Regiment RM
From Army.ca Wiki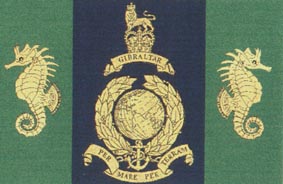 Commando Logistic Regiment Royal Marines
---

Mission The role of Commando Logistic Regiment Royal Marines is to provide second line Combat Service Support to Headquarters 3 Commando Brigade Royal Marines in peace, in war and on operations other than war.
Introduction 3 Commando Brigade Royal Marines has a dedicated logistic unit, which provides all second line Combat Service Support to the force, supporting it with a constant re-supply chain from initial assault to the final phase of any operation. CLR is unique that it is able to provide essential supplies for front-line Commando units for the initial 30 days of any operation by the transfer of stores from ship to shore - making it totally self-sufficient.
"A formation's combat capability is defined by its ability to support itself logistically on operations. The organised control, distribution and availability of material will directly influence the Commander's ability to achieve his objective"
History

Based at Royal Marines Barracks Chivenor, near Barnstaple in North Devon, CLR is Britain's sole amphibious logistic unit. Formed in Plymouth in 1971, it has demonstrated its operational role during the Falkland's War and in Northern Iraq on Operation HAVEN. The unit's primary task is to supply essentials such as ammunition, water and fuel - known as c-sups, or combat supplies. In addition, it is capable of integrating with the supply chain of the Royal Netherlands Marines Corps, as part of 3 (UK) Division.

COMMANDING OFFICER
---

Colonel W. J. Taylor OBE

Will Taylor joined the Royal Marines in 1979. Following initial training he served as a Troop Commander in 40 Cdo RM the highlight of which was jungle training in Brunei, before returning to CTCRM as a recruit troop commander.
After time spent as the Training Officer in RMR London, he returned to regimental duty in 42 Cdo RM as Company Second in Command. Transferring to the General List, he spent 3 years in southern Norway as the Royal Marines Liaison Officer, before returning to 42 Cdo RM, firstly as Operations Officer and then as the Officer Commanding M Company.
He attended the Norwegian Army Staff College in 1993, after which he was appointed to the Fleet Headquarters. His tour in Fleet Operations included two periods of detached duties, firstly with the United Nations Headquarters in Croatia, and later with the Rapid Reaction Forces Operational Staff in Bosnia. Moving into the Land area of the PJHQ Staff on its formation in 1996, he was promoted to Lt Col in December of that year.
After a 3 year tour in the Directorate of Naval Manning, he returned to front line service as Second in Command of 42 Cdo RM where during a busy 18 months he spent more nights in his bunk on HMS Ocean than he did either at home, or in Bickleigh. The Amphibious Ready Group came of age during 2000, with both deployments to the Mediterranean transitioning into contingency operations in West Africa. He left 42 Cdo RM after the Winter Deployment of 2001 to join HQ 3 Cdo Bde RM as Deputy Chief of Staff. He cut his teeth as a logistician on Ex Saif Sareea II in Oman, followed quickly by Operations Jacana and Telic. He was selected for promotion to Colonel in June 2003, serving for 2 years in the Fleet HQ as DACOS Littoral Warfare. Col Taylor assumed command of the Commando Logistic Regiment Royal Marines on 6 Dec 2005.
Col Taylor deployed on operational tours in Northern Ireland (1984 and 1991), Croatia and Bosnia (1995), Sierra Leone (2000), Afghanistan (2002) and Iraq (2003). He was Mentioned in Dispatches following the Northern Ireland tour in1991, awarded the OBE in the Birthday Honours List in 2003 for service in Afghanistan, and a Queens Commendation for Valuable Service in Iraq in the same year.
He lives in Chivenor with his wife Antonia; their two sons Max and Sam are at university and school respectively. He is an enthusiastic amateur chef, paints unrecognisable things apparently with his fingers, and is studying for a Degree in History with the Open University. In an ideal world he would own both a large dog and a motorcycle!

WO1 (RSM)
---
WO1 RSM G Botham MBE RM
RSM Botham was born in 1963 and joined the Royal Marines in July 1979. On completion of recruit training and having been awarded the Kings Badge he joined M Company 42 Commando RM as a 16 year old rifleman, a 2 year period which included several foreign NATO exercises and the Falklands War before moving to 40 Commando RM in 1982.
The next 4 years were spent as a member of Surveillance and Recce Troop participating in NATO, UN, national exercises and his first of several tours in Northern Ireland. Promoted to Corporal in 1986 he was drafted to the Commando Training Centre where he specialised as a Platoon Weapons Instructor. On completion of his time at CTCRM in 1988 he moved north of the border to 45 Commando RM.
This was to be the first of three appointments spanning twelve years between 45 Commando RM, Royal Marines Reserve Scotland and Comacchio Group RM. During his time in 45 Commando RM he was a Section Commander and later Troop Sergeant in X-ray and Zulu Company and finally the Provost Sergeant, before being promoted to Colour Sergeant and there followed a draft to Comacchio Group RM in 1997.
The two years that followed were spent as the Unit Platoon Weapons Instructor a period, which again saw several over seas deployments as well as the Operational commitments on the west coast of Scotland. On completion of his time in Comacchio Group he was promoted to Sergeant Major in 1999 and took up the appointment of Zulu Company Sergeant Major back in 45 Commando. In 2000 in recognition of his time with Comacchio Group he was awarded the MBE for his contribution to the operational effectiveness of the unit and for saving the life of a fellow marine during a night river crossing in the jungles of South America
He was fortunate enough to have several appointments as a Company Sergeant Major in 45 Commando that included a tour of duty in Kosovo before being selected for Arabic Language training at Beaconsfield. In November 2001 was posted to Oman in the Middle East for three years Loan Service to the Sultan of Oman's Armed Forces, as the Assistant Advisor Infantry Tactics and Weapons to 23 Infantry Brigade. After 18 months of his posting he was selected for the WO1 RSM board, a selection he was successful on and in November 2003 was given a two-year appointment as the RSM of 42 Commando RM. (The same Unit he had joined as a 16-year-old 23 years previously).
In short, my life has centered around the Royal Marines and undoubtedly holds fond and unforgettable memories and triumphs, both personally and professionally but not without self-sacrifice and the odd scar. My personal outlook is that life is not just what you make it, but also what others help you to achieve. Teamwork and individual effort with effective leadership can allow any goal to be achieved. I feel personal pride in making what turned out to be the correct decisions in tough situations and in having contributed as a member of a team to a job well done.

all content on Royal Marines Pages courtesy of the Royal Marines and the MOD