RCD Lineage
From Army.ca Wiki
The Royal Canadian Dragoons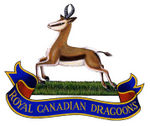 Commanding Officer: LCol S.M. Cadden, CD
Regimental Sergeant Major: CWO K.M. Lee, CD
Colonel in Chief: HRH Prince Charles
Colonel of the Regiment: Col Appleton
Current Role: Reconnaissance
Lineage
The fine thread of Canadian cavalry tradition to which our present day regiments and corps are legitimate heirs, can be traced back to shortly before the Battle of the Plains of Abraham in 1759 when two troops of volunteer cavalry were raised among the young generation of Quebec. These young bloods owned their own horses and were allowed to equip themselves as their own expense. Splendid in uniforms of blue and silver, their sole purpose at the time was to wait upon the Governor and take part in ceremonial parades. However, in the battle against the English, both on the Plains and at St. Foy, they distinguished themselves with gallantry performing valuable services in patrols and communications.
Nearly fifty years later, the Corps of Volunteer Cavalry was revived in Quebec City. Many of the young gentlement who joined were descendants of the originals and were amongst the first to volunteer their services in the War of 1812 against the Americans. In the domestic troubles of 1837, the Corps again served Canada in arduous and demanding duties, operating with an esprit de corps that rose above the differences in race and religion.
By 1855, the British, tired of providing an army to defend a colony already exercising independence of thought as well as action, decided to transfer the responsibility for defence to the colony itself by gradually withdrawing regular troops badly needed for service elsewhere in the world. Consequently, a bill was passed in the Canadian Legislature in 1855 providing for a voluntary active militia. The Squadron of Quebec Cavalry, as a result of this Bill, became officially gazetted with squadron strength in 1856, and was to become a part of a School of Cavalry under the direction of a regiment of British hussars serving in Quebec. With the passing of this act, selected Lieutenant-Colonels went to England for attachment to English units in preparation for Canadian Commands.
One of these Lieutenant-Colonels was Lieutenant-Colonel J.F. Turnbull, a seasoned soldier with more than twenty-five years experience. On his return to Canada, Colonel Turnbull was authorized to organize and command "A" Troop Cavalry School Corps and School of Cavalry. The object was to train recruits and instructors for nonpermanent organizations, as well as to perform routine duties as cavalry. Turnbull's appointment established him as the first Commanding Officer of what was to be The Royal Canadian Dragoons.
Cavalry School Corps
One Troop of Cavalry formed at Quebec 21 December 1883 by General Order 13/84
The Cavalry School came into being in January 1884 and was stationed at the Citadel in Quebec City. Little more than a year after its' formation, "A" Troop was called out for active service in the Canadian North West to assist in putting down a rebellion led by Louis Riel. The Cavalry School Corps received its Warning Order on the 7th day of April, 1885, and moved out four days later. The Regiment was tasked with escorting supply convoys and protecting lines of communication. The Regiment's main Area of Operations was Touchwood Hills, southeast of Saskatoon.
In recognition of their fine work during the rebellion, the Regiment was awarded its' first battle honour: "NORTH WEST CANADA 1885" in 1895.
Royal School of Cavalry
Redesignated: Royal School of Cavalry 15 July 1887 by General Order 13/87
Canadian Dragoons
Redesignated: Canadian Dragoons 14 May 1892 by General Order 16/92
Became 'A' Troop (Quebec) on amalgamation of Canadian Mounted Rifles Corps. Canadian Mounted Rifles Corps became 'B' Troop (Winnipeg) 27 June 1892 by General Order 16/92
The Royal Canadian Dragoons
Redesignated: The Royal Canadian Dragoons 24 May 1893 by Special General Order 11 Aug 1893.
Royal School of Cavalry ('A' Troop) transferred from Quebec to Toronto 20 August 1893 by General Order 11 August 1893 'A' and 'B' Troops reorganized as Squadrons 1 July 1894 'B' Squadron transferred from Winnipeg to Toronto 14 May 1901 by Militia Order 110/01 Both Squadrons remainded in Toronto until 1906, when 'A' was moved to St. Jean, Quebec
1st Armoured Car Regiment (Royal Canadian Dragoons)
Redesignated 1st Armour Car Regiment (Royal Canadian Dragoons0 11 February 1941 by General Order 79/41
1st Armoured Regiment (Royal Canadian Dragoons)
Redesignated 1st Armoured Regiment (Royal Canadian Dragoons) 16 October 1946 by General Order 259/46
Royal Canadian Dragoons (1st Armoured Regiment)
Redesignated Royal Canadian Dragoons (1st Armoured Regiment) 2 March 1949 by CAO 76-2. Supp Issue No. 118/49
Royal Canadian Dragoons
Redesignated Royal Canadian Dragoons 19 May 1958 by CAO 76-2. Supp Issue No. 602/58
The Royal Canadian Dragoons
Redesignated The Royal Canadian Dragoons 22 January 1959 by CAO 76-2. Supp Issue No. 637/59