They shall grow not old, as we that are left grow old
733 Guests, 17 Users (344 Spiders, 2 Hidden)
Harveybird, Pusser, estoguy, Arty O, andrewkw08, Primescuba, Dimsum, PrairieThunder, JP2371, Chief Stoker, BofeBemoTot, VancouverIslandHunter, PuckChaser, NinerSix, Sythen, MSN (4), Google (90), Baidu (250)
Total Members: 39,204
Total Posts: 1,185,810
Total Topics: 65,079
Total Categories: 15
Total Boards: 118
The Brockville Rifles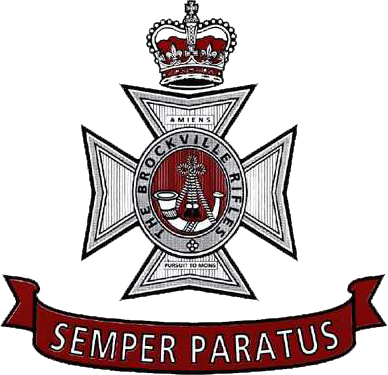 ---
Armorial Description
A Maltese cross surmounted by the Crown; in the centre of the cross an oval annulus inscribed THE BROCKVILLE RIFLES; within the annulus a bugle with strings and tassels; the regimental battle honours approved for emblazonment are inscribed upon the arms of the Cross as follows: upon the upper arm AMIENS; upon the lower arm PURSUIT TO MONS.
---
Official Abbreviation: Brock Rif

Motto: Semper Paratus (Always ready)
---
Battle Honours (4)
First World War
AMIENS
Hindenburg Line
Arras, 1918
PURSUIT TO MONS
Second World War
Honourary Distinction: The badge of the Stormont, Dundas and Glengarry Highlanders, emblazoned on the drums.
---
Order of Precedence: 15
---
Go back to the Infantry Regiments page.
Go back to the Army home page.
December 5
1875:
General Arthur Currie, future commander of the Canadian Expeditionary Force in World War I, is born in Napperton, Ontario.
1934:
Abyssinia Crisis: Italian troops attack Wal Wal in Abyssinia, taking four days to capture the city.
1943:
THE MORO, effective dates for battle honour begin (to 7 Dec 43)
1964:
Vietnam War: For his heroism in battle earlier in the year, Captain Roger Donlon of Saugerties, New York is awarded the first Medal of Honor of the war.
1978:
The Soviet Union signs a 'friendship treaty' with the Democratic Republic of Afghanistan.
» Download the iPhone/iPad Military History app! «