They shall grow not old, as we that are left grow old
1,036 Guests, 32 Users (6 Hidden)
fake penguin, George Wallace, Willy00005, MartinD94, Bikerider123, Dimsum, DrewMC36, Jonsey, nwhite654, Inverted, s54w, Willy, cryco, snasd17, MJP, Cronicbny, bLUE fOX, CBR2020, Loachman, Chuk, wx_watcher, Excelsior, ArmyNavyMom, donaldk, ballz, PuckChaser
Total Members: 45,063
Total Posts: 1,234,976
Total Topics: 66,945
Total Categories: 15
Total Boards: 120
The Brockville Rifles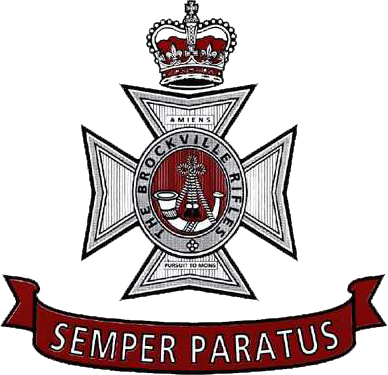 ---
Armorial Description
A Maltese cross surmounted by the Crown; in the centre of the cross an oval annulus inscribed THE BROCKVILLE RIFLES; within the annulus a bugle with strings and tassels; the regimental battle honours approved for emblazonment are inscribed upon the arms of the Cross as follows: upon the upper arm AMIENS; upon the lower arm PURSUIT TO MONS.
---
Official Abbreviation: Brock Rif

Motto: Semper Paratus (Always ready)
---
Battle Honours (4)
First World War
AMIENS
Hindenburg Line
Arras, 1918
PURSUIT TO MONS
Second World War
Honourary Distinction: The badge of the Stormont, Dundas and Glengarry Highlanders, emblazoned on the drums.
---
Order of Precedence: 15
---
Go back to the Infantry Regiments page.
Go back to the Army home page.
August 31
1864:
American Civil War: Union forces led by General William T. Sherman launch an assault on Atlanta, Georgia, defended by troops under Confederate General John Bell Hood.
1907:
Great Britain, Russia and France form the Triple Entente alliance.
1916:
Canadian casualties to date: 27,212 wounded, 8,644 dead, 2,005 missing
1939:
Nazi Germany mounts a staged attack on Gleiwitz radio station, giving them an pretext to attack Poland the following day, starting World War II.
1939:
The Royal Canadian Dental Corps is authorized
1992:
Canada sends 750 troops to Somalia
» Download the iPhone/iPad Military History app! «