They shall grow not old, as we that are left grow old
983 Guests, 51 Users (4 Hidden)
Capt. Happy, KevinB, Gunshark, KerryBlue, cavalryman, Rocky Mountains, Nomad933, PMedMoe, sidemount, milnews.ca, Newt, GR66, Johnson101, Master Corporal Steven, Privateer, E.R. Campbell, MJP, mrjasonc, Larry Strong, Sheep Dog AT, Lightguns, drbones, 2ndChoiceName, PEIguy, Chelomo, CBR2020, wordsmith, Le Adder Noir, Kirkhill, navygirl770, Jamoose, illaji, Danjanou, cwatson91, DAA, tomahawk6, Eowyn, Kaya1981, Old Sweat, Gurmaster, Cui, StarFury, smith12345, x80, SGT-RMSCLK, MARS, Rogo
Total Members: 45,356
Total Posts: 1,237,802
Total Topics: 67,070
Total Categories: 15
Total Boards: 120
The Brockville Rifles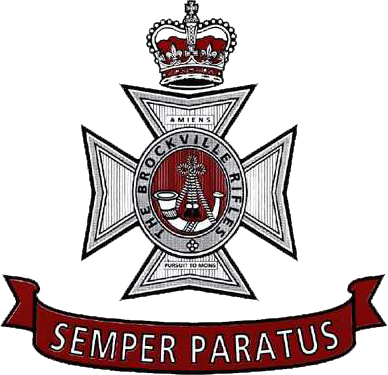 ---
Armorial Description
A Maltese cross surmounted by the Crown; in the centre of the cross an oval annulus inscribed THE BROCKVILLE RIFLES; within the annulus a bugle with strings and tassels; the regimental battle honours approved for emblazonment are inscribed upon the arms of the Cross as follows: upon the upper arm AMIENS; upon the lower arm PURSUIT TO MONS.
---
Official Abbreviation: Brock Rif

Motto: Semper Paratus (Always ready)
---
Battle Honours (4)
First World War
AMIENS
Hindenburg Line
Arras, 1918
PURSUIT TO MONS
Second World War
Honourary Distinction: The badge of the Stormont, Dundas and Glengarry Highlanders, emblazoned on the drums.
---
Order of Precedence: 15
---
Go back to the Infantry Regiments page.
Go back to the Army home page.
September 16
1916:
VC won by Pte John Chipman Kerr, 49th Battalion, CEF, Courceletee, France
1939:
Convoy HX-1 under escort from HMC Ships ST LAURENT & SAGUENAY departs Halifax for Britian. This convoy comprises the first 18 merchant ships of over 25,000 that would sail the Atlantic under RCN escort..... and so begins the Battle of Atlantic convoys.
1950:
NAKTONG BDIRGEHEAD, effective dates for battle honour begin (to 25 Sept 50)
» Download the iPhone/iPad Military History app! «