They shall grow not old, as we that are left grow old
Total Members: 56,513
Total Posts: 1,338,922
Total Topics: 70,215
Total Categories: 14
Total Boards: 120
The Brockville Rifles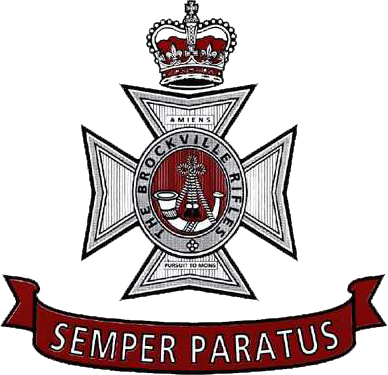 ---
Armorial Description
A Maltese cross surmounted by the Crown; in the centre of the cross an oval annulus inscribed THE BROCKVILLE RIFLES; within the annulus a bugle with strings and tassels; the regimental battle honours approved for emblazonment are inscribed upon the arms of the Cross as follows: upon the upper arm AMIENS; upon the lower arm PURSUIT TO MONS.
---
Official Abbreviation: Brock Rif

Motto: Semper Paratus (Always ready)
---
Battle Honours (4)
First World War
AMIENS
Hindenburg Line
Arras, 1918
PURSUIT TO MONS
Second World War
Honourary Distinction: The badge of the Stormont, Dundas and Glengarry Highlanders, emblazoned on the drums.
---
Order of Precedence: 15
---
Go back to the Infantry Regiments page.
Go back to the Army home page.
May 4
1471:
Battle of Tewksbury
1910:
Canadian Navy was created by the Naval Service Act
1942:
Battle of Coral Sea (to 8 May 42); first naval battle fought entirely with aircraft from carriers out of each others sight
1982:
"HMS Sheffield hit by Argentinian Exocet Missile"
» Download the iPhone/iPad Military History app! «