They shall grow not old, as we that are left grow old
624 Guests, 30 Users (4 Hidden)
SeaKingTacco, Halifax Tar, NeeNo, Scott, MOOXE, cavalryman, DEINP, Quiet~One, WR, GAP, Journeyman, Flyonthewall11, kratz, navice, 123zxy, LEI_F, dangerboy, MJP, Lightguns, sully139, ridsteram, expwor, Old Sweat, Jed, Kat Stevens, kcoolbee
Total Members: 60,426
Total Posts: 1,389,573
Total Topics: 71,748
Total Categories: 13
Total Boards: 120
The Essex and Kent Scottish Regiment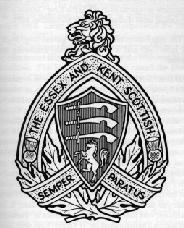 ---
Armorial Description
Two sprays of thistle supporting a scroll in the shape of a pointed arch, bearing the designation THE ESSEX AND KENT SCOTTISH; across the thistles a scroll breaing the motto SEMPER PARATUS; in the centre a shield bearing in chief three seaxes barwise (alluding to the arms of the County Council of Essex) in base the White Horse of Kent; the whole surmounted by a lions head erased.
---
Official Abbreviation: E & K Scot

Motto: Semper Paratus (Always ready)
---
Battle Honours (36)
First World War
YPRES, 1915,'17
HILL 70
Festubert, 1915
PASSCHENDAELE
Mount Sorrel
AMIENS
SOMME, 1916,'18
Scarpe, 1918
FLERS-COURCELETTE
HINDENBURG LINE
Thiepval
Canal du Nord
Ancre Heights
CAMBRAI, 1918
Arras, 1917,'18
PURSUIT TO MONS
VIMY, 1917
France and Flanders, 1915-18
Second World War
DIEPPE
SOUTH BEVELAND
BOURGUEBUS RIDGE
The Rhineland
St. Andre-sur-Orne
GOCH-CALCAR ROAD
FALAISE
THE HOCHWALD
Falaise Road
XANTEN
Clair Tizon
Twente Canal
Foret de la Londe
GRONINGEN
THE SCHELDT
OLDENBURG
Woensdrecht
North-West Europe, 1942, 1944-45
---
Regimental Headquarters:
Windsor Armouries
37 University Avenue East
Windsor, Ontario
N9A 6J4
---
Go back to the Infantry Regiments page.
Go back to the Army home page.
April 26
1860:
The Queen's Own Rifles of Canada: In Pace Paratus (In peace prepared)
1986:
An explosion of Chernobyl nuclear power plant in Ukraine resulted in a nuclear meltdown sending radioactivity into the atmosphere. The Radiation fallout spread throughout Europe. Chernobyl disaster is considered the largest nuclear accident in history.
» Download the iPhone/iPad Military History app! «