They shall grow not old, as we that are left grow old
648 Guests, 15 Users (2 Hidden)
expwor, SupersonicMax, cavalryman, E.R. Campbell, kev994, jollyjacktar, milnews.ca, h3tacco, kkwd, Flyonthewall11, BurmaShave, NSLogO, timed
Total Members: 58,917
Total Posts: 1,371,591
Total Topics: 71,182
Total Categories: 14
Total Boards: 120
The Essex and Kent Scottish Regiment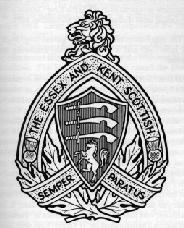 ---
Armorial Description
Two sprays of thistle supporting a scroll in the shape of a pointed arch, bearing the designation THE ESSEX AND KENT SCOTTISH; across the thistles a scroll breaing the motto SEMPER PARATUS; in the centre a shield bearing in chief three seaxes barwise (alluding to the arms of the County Council of Essex) in base the White Horse of Kent; the whole surmounted by a lions head erased.
---
Official Abbreviation: E & K Scot

Motto: Semper Paratus (Always ready)
---
Battle Honours (36)
First World War
YPRES, 1915,'17
HILL 70
Festubert, 1915
PASSCHENDAELE
Mount Sorrel
AMIENS
SOMME, 1916,'18
Scarpe, 1918
FLERS-COURCELETTE
HINDENBURG LINE
Thiepval
Canal du Nord
Ancre Heights
CAMBRAI, 1918
Arras, 1917,'18
PURSUIT TO MONS
VIMY, 1917
France and Flanders, 1915-18
Second World War
DIEPPE
SOUTH BEVELAND
BOURGUEBUS RIDGE
The Rhineland
St. Andre-sur-Orne
GOCH-CALCAR ROAD
FALAISE
THE HOCHWALD
Falaise Road
XANTEN
Clair Tizon
Twente Canal
Foret de la Londe
GRONINGEN
THE SCHELDT
OLDENBURG
Woensdrecht
North-West Europe, 1942, 1944-45
---
Regimental Headquarters:
Windsor Armouries
37 University Avenue East
Windsor, Ontario
N9A 6J4
---
Go back to the Infantry Regiments page.
Go back to the Army home page.
December 9
1824:
Battle of Ayacucho - Peru defeats Spain
1835:
The Army of the Republic of Texas captures San Antonio
1861:
Joint Committee on the Conduct of the War created by the U.S. Congress
1937:
Second Sino-Japanese War: Battle of Nanjing begins.
1940:
World War II: British Army attacks Italian forces in North Africa.
1941:
China and Provisional Government of the Republic of Korea declares war on Germany, and Italy.
1944:
British Eigth Army suspends offensive in Italy
1945:
American General George S. Patton is injured in an automobile crash in occupied Germany. He dies twelve days later.
1946:
The Trials of War Criminals before the Nuremberg Military Tribunals began with the Doctors' Trial, the trial for war crimes and crimes against humanity began for medical researchers involved in the horrors of Nazi human experimentation.
1961:
Adolf Eichmann found guilty of war crimes in Israel.
1992:
US Marines land in Somalia
» Download the iPhone/iPad Military History app! «