They shall grow not old, as we that are left grow old
526 Guests, 32 Users (6 Hidden)
Dija, Bird_Gunner45, Keepsprayin, ballz, Krissa, PuckChaser, Eagle Eye View, kkwd, onlytyy, david5133, AlexanderM, Occam, bLUE fOX, dangerboy, SHONIT123, cupper, lp711, Fraz, SupersonicMax, MARS, E.R. Campbell, Altair, tomahawk6, Chris Pook, robins.acj, Elliott44
Total Members: 57,738
Total Posts: 1,356,881
Total Topics: 70,700
Total Categories: 14
Total Boards: 120
Les Fusiliers de Sherbrooke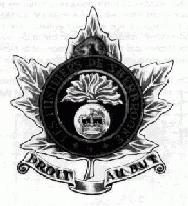 ---
Armorial Description
A grenade with the Crown superimposed upon the ball within an annulus inscribed LES FUSILIERS DE SHERBROOKE, surmounted by a beaver and super- imposed upon a maple leaf; the whole resting on a scroll inscribed DROIT AU BUT.
---
Official Abbreviation: Fus de Sher

Motto: Droit au But (To the point)
---
Battle Honours (23)
First World War
Second World War
D'EBARQUEMENT EN NORMANDIE
Anvers-Canal de Tumhout
AUTHIE
L'ESCAUT
CAEN
Meuse inferieure
L'Ome
LA RHTNANIE
COTE DE BOURGUEBUS
Le Hochwald
Faubourg de Vaucelles
XANTEN
Saint-Andre-sure
LE RHIN
FALAISE
Emmerich-Hoch Elton
Route de la Falaise
ZUTPHEN
Clair Tizon
Deventer
La Laison
Nord-Ouest de l'Europe, 1944-1945
Colonel-in-Chief: None

Authorized Marches:
Quick March: The Queen City

Location of Sub Units: Sherbrooke and Granby, Quebec

Alliances:
The Devonshire and Dorset Regiment
Topshom Barracks
Exeter, England

---
Order of Precedence: 42
---
Go back to the Infantry Regiments page.
Go back to the Army home page.
August 27
1776:
Battle of Long Island, in present day Brooklyn, New York British forces under General William Howe defeat Americans under General George Washington.
1813:
Napoleon defeats the Austrians, Russians and Prussians at the Battle of Dresden.
1828:
The Russians defeat the Turks at Akhaltzikke.
1861:
U.S. Civil War: Union forces attack Cape Hatteras, North Carolina.
1896:
The shortest war in history (0902h - 0940h) between the United Kingdom and Zanzibar. Zanzibar surrenders.
1928:
Kellogg-Briang Pact: 15 nations (including Britain, France, Germany, Italy, Japan, USA - and later most members of the League of Nations) agree to renounce war as a means of settling international disputes; but agree there is no means of enforcing t
1944:
MONTECICCARDO, effective dates for battle honour begin (to 28 Aug 44)
1979:
An IRA bomb kills Lord Mountbatten and 3 others on holiday in Sligo, Republic of Ireland. Another near Warrenpoint, Northern Ireland kills 18 British soldiers.
» Download the iPhone/iPad Military History app! «