They shall grow not old, as we that are left grow old
583 Guests, 42 Users (7 Hidden)
JDW, Teager, Jed, freddog, 277to081, Capt. Happy, bscriber, Retired AF Guy, thakurchris, trigger, Altair, Colin P, AngusKerry, Dimsum, jollyjacktar, Beadwindow 7, MAJONES, Lightguns, Blackadder1916, dangerboy, Quirky, PuckChaser, cjr, Staff Weenie, milnews.ca, Jayjaycf, Alexis, Good2Golf, OldTanker, Lumber, Halifax Tar, medicineman, KJK, kratz, lp711
Total Members: 57,797
Total Posts: 1,357,465
Total Topics: 70,721
Total Categories: 14
Total Boards: 120
Les Fusiliers du St-Laurent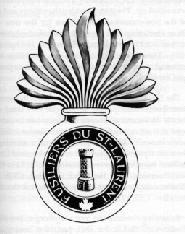 ---
Armorial Description
On a gold grenade fired proper of fifteen, a blue annulet edged gold, inscribed with the words FUSILIERS DU ST-LAURENT and marked at base by a gold maple leaf. Within the annulet a tower proper.
---
Official Abbreviation: Fus du St-L

Motto: J'y Suis En Garde (I am on guard)
---
Battle Honours (1)
First World War
---
Order of Precedence: 18
---
Go back to the Infantry Regiments page.
Go back to the Army home page.
August 31
1864:
American Civil War: Union forces led by General William T. Sherman launch an assault on Atlanta, Georgia, defended by troops under Confederate General John Bell Hood.
1907:
Great Britain, Russia and France form the Triple Entente alliance.
1916:
Canadian casualties to date: 27,212 wounded, 8,644 dead, 2,005 missing
1939:
Nazi Germany mounts a staged attack on Gleiwitz radio station, giving them an pretext to attack Poland the following day, starting World War II.
1939:
The Royal Canadian Dental Corps is authorized
1992:
Canada sends 750 troops to Somalia
» Download the iPhone/iPad Military History app! «