They shall grow not old, as we that are left grow old
Total Members: 62,214
Total Posts: 1,403,204
Total Topics: 71,308
Total Categories: 13
Total Boards: 122
Les Fusiliers Mont-Royal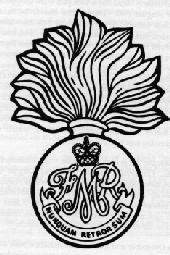 ---
Armorial Description
Upon the ball of a grenade with a flame of thirteen points, the letters FMR in script entwined, ensigned with the Crown; below, a scroll inscribed NUNQUAM RETRORSUM.
---
Official Abbreviation: Fus MR

Motto: Nunquam Retrorsum (Never retreat)
---
Battle Honours (29)
Early History
CANADA DU NORD-OUEST, 1885
First World War
YPRES, 1915, '17
COTE 70
FESTUBERT, 1915
AMIENS
SOMME, 1916
Linge Hindenburg
ARRAS, 1917, '18
PURSUITE MONS
Second World War
DIEPPE
l'Escaut
Crete de Bourguebus
Woensdrecht
SAINT-ANDRE-SUR-ORNE
BEVELAND SUD
CRETE DE VERRIERES -- TILLY-LA-CAMPAGNE
La Rhenanie
LE HOCHWALD
FALAISE
Route de la Falaise
Le Rhin
La Laison
GRONINGUE
Foret de la Londe
Oldenburg
DUNKERQUE, 1944
Nord-ouest de l'Europe, 1942, 1944-1945
ANVERS-CANAL DE TURNHOUT
---
Order of Precedence: 21
---
Go back to the Infantry Regiments page.
Go back to the Army home page.
August 20
1914:
World War I: German forces occupy Brussels
1940:
Chuchill's speech "Never in the field of human conflict..."
1944:
Allies close Falaise Gap
1968:
The "Prague Spring" abruptly ended when 200,000 Warsaw Pact troops and 5,000 tanks invaded Czechoslovakia
1998:
U.S. Embassy Bombings: The United States military launches cruise missile attacks against alleged Al-Qaeda camps in Afghanistan and a suspected chemical plant in Sudan in retaliation for the August 7 bombings of American embassies in Kenya and Tanzania. The Al-Shifa pharmaceutical factory in Khartoum is destroyed in the attack.
636:
Arab forces led by Khalid bin Walid took contol of Syria and Palestine in the Battle of Yarmuk
917:
Tsar Simeon I of Bulgaria invaded Thrace and drove the Byzantines out.
» Download the iPhone/iPad Military History app! «