They shall grow not old, as we that are left grow old
811 Guests, 43 Users (8 Hidden)
MikeYPG/CAF, Jay4th, GK .Dundas, suffolkowner, donniear, Bruce Monkhouse, Jordan Mammoliti, Old Sweat, jeffb, MarkOttawa, jollyjacktar, ScreaminStallion, JRBond, fethek, Dolphin_Hunter, PikaChe, MilEME09, KJK, Stressed Right Out, MARS, NavyShooter, Flyonthewall11, Alpha dog, Firefly11, Terrier, Bzzliteyr, Harris, Mike Bobbitt, montoya, Stormn, RocketRichard, kkwd, milnews.ca, LunchMeat, colinreid16
Total Members: 59,477
Total Posts: 1,381,333
Total Topics: 71,491
Total Categories: 14
Total Boards: 121
Governor General's Foot Guards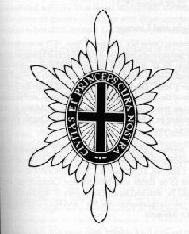 ---
Armorial Description
Upon a star argent of six main points an annulus gules bearing the motto CIVITAS ET PRINCEPS CURA NOSTRA or, within the annulus, a cross azure.
---
Official Abbreviation: GGFG

Motto: Civitas et Princeps Cura Nostra (Our care is Queen and country)
---
Battle Honours (34)
Early History
NORTH-WEST CANADA, 1885
SOUTH AFRICA, 1899-1900

First World War
Ypres, 1915, '17
Gravenstafel
ST. JULIEN
FESTUBERT, 1915
Mount Sorrel
Somme, 1916
POZIERES
Fleurs-Courcelette
Ancre Heights
Arras, 1917, '18
VIMY, 1917
ARLEUX
Scarpe, 1917, '18
HILL 70
PASSCHENDAELE
AMIENS
DROCOURT - QUEANT
Hindenburg Line
CANAL DU NORD
Pursuit to Mons
France and Flanders, 1915-1918

Second World War
FALAISE
Falaise Road
THE LAISON
CHAMBOIS
THE SCHELDT
THE LOWER MAAS
THE RHINELAND
THE HOCHWALD
VEEN
BAD ZWISCHENAHN
NORTH-WEST EUROPE, 1944-1945
---
Order of Precedence: 1
---
Go back to the Infantry Regiments page.
Go back to the Army home page.
February 22
1797:
The last invasion of Britain; the French at Fishguard
1813:
Battle of Ogdensburg
1881:
Private Osborne of the Northamptonshire Regiment, won the Victoria Cross during an action in the First Boer War, when he rescued a wounded man under very heavy fire.
1917:
British troops succeeded in capturing a number of Turkish trenches at Sanna-i-Yat in Mesopotamia. The Turks launched a vigorous counter-attack, and managed to retake part of the position. However, Sergeant Steele of the Seaforth Highlanders, assisted by another soldier, managed to position a machine-gun in an advantageous spot. Steele then manned the gun and for several hours was able to frustrate Turkish attempts to exploit their success. When finally another Turkish attack did break through, Steele managed to rally the British troops, and led them in a successful counter-attack of their own, during which he suffered a severe wound. His gallantry and leadership was recognised by the award of the Victoria Cross.
1942:
Harris appointed Commander in Chief, RAF Bomber Command
1943:
HMCS Weyburn sunk by U-118
1945:
HMCS Trentonian sunk by U-1004
» Download the iPhone/iPad Military History app! «