They shall grow not old, as we that are left grow old
Total Members: 62,214
Total Posts: 1,403,204
Total Topics: 71,308
Total Categories: 13
Total Boards: 122
Governor General's Foot Guards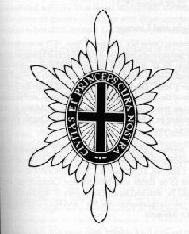 ---
Armorial Description
Upon a star argent of six main points an annulus gules bearing the motto CIVITAS ET PRINCEPS CURA NOSTRA or, within the annulus, a cross azure.
---
Official Abbreviation: GGFG

Motto: Civitas et Princeps Cura Nostra (Our care is Queen and country)
---
Battle Honours (34)
Early History
NORTH-WEST CANADA, 1885
SOUTH AFRICA, 1899-1900

First World War
Ypres, 1915, '17
Gravenstafel
ST. JULIEN
FESTUBERT, 1915
Mount Sorrel
Somme, 1916
POZIERES
Fleurs-Courcelette
Ancre Heights
Arras, 1917, '18
VIMY, 1917
ARLEUX
Scarpe, 1917, '18
HILL 70
PASSCHENDAELE
AMIENS
DROCOURT - QUEANT
Hindenburg Line
CANAL DU NORD
Pursuit to Mons
France and Flanders, 1915-1918

Second World War
FALAISE
Falaise Road
THE LAISON
CHAMBOIS
THE SCHELDT
THE LOWER MAAS
THE RHINELAND
THE HOCHWALD
VEEN
BAD ZWISCHENAHN
NORTH-WEST EUROPE, 1944-1945
---
Order of Precedence: 1
---
Go back to the Infantry Regiments page.
Go back to the Army home page.
August 20
1914:
World War I: German forces occupy Brussels
1940:
Chuchill's speech "Never in the field of human conflict..."
1944:
Allies close Falaise Gap
1968:
The "Prague Spring" abruptly ended when 200,000 Warsaw Pact troops and 5,000 tanks invaded Czechoslovakia
1998:
U.S. Embassy Bombings: The United States military launches cruise missile attacks against alleged Al-Qaeda camps in Afghanistan and a suspected chemical plant in Sudan in retaliation for the August 7 bombings of American embassies in Kenya and Tanzania. The Al-Shifa pharmaceutical factory in Khartoum is destroyed in the attack.
636:
Arab forces led by Khalid bin Walid took contol of Syria and Palestine in the Battle of Yarmuk
917:
Tsar Simeon I of Bulgaria invaded Thrace and drove the Byzantines out.
» Download the iPhone/iPad Military History app! «