They shall grow not old, as we that are left grow old
742 Guests, 36 Users (7 Hidden)
hartie, Haggis, Remius, Colin P, Rocketryan, NavyShooter, Oldgateboatdriver, Journeyman, Alpha dog, kratz, paleomedic, Hamish Seggie, Beadwindow 7, clmarr, BobSlob, browen, Infanteer, AlexanderM, WestGirl36, Lightguns, Old Sweat, MJP, Karel Doorman, words_twice, milnews.ca, Good2Golf, Chinook87, EME421, autohitllw
Total Members: 59,474
Total Posts: 1,381,240
Total Topics: 71,488
Total Categories: 14
Total Boards: 121
2nd Battalion, The Irish Regiment of Canada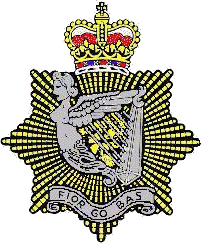 ---
Armorial Description
Superimposed on an eight pointed chipped star, an Irish harp; below the harp a scroll inscribed with the motto FIOR GO BAS; ensigning the harp and super- imposed upon the topmost point of the star, the Crown.
---
Official Abbreviation: 2 Irish R of C

Motto: Fior Go Bas (Faithful unto death)
---
Battle Honours (22)
First World War
ARRAS, 1917,'18
HILL 70
Ypres, 1917
AMIENS
SCARPE, 1918
DROCOURT-QUTANT
HINDENBURG LINE
CANAL DU NORD
PURSUIT TO MONS
FRANCE AND FLANDERS, 1917-1918
Second World War
LIRI VALLEY
MELFA CROSSING
GOTHIC LINE
MONTECCHIO
CORIANO
LAMONE CROSSING
Fosso Munio
Conventello-Comacchio
ITALY, 1943-1945
IJSSELMEER
DELFZIJL POCKET
NORTH-WEST EUROPE, 1945
Colonel-in-Chief: None

Authorized Marches:
Quick March: Garry Owen
Slow March: Endearing Young Charms

Regimental Headquarters:
333 Riverside Drive
Sudbury, Ontario
P3E 1H5

Location of Sub Units: Sudbury, Ontario

Alliances:
The Royal Irish Regiment
St Patrick's Barracks, Ballymena, Northern Ireland

Location of Museums:
Museum:
The Armoury
Sudbury, Ontario
Memorial:
Memorial Park
---
Order of Precedence: 46
---
Go back to the Infantry Regiments page.
Go back to the Army home page.
February 22
1797:
The last invasion of Britain; the French at Fishguard
1813:
Battle of Ogdensburg
1881:
Private Osborne of the Northamptonshire Regiment, won the Victoria Cross during an action in the First Boer War, when he rescued a wounded man under very heavy fire.
1917:
British troops succeeded in capturing a number of Turkish trenches at Sanna-i-Yat in Mesopotamia. The Turks launched a vigorous counter-attack, and managed to retake part of the position. However, Sergeant Steele of the Seaforth Highlanders, assisted by another soldier, managed to position a machine-gun in an advantageous spot. Steele then manned the gun and for several hours was able to frustrate Turkish attempts to exploit their success. When finally another Turkish attack did break through, Steele managed to rally the British troops, and led them in a successful counter-attack of their own, during which he suffered a severe wound. His gallantry and leadership was recognised by the award of the Victoria Cross.
1942:
Harris appointed Commander in Chief, RAF Bomber Command
1943:
HMCS Weyburn sunk by U-118
1945:
HMCS Trentonian sunk by U-1004
» Download the iPhone/iPad Military History app! «