They shall grow not old, as we that are left grow old
751 Guests, 15 Users
SherH2A, mick, wx_watcher, MilEME09, snowblack, SeaDog, sidemount, MedicTWO, Trail Runner, newshooter, Sheep Dog AT, RDBZ, CBH99, sharki9876, Boysen
Total Members: 48,439
Total Posts: 1,264,133
Total Topics: 68,061
Total Categories: 14
Total Boards: 119
2nd Battalion, The Irish Regiment of Canada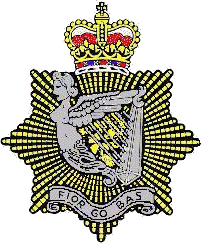 ---
Armorial Description
Superimposed on an eight pointed chipped star, an Irish harp; below the harp a scroll inscribed with the motto FIOR GO BAS; ensigning the harp and super- imposed upon the topmost point of the star, the Crown.
---
Official Abbreviation: 2 Irish R of C

Motto: Fior Go Bas (Faithful unto death)
---
Battle Honours (22)
First World War
ARRAS, 1917,'18
HILL 70
Ypres, 1917
AMIENS
SCARPE, 1918
DROCOURT-QUTANT
HINDENBURG LINE
CANAL DU NORD
PURSUIT TO MONS
FRANCE AND FLANDERS, 1917-1918
Second World War
LIRI VALLEY
MELFA CROSSING
GOTHIC LINE
MONTECCHIO
CORIANO
LAMONE CROSSING
Fosso Munio
Conventello-Comacchio
ITALY, 1943-1945
IJSSELMEER
DELFZIJL POCKET
NORTH-WEST EUROPE, 1945
Colonel-in-Chief: None

Authorized Marches:
Quick March: Garry Owen
Slow March: Endearing Young Charms

Regimental Headquarters:
333 Riverside Drive
Sudbury, Ontario
P3E 1H5

Location of Sub Units: Sudbury, Ontario

Alliances:
The Royal Irish Regiment
St Patrick's Barracks, Ballymena, Northern Ireland

Location of Museums:
Museum:
The Armoury
Sudbury, Ontario
Memorial:
Memorial Park
---
Order of Precedence: 46
---
Go back to the Infantry Regiments page.
Go back to the Army home page.
March 2
1916:
Lord Derby speaks in the House of Lords on recruiting: "stronger methods are needed to get men, women must take the place of men..."
1943:
New Guinea - Battle of the Bismark Sea rages; Allied planes sink 12 Japanese ships carrying reinforcements to New Guinea, killing nearly 4,000.
1944:
The frigates of the Royal Navy's First Escort Group brought the longest continuous U-boat hunt to a successful conclusion, destroying U-358, but losing HMS Gould. The hunt started on 29 February, and HM Ships Affleck, Gould, Gore and Garlies dropped some 104 depth charges over the following two days. Gore and Garlies had to withdraw to Gibraltar for fuel, but Affleck and Gould continued the attack. U-358 succeeded in torpedoing Gould, but was then forced to the surface and finished off by Affleck's gunfire.
1945:
In Burma, Gian Singh, a Naik of the 15th Punjab Regiment, single-handedly attacked a series of Japanese positions. Despite being wounded, he cleared a series of trenches and a concealed anti-tank gun, then led his section forward to complete the reduction of the enemy position. He received the Victoria Cross.
1945:
Naik (Corporal) Fazal Din of the 10th Baluch Regiment conducted a lone attack on a Japanese bunker, which was pinning down his section. Having eliminated its defenders, he then attacked a second, from which six Japanese charged forth. A Japanese officer ran his sword through Fazal Din's chest, but as he pulled the blade out, the mortally wounded Naik wrestled it from his grip, and killed the officer with his own sword. He then killed a second Japanese soldier with the sword, as his men advanced to capture the bunker. Fazal Din managed to stagger back to report the success of the attack, before dying from his injuries. He was awarded a posthumous Victoria Cross.
1951:
National Defence publish first Canadian casualty list from Korea; six soldiers killed.
» Download the iPhone/iPad Military History app! «