They shall grow not old, as we that are left grow old
701 Guests, 16 Users (3 Hidden)
Jed, Beadwindow 7, Qc, Quirky, donaldk, tracie_anderson, MJP, AlexanderM, Cdn Blackshirt, Loachman, Seyek, ArmyNavyMom, Beka
Total Members: 58,917
Total Posts: 1,371,581
Total Topics: 71,182
Total Categories: 14
Total Boards: 120
The Loyal Edmonton Regiment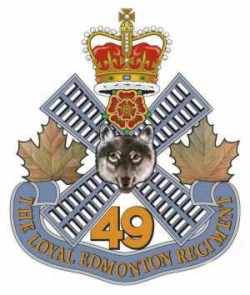 ---
Armorial Description
Between two maple leaves a windmill sail in saltire; superimposed upon the centre of the sail a coyote's head affronts, surmounting the wolf's head the red rose of Lancaster; below the coyote's head and resting on a scroll inscribed THE LOYAL EDMONTON REGIMENT, the numerals 49; the whole surmounted by the Crown.
---
Official Abbreviation: L Edmn R

Motto: Fears no Foe
---
Battle Honours (39)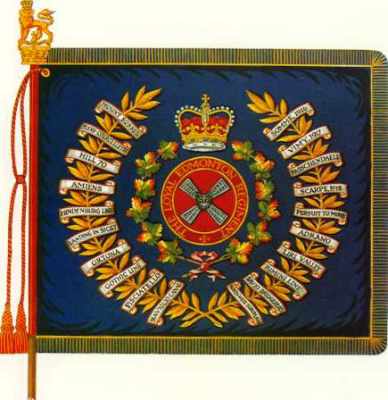 First World War
MOUNT SORREL
PASSCHENDAELE
SOMME, 1916
AMIENS
FLERS-COURCELETTE
SCARPE, 1918
Ancre Heights
HINDENBURG LINE
Arras, 1917,'18
Canal du Nord
VIMY, 1917
PURSUIT TO MONS
HILL 70
France and Flanders, 1915-1918
Ypres, 1917
Second World War
LANDING IN SICILY
GOTHIC LINE
Piazza Amerina
Monteciccardo
Leonforte
Monte Luro
Agira
RIMINI LINE
ADRANO
PISCIATELLO
Troina Valley
San Fortunato
Sicily, 1943
SAVIO BRIDGEHEAD
Colle danchise
NAVICLIOCANAL
The Gully
Fosso Munio
ORTONA
Italy, 1943-1945
LIRI VALLEY
Apeldoorn
Hitler Line
NORTH-WEST EUROPE, 1945
Colonel-in-Chief: The Right Honourable, Countess Mountbatten of Burma, CD, JP, DL, CBE
---
Order of Precedence: 38
---
Options:
---
---
Go back to the Infantry Regiments page.
Go back to the Army home page.
December 9
1824:
Battle of Ayacucho - Peru defeats Spain
1835:
The Army of the Republic of Texas captures San Antonio
1861:
Joint Committee on the Conduct of the War created by the U.S. Congress
1937:
Second Sino-Japanese War: Battle of Nanjing begins.
1940:
World War II: British Army attacks Italian forces in North Africa.
1941:
China and Provisional Government of the Republic of Korea declares war on Germany, and Italy.
1944:
British Eigth Army suspends offensive in Italy
1945:
American General George S. Patton is injured in an automobile crash in occupied Germany. He dies twelve days later.
1946:
The Trials of War Criminals before the Nuremberg Military Tribunals began with the Doctors' Trial, the trial for war crimes and crimes against humanity began for medical researchers involved in the horrors of Nazi human experimentation.
1961:
Adolf Eichmann found guilty of war crimes in Israel.
1992:
US Marines land in Somalia
» Download the iPhone/iPad Military History app! «