They shall grow not old, as we that are left grow old
Total Members: 62,214
Total Posts: 1,403,204
Total Topics: 71,308
Total Categories: 13
Total Boards: 122
The Loyal Edmonton Regiment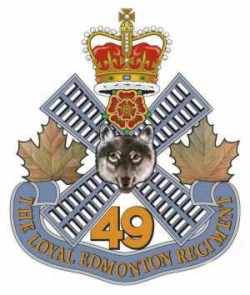 ---
Armorial Description
Between two maple leaves a windmill sail in saltire; superimposed upon the centre of the sail a coyote's head affronts, surmounting the wolf's head the red rose of Lancaster; below the coyote's head and resting on a scroll inscribed THE LOYAL EDMONTON REGIMENT, the numerals 49; the whole surmounted by the Crown.
---
Official Abbreviation: L Edmn R

Motto: Fears no Foe
---
Battle Honours (39)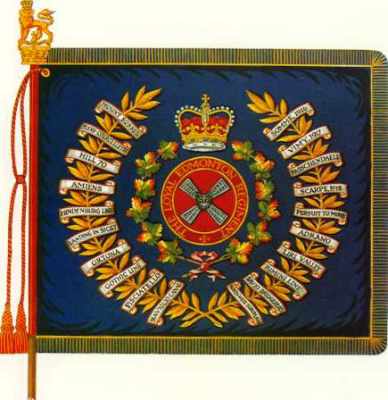 First World War
MOUNT SORREL
PASSCHENDAELE
SOMME, 1916
AMIENS
FLERS-COURCELETTE
SCARPE, 1918
Ancre Heights
HINDENBURG LINE
Arras, 1917,'18
Canal du Nord
VIMY, 1917
PURSUIT TO MONS
HILL 70
France and Flanders, 1915-1918
Ypres, 1917
Second World War
LANDING IN SICILY
GOTHIC LINE
Piazza Amerina
Monteciccardo
Leonforte
Monte Luro
Agira
RIMINI LINE
ADRANO
PISCIATELLO
Troina Valley
San Fortunato
Sicily, 1943
SAVIO BRIDGEHEAD
Colle danchise
NAVICLIOCANAL
The Gully
Fosso Munio
ORTONA
Italy, 1943-1945
LIRI VALLEY
Apeldoorn
Hitler Line
NORTH-WEST EUROPE, 1945
Colonel-in-Chief: The Right Honourable, Countess Mountbatten of Burma, CD, JP, DL, CBE
---
Order of Precedence: 38
---
Options:
---
---
Go back to the Infantry Regiments page.
Go back to the Army home page.
August 20
1914:
World War I: German forces occupy Brussels
1940:
Chuchill's speech "Never in the field of human conflict..."
1944:
Allies close Falaise Gap
1968:
The "Prague Spring" abruptly ended when 200,000 Warsaw Pact troops and 5,000 tanks invaded Czechoslovakia
1998:
U.S. Embassy Bombings: The United States military launches cruise missile attacks against alleged Al-Qaeda camps in Afghanistan and a suspected chemical plant in Sudan in retaliation for the August 7 bombings of American embassies in Kenya and Tanzania. The Al-Shifa pharmaceutical factory in Khartoum is destroyed in the attack.
636:
Arab forces led by Khalid bin Walid took contol of Syria and Palestine in the Battle of Yarmuk
917:
Tsar Simeon I of Bulgaria invaded Thrace and drove the Byzantines out.
» Download the iPhone/iPad Military History app! «