They shall grow not old, as we that are left grow old
874 Guests, 55 Users (4 Hidden)
Loachman, ShadyBrah, E.R. Campbell, infantry officer, AlphaBravo, theforcewithin, 2ndChoiceName, FSTO, NinerSix, Halifax Tar, shortym, Kirkhill, B38890, spacey, Old Sweat, niftynicolemarie, Jim Seggie, exgunnertdo, Mike Bobbitt, PanaEng, AndrewDL, IRepoCans, Zulopol, military123, Mab163, George Wallace, milnews.ca, JRBond, PuckChaser, GrimRX, cwatson91, Excelsior, Infantryman2b, KevinB, Juniorz, Bubbles, myhusky, Sparkplugs, CaptPilk, Good2Golf, PMedMoe, MeanJean, Rick Goebel, Jamoose, expwor, JesseWZ, cjr, x80, captloadie, dangerboy, AlexanderM
Total Members: 44,996
Total Posts: 1,234,405
Total Topics: 66,924
Total Categories: 15
Total Boards: 120
The Lincoln and Welland Regiment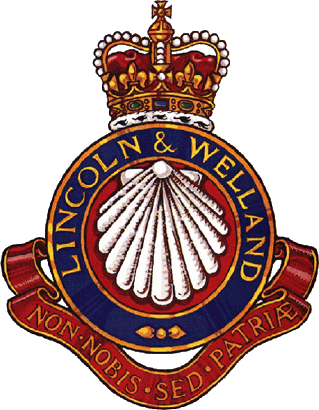 ---
Armorial Description
Within an annulus bearing the words LINCOLN & WELLAND, an escallop; below, a scroll inscribed NON NOBIS SED PATRIAE; the whole surmounted by the Crown.
---
Official Abbreviation: Linc Welld R

Motto: Non Nobis Sed Patriae (Not for ourselves, but for our country)
---
Battle Honours (26)
First World War
YPRES, 1915, '17
Festubert, 1915
SOMME, 1916
ARRAS, 1917, '18
Hill 70
AMIENS
Hindenburg Line
PURSUIT TO MONS
Second World War
FALAISE
Falaise Road
THE LAISON
Chambois
The Seine, 1944
MOERBRUGGE
THE SCHELDT
Breskens Pocket
THE LOWER MAAS
KAPELSCHE VEER
THE RHINELAND
THE HOCHENWALD
Veen
TWENTE CANAL
Friesoythe
Kusten Canal
Bad Zwischenahn
NORTH-WEST EUROPE, 1944-1945
---
Order of Precedence: 10
---
Options:
---
Go back to the Infantry Regiments page.
Go back to the Army home page.
August 27
1776:
Battle of Long Island, in present day Brooklyn, New York British forces under General William Howe defeat Americans under General George Washington.
1813:
Napoleon defeats the Austrians, Russians and Prussians at the Battle of Dresden.
1828:
The Russians defeat the Turks at Akhaltzikke.
1861:
U.S. Civil War: Union forces attack Cape Hatteras, North Carolina.
1896:
The shortest war in history (0902h - 0940h) between the United Kingdom and Zanzibar. Zanzibar surrenders.
1928:
Kellogg-Briang Pact: 15 nations (including Britain, France, Germany, Italy, Japan, USA - and later most members of the League of Nations) agree to renounce war as a means of settling international disputes; but agree there is no means of enforcing t
1944:
MONTECICCARDO, effective dates for battle honour begin (to 28 Aug 44)
1979:
An IRA bomb kills Lord Mountbatten and 3 others on holiday in Sligo, Republic of Ireland. Another near Warrenpoint, Northern Ireland kills 18 British soldiers.
» Download the iPhone/iPad Military History app! «