They shall grow not old, as we that are left grow old
529 Guests, 47 Users (9 Hidden)
Thucydides, BurmaShave, MarkOttawa, trigger, Dimsum, ballz, Rbest, jmt18325, kkwd, Bzzliteyr, E.R. Campbell, GR66, Fluff, MJP, browen, Flyingtanker, krustyrl, Darkage, Alexis, PPCLI Guy, yellowknifer30, Flyonthewall11, mcglone63, mrcpu, lp711, Teager, 211RadOp, milnews.ca, fitzcale215, WR, dangerboy, CBH99, lestock, JulesP, tomydoom, Remius, TerraIncognito, ArmyNavyMom
Total Members: 57,720
Total Posts: 1,356,740
Total Topics: 70,697
Total Categories: 14
Total Boards: 120
The Lincoln and Welland Regiment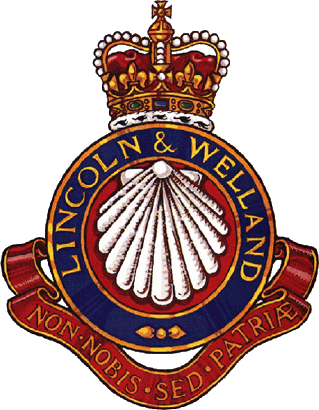 ---
Armorial Description
Within an annulus bearing the words LINCOLN & WELLAND, an escallop; below, a scroll inscribed NON NOBIS SED PATRIAE; the whole surmounted by the Crown.
---
Official Abbreviation: Linc Welld R

Motto: Non Nobis Sed Patriae (Not for ourselves, but for our country)
---
Battle Honours (26)
First World War
YPRES, 1915, '17
Festubert, 1915
SOMME, 1916
ARRAS, 1917, '18
Hill 70
AMIENS
Hindenburg Line
PURSUIT TO MONS
Second World War
FALAISE
Falaise Road
THE LAISON
Chambois
The Seine, 1944
MOERBRUGGE
THE SCHELDT
Breskens Pocket
THE LOWER MAAS
KAPELSCHE VEER
THE RHINELAND
THE HOCHENWALD
Veen
TWENTE CANAL
Friesoythe
Kusten Canal
Bad Zwischenahn
NORTH-WEST EUROPE, 1944-1945
---
Order of Precedence: 10
---
Options:
---
Go back to the Infantry Regiments page.
Go back to the Army home page.
August 26
1071:
Battle of Manzikert: The Seljuk Turks defeat the Byzantine Empire at Manzikert.
1346:
Hundred Years' War: The military supremacy of the English longbow over the French combination of crossbow and armoured knights was established at the Battle of Crécy.
1429:
Joan of Arc enters Paris.
1862:
U.S. Civil War: The Second Battle of Bull Run begins.
1914:
Germany defeats Russia in Battle of Tannenberg.
1914:
The British Expeditionary Force briefly checked the German advance at Le Cateau.
1918:
SCARPE, 1918, effective dates for battle honour begin (to 30 Aug 18)
1918:
The first battle of ARRAS, 1918, effective dates for battle honour begin (to 3 Sept 18)
1918:
VC won by Lt Charles Smith Rutherford, 5th Canadian Mounted Rifles Battalion, CEF, Monchy-le-Preux, France
1957:
The Soviet Union tests an ICBM.
55BC:
Julius Caesar invades Britain.
» Download the iPhone/iPad Military History app! «