They shall grow not old, as we that are left grow old
525 Guests, 35 Users (6 Hidden)
tree hugger, Loachman, Lumber, GraemeG, RocketRichard, NFLD Sapper, Pusser, sledge, SupersonicMax, Blackadder1916, MarkOttawa, kratz, E.R. Campbell, Spencer100, Journeyman, MJP, captloadie, Alpha dog, YZT580, PuckChaser, Terrier, AbdullahD, Jed, Robinson_A, EME421, elsalado, Chris Pook, Jayjaycf, ReggieKatz
Total Members: 58,888
Total Posts: 1,371,065
Total Topics: 71,164
Total Categories: 14
Total Boards: 120
The Lorne Scots (Peel, Dufferin and Halton Regiment)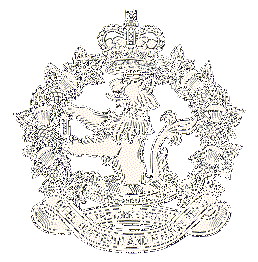 ---
Armorial Description
In the centre of a wreath of thistle and maple leaves, the crest of Viscount Peel (on a wreath of the colours argent and azure, a demi lion rampant argent, gorged with a collar azure charged with three bezants, and holding between the paws a shuttle or) resting on a scroll bearing the motto AIR SON AR DUTHCHAIS and ensigned by the Crown; below the wreath, a scroll inscribed with the designation THE LORNE SCOTS (PEEL DUFFERIN AND HALTON REGT).
---
Official Abbreviation: The Lorne Scots

Motto: Air Son Ar Duthchais (For our heritage)
---
Battle Honours (12)
First World War
YPRES, 1915, '17
HILL 70
Festubert, 1915
AMIENS
MOUNT SORREL
HINDENBURG LINE
SOMME, 1916
PURSUIT TO MONS
ARRAS, 1917, '18
Second World War
SICILY, 1943
NORTH-WEST EUROPE, 1944-1945
ITALY, 1943-45
---
Regimental Headquarters:
12 Chapel St.
Brampton, Ontario
L6W 2H1
---
Order of Precedence: 14
---
Go back to the Infantry Regiments page.
Go back to the Army home page.
December 5
1875:
General Arthur Currie, future commander of the Canadian Expeditionary Force in World War I, is born in Napperton, Ontario.
1934:
Abyssinia Crisis: Italian troops attack Wal Wal in Abyssinia, taking four days to capture the city.
1943:
THE MORO, effective dates for battle honour begin (to 7 Dec 43)
1964:
Vietnam War: For his heroism in battle earlier in the year, Captain Roger Donlon of Saugerties, New York is awarded the first Medal of Honor of the war.
1978:
The Soviet Union signs a 'friendship treaty' with the Democratic Republic of Afghanistan.
» Download the iPhone/iPad Military History app! «