They shall grow not old, as we that are left grow old
451 Guests, 13 Users (1 Hidden)
Halifax Tar, Infanteer, Loachman, Belligerance, Grimey, Boysen, RawJL, MJP, Eagle Eye View, djangovi, cinderblocked, Quirky
Total Members: 55,273
Total Posts: 1,323,765
Total Topics: 69,901
Total Categories: 14
Total Boards: 119
The Lanark and Renfew Scottish Regiment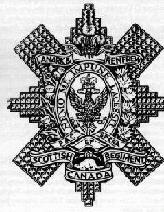 ---
Armorial Description
In the centre of the star of the Order of the Thistle an oval annulus inscribed with the motto of the order NEMO ME IMPUNE LACESSIT; within the annulus a double-headed crowned displayed eagle holding in its right talon the bell of Saint Kentigern; entwined through the base of the annulus is a scroll inscribed with the motto FAC ET SPERA; on the right side of the annulus a spray of thistle and on the left side a spray of maple, the stems of the sprays are crossed and knotted below the base of the annulus; above the annulus a scroll with the badge of the heir apparent superimposed upon the centre fold and the title of the regiment inscribed on either side LANARK & - RENFEW; below the crossed stems a beaver resting on the centre fold of a scroll which is inscribed SCOTTIST - CANADA - REGIMENT.
---
Official Abbreviation: L & R Scot R

Motto: Fac et Spera (Do and hope)
---
Battle Honours
First World War
SOMME, 1916
AMIENS
ARRAS, 1917, '18
Hindenburg Line
Ypres, 1917
PURSUIT TO MONS
Second World War
CORIANO
NAVIGLIO CANAL
MISANO RIDGE
ITALY, 1944-1945
CASALE
---
Regimental Headquarters:
The Armoury
177 Victoria St.
Pembroke, Ontario
K8A 4K2
---
Order of Precedence: 16
---
Go back to the Infantry Regiments page.
Go back to the Army home page.
February 14
1916:
Remaining classes of single men called up in Britain
1939:
The Bismarck is launched
1942:
Formation of first Royal Marine Commando at Deal
1945:
Royal Marines received Freedom of Deal
1989:
Iranian theocrat Ayatollah Khomeini issued a "fatwa" agains Salman Rushdie for the publication of "Satanic Verses." Khomeini urged Muslims worldwide to assassinate Rushdie as a matter of "religious duty" for critisizing the Koran. This day marks the beginning of a rift between Western democratic values of freedom of expression and Islamic religious tenets of absolute obedience to the Koran.
» Download the iPhone/iPad Military History app! «