They shall grow not old, as we that are left grow old
Total Members: 59,498
Total Posts: 1,381,692
Total Topics: 71,496
Total Categories: 14
Total Boards: 121
The Lake Superior Scottish Regiment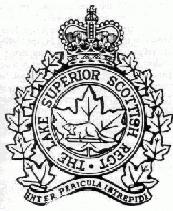 ---
Armorial Description
A maple leaf charged with a beaver, encircled by an annulus, inscribed THE LAKE SUPERIOR SCOTTISH REGIMENT and surmounted by the Crown; below a scroll inscribed INTER PERICULA INTREPIDI; on each side of the annulus, six maple leaves.
---
Official Abbreviation: Lake Sup Scot R

Motto: Inter Pericula Intrepidi (Fearless in the face of danger)
---
Battle Honours (34)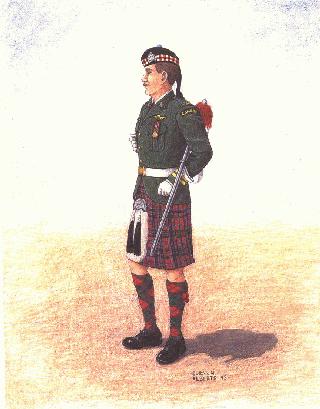 First World War
YPRES, 1915
YPRES, 1917
PASSCHENDAELE
Fustubert, 1915
AMIENS
MOUNT SORREL
Scarpe, 1918
SOMME, 1916
Drocourt-Queant
Flers-Courcelette
HINDENBURG LINE
Ancre Heights
Canal du Nord
Arras, 1917
Arras, 1918
CAMBRAI, 1918
VIMY, 1917
VALENCIENNES
HILL 70
France and Flanders, 1915-1918
Second World War
FALAISE
THE HOCHWALD
Falaise Road
Veen
The Laison
TWENTE CANAL
Chambois
FRIESOYTHE
THE SCHELDT
KUSTEN CANAL
THE LOWER MAAS
Bad Zwischenahn
THE RHINELAND
NORTH-WEST EUROPE, 1944-1945
---
Tartan: MacGillivary

Authorized March: The Highland Laddie

Regimental Headquarters:
The Armoury
317 Park Ave.
Thunder Bay, Ontario
P7B 1C7
---
Honourary Colonel: Colonel P.R. "Jerry" Cook,OStJ,CD
Honourary Lieutenant-Colonel: Lieutenant-Colonel Catherine Paterson,DStJ,DStL
Commanding Officer: Major Donald P.M. Strang,CD
Regimental Sergeant-Major: Master Warrant Officer David J. Coffey,CD
---
The Lake Superior Scottish Regiment perpetuates the following Regiments:

The Provisional Battalion of Rifles
96th District of Algoma Battalion of Rifles
96th Algoma Rifles
96th The Lake Superior Regiment
52nd, 94th and 141st Battaions, CEF
The Lake Superior Regiment (Motor)
---
Brief History
The Regiment was raised 30 Apr 1885 and designated The Provisional Battalion of Rifles at Port Arthur, Ontario. It was redesignated the 96th District of Algoma Battalion of Rifles 29 Apr 1887. On 3 Jul 1904 is was renamed the 96th Lake Superior Regiment and redesignated The Lake Superior Regiment 15 Mar 1920. 26 Jan 1943 it became The Lake Superior Regiment (Motor) and on 29 Jun 1949 it was granted approval to become "Scottish", being called The Lake Superior Scottish Regiment (Motor), and 11 Apr 1958 it adopted its present title, The Lake Superior Scottish Regiment. During World War I it sent drafts of over 400 soldiers each to the 8th and 28th Battalions, CEF, raised the 52nd, 94th, and 141st Battalions, the latter two being reinforcement Battalions for "The Fighting 52nd".
---
The LSSR's Colours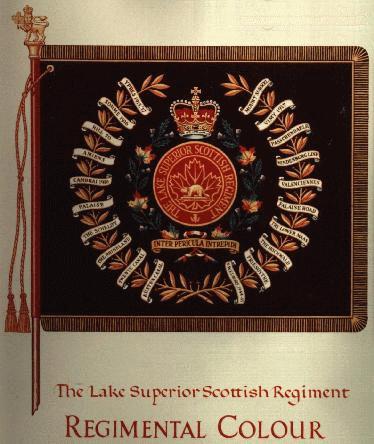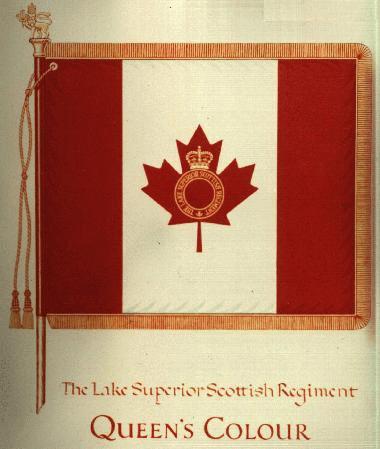 ---
Order of Precedence: 33
---
Options:
---
Go back to the Infantry Regiments page.
Go back to the Army home page.
February 25
1787:
1st Battalion, The Royal New Brunswick Regiment (Carleton and York), specific date of origin not known
1838:
Amherstburg Ontario - Canadian militia routs American republican sympathizers on Fighting Island, in the Detroit River
1867:
A.G.L. 'Andy' McNaughton 1867-1966
1870:
2nd Battalion, The Royal New Brunswick Regiment (North Shore): Spem Reduxit (Hope restored)
1917:
During fighting along the banks of the Tigris in Mesopotamia, troops from the South Lancashire Regiment (British Army) repeatedly attempted to advance along a gully, but suffered heavy casualties each time from a Turkish machine-gun.  Private Readitt took part in each of five attacks, and on each occasion was the only survivor.  However, the attacks slowly forced the Turks to give ground.  When the officer commanding the operation was killed, Readitt when forward once more, alone and on his own initiative.  He advanced right up to the Turkish position, and although he was unable to remain there for long, he inflicted damage with grenades.  He slowly retired, and located a good defensive position a short distance away, which he proceeded to hold on his own.  Eventually, other soldiers managed to advance and join him, and consolidate the position.  Readitt was awarded the Victoria Cross.
1941:
British troops occupied the capital Mogadishu, as Italian resistance in Somaliland collapsed.
1944:
Bomber Command mounted a devastating attack on Augsburg, the first occasion it had attacked that city in strength. Good weather and poor anti-aircraft defence contributed to a very concentrated attack by 594 aircraft carrying more than 2,000 tons of bombs. The raid proved somewhat controversial, given the level of destruction in the old city centre. Some 700 Germans were killed, but perhaps 90,000 rendered homeless. An important aircraft component factory was successfully damaged, as well as factories associated with the MAN engineering works, which produced U-boat engines.
1945:
Following fierce fighting in Holland, a platoon of The Queen's Own Rifles of Canada had been reduced to just one sergeant and four men during a series of German night counter-attacks. Sergeant Cosens positioned the four riflemen to give him covering fire, then ran to a supporting tank. Standing fully exposed on the tank, he directed its fire to good effect, breaking up another attack. He than asked the tank to bulldoze a way into a German-occupied farm. Cosens went into the farm alone and killed or captured all its defenders. He then succeeded in clearing another two buildings on his own, and was killed by a sniper.
1991:
During the Persian Gulf War, an Iraqi Scud missile hit a U.S. barracks in Dhahran, Saudi Arabia, killing 28 Americans.
» Download the iPhone/iPad Military History app! «