They shall grow not old, as we that are left grow old
744 Guests, 35 Users (4 Hidden)
Valhrafn, Sheep Dog AT, sidemount, runormal, Trail Runner, Kirkhill, Ostrozac, newshooter, MedicTWO, CBH99, Infanteer, ballz, Bruce Monkhouse, Saint & Sinner, FJAG, NancyAexlm, MilEME09, Petard, Kyle Burrows, Rhodesian, kratz, Fishandchipsandbeer, Coty4th, robertsson858, Teager, sharki9876, Blackadder1916, Avro, Davionn, Dimsum, fed_up
Total Members: 48,438
Total Posts: 1,264,126
Total Topics: 68,060
Total Categories: 14
Total Boards: 119
The Nova Scotia Highlanders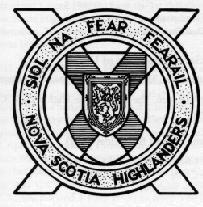 ---
Armorial Description
The Cross of Saint Andrew, in the centre the coat of arms of the province of Nova Scotia (i.e.: argent, on a saltire azure an ascutcheon of the Royal Arms of Scotland); encircling the arms an annulus inscribed, on the upper curve with the motto SIOL NA FEAR FEARAIL, and on the lower curve with the designation NOVA SCOTIA HIGHLANDERS.
---
Official Abbreviation: NS Highrs

Motto: Siol Na Fear Fearail (Breed of manly men)
---
Battle Honours (56)
Early History
First World War
YPRES, 1915,'17
Hill 70
Festubert, 1915
PASSCHENDAELE
MOUNT SORREL
AMIENS
Somme, 1916,'18
DROCOURT-QUEANT
Flers-Courcelette
HINDENBURG LINE
Thiepval
CANAL DU NORD
Ancre Hieghts
Cambrai, 1918
ARRAS, 1917,'18
Valenciennes
VIMY, 1917
Sambre
Arleux
FRANCE AND FLANDERS, 1915-1918
Scarpe, 1917,'18
Second World War
LIRI VALLEY
Falaise
Melfa Crossing
The Laison
Ceprano
CHAMBOIS
GOTHIC LINE
BOULOGNE, 1944
Montecchio
Calais, 1944
CORIANO
The Scheldt
LAMONE CROSSING
Savojaards Plaat
Fosso Munio
BRESKENS POCKET
Conventello-Comacchio
The Rhineland
ITALY, 1944-1945
Waal Flats
Normandy Landing
The Hochwald
AUTHIE
THE RHINE
Caen
Zutphen
The Orne
Ijsselmeer
Bourguebus Ridge
Leer
Faubourg de Vaucelles
Delfzijl Pocket
Verrieres Ridge -- Tilly-la-Campagne
North-West Europe, 1944-1945
---
Regimental Headquarters:
1st Battalion
The Nova Scotia Highlanders (North)
126 Willow St.
Truro, Nova Scotia
B2M 4Z6

2nd Battalion
The Nova Scotia Highlanders (Cape Breton)
Victoria Park
Sydney, Nova Scotia
B1P 6G8
---
Order of Precedence: 25
---
---
Go back to the Infantry Regiments page.
Go back to the Army home page.
March 2
1916:
Lord Derby speaks in the House of Lords on recruiting: "stronger methods are needed to get men, women must take the place of men..."
1943:
New Guinea - Battle of the Bismark Sea rages; Allied planes sink 12 Japanese ships carrying reinforcements to New Guinea, killing nearly 4,000.
1944:
The frigates of the Royal Navy's First Escort Group brought the longest continuous U-boat hunt to a successful conclusion, destroying U-358, but losing HMS Gould. The hunt started on 29 February, and HM Ships Affleck, Gould, Gore and Garlies dropped some 104 depth charges over the following two days. Gore and Garlies had to withdraw to Gibraltar for fuel, but Affleck and Gould continued the attack. U-358 succeeded in torpedoing Gould, but was then forced to the surface and finished off by Affleck's gunfire.
1945:
In Burma, Gian Singh, a Naik of the 15th Punjab Regiment, single-handedly attacked a series of Japanese positions. Despite being wounded, he cleared a series of trenches and a concealed anti-tank gun, then led his section forward to complete the reduction of the enemy position. He received the Victoria Cross.
1945:
Naik (Corporal) Fazal Din of the 10th Baluch Regiment conducted a lone attack on a Japanese bunker, which was pinning down his section. Having eliminated its defenders, he then attacked a second, from which six Japanese charged forth. A Japanese officer ran his sword through Fazal Din's chest, but as he pulled the blade out, the mortally wounded Naik wrestled it from his grip, and killed the officer with his own sword. He then killed a second Japanese soldier with the sword, as his men advanced to capture the bunker. Fazal Din managed to stagger back to report the success of the attack, before dying from his injuries. He was awarded a posthumous Victoria Cross.
1951:
National Defence publish first Canadian casualty list from Korea; six soldiers killed.
» Download the iPhone/iPad Military History app! «