They shall grow not old, as we that are left grow old
534 Guests, 36 Users (5 Hidden)
expwor, dangerboy, George Wallace, Tuan, Bruce Monkhouse, WLUArmyBrat, NFLD Sapper, LightFighter, Sandore, secondchance, goldfinger, Altair, Rifleman62, FSTO, Leeworthy, Alex93, TB, yoman, Occam, GPKJerry, Ostrozac, Tango2Bravo, sidemount, Rhodesian, E.R. Campbell, DEWAI, Steelheader, Kirkhill, Old Sweat, GreenWood, MJP
Total Members: 52,570
Total Posts: 1,293,211
Total Topics: 69,026
Total Categories: 14
Total Boards: 119
The Nova Scotia Highlanders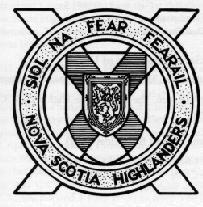 ---
Armorial Description
The Cross of Saint Andrew, in the centre the coat of arms of the province of Nova Scotia (i.e.: argent, on a saltire azure an ascutcheon of the Royal Arms of Scotland); encircling the arms an annulus inscribed, on the upper curve with the motto SIOL NA FEAR FEARAIL, and on the lower curve with the designation NOVA SCOTIA HIGHLANDERS.
---
Official Abbreviation: NS Highrs

Motto: Siol Na Fear Fearail (Breed of manly men)
---
Battle Honours (56)
Early History
First World War
YPRES, 1915,'17
Hill 70
Festubert, 1915
PASSCHENDAELE
MOUNT SORREL
AMIENS
Somme, 1916,'18
DROCOURT-QUEANT
Flers-Courcelette
HINDENBURG LINE
Thiepval
CANAL DU NORD
Ancre Hieghts
Cambrai, 1918
ARRAS, 1917,'18
Valenciennes
VIMY, 1917
Sambre
Arleux
FRANCE AND FLANDERS, 1915-1918
Scarpe, 1917,'18
Second World War
LIRI VALLEY
Falaise
Melfa Crossing
The Laison
Ceprano
CHAMBOIS
GOTHIC LINE
BOULOGNE, 1944
Montecchio
Calais, 1944
CORIANO
The Scheldt
LAMONE CROSSING
Savojaards Plaat
Fosso Munio
BRESKENS POCKET
Conventello-Comacchio
The Rhineland
ITALY, 1944-1945
Waal Flats
Normandy Landing
The Hochwald
AUTHIE
THE RHINE
Caen
Zutphen
The Orne
Ijsselmeer
Bourguebus Ridge
Leer
Faubourg de Vaucelles
Delfzijl Pocket
Verrieres Ridge -- Tilly-la-Campagne
North-West Europe, 1944-1945
---
Regimental Headquarters:
1st Battalion
The Nova Scotia Highlanders (North)
126 Willow St.
Truro, Nova Scotia
B2M 4Z6

2nd Battalion
The Nova Scotia Highlanders (Cape Breton)
Victoria Park
Sydney, Nova Scotia
B1P 6G8
---
Order of Precedence: 25
---
---
Go back to the Infantry Regiments page.
Go back to the Army home page.
August 30
1813:
Battle of Kulm - French forces defeated by Austrian-Prussian-Russian alliance.
1862:
Battle of Richmond, Kentucky - Confederates under Edmund Kirby Smith rout a Union army under General Horatio Wright.
1914:
Battle of Tannenberg
1922:
Battle of Dumlupinar, final battle in Greco-Turkish War (1919-1922) ("Turkish War of Independence")
1941:
Siege of Leningrad begins.
1944:
MONTECCHIO, effective dates for battle honour begin (to 31 Aug 44)
1945:
British naval fore arrives in Hong Kong to reoccupy colony
1945:
Supreme Commander of the Allied Forces, General Douglas MacArthur lands at Atsugi Air Force Base.
» Download the iPhone/iPad Military History app! «