They shall grow not old, as we that are left grow old
501 Guests, 36 Users (6 Hidden)
SeaKingTacco, Andriyko, milnews.ca, Max Power22, Gauss, kev994, paz209, 211RadOp, ArmyNavyMom, captloadie, Flyonthewall11, Old Sweat, vehtech411, Journeyman, Mike Bobbitt, kratz, Haggis, Dolphin_Hunter, Occam, lp711, Dimsum, lifeGoes, CaptPilk, AbdullahD, Nuggs, tomydoom, Wrangler, Remius, Blake C., Lightguns
Total Members: 58,412
Total Posts: 1,365,549
Total Topics: 70,973
Total Categories: 14
Total Boards: 120
The Princess Louise Fusiliers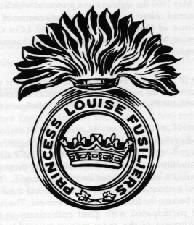 ---
Armorial Description
A grenade with ninteen-pointed flame; on the ball of the grenade an annulus inscribed PRINCESS LOUISE FUSILIERS; on the lower curve, two maple leaves with stems crossed; within the annulus the coronet of a princess.
---
Official Abbreviation: PLF

Motto: Fideliter (Faithfully)
---
Battle Honours (16)
Early History
NORTH-WEST CANADA 1885
SOUTH AFRICA, 1899-1900

First World War
SOMME, 1916
YPRES, 1917
AMIENS
ARRAS, 1917
HILL 70

Second World War
Arnhem 1945 LIRI VALLEY
MISANO RIDGE
MELFA CROSSING
ITALY, 1944-1945
GOTHIC LINE
CORIANO
LAMONE CROSSING
DELFZIJL POCKET
NORTH-WEST EUROPE, 1945

---
Order of Precedence: 22
---
Go back to the Infantry Regiments page.
Go back to the Army home page.
October 28
1664:
King Charles II sanctioned the formation of the Duke of York and Albany's Maritime Regiment of Foot - the first Regiment to be formed specifically for service afloat. The Regiment was raised mainly from the Trained Bands of the City of London.
1664:
The Birth of the Royal Marine Corps
1940:
The RCR are relieved from Costal Guard, Reigate, England
» Download the iPhone/iPad Military History app! «