They shall grow not old, as we that are left grow old
575 Guests, 12 Users (1 Hidden)
SprCForr, MilEME09, thevetswife, RaceAddict, Qc, Firefly11, Quirky, MJP, OldTanker, LunchMeat, Moore
Total Members: 58,917
Total Posts: 1,371,586
Total Topics: 71,182
Total Categories: 14
Total Boards: 120
Princess Patricia's Canadian Light Infantry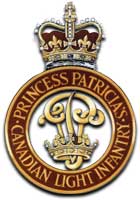 ---
Armorial Description
Within an annulus inscribed PRINCESS PATRICIA'S CANADIAN LIGHT INFANTRY, the cypher and coronet of HRH Princess Patricia, pierced (the coronet comprised of three visible crosses patte interspersed with two strawberry leaves); the whole surmounted by the St. Edward's Crown.
---
Official Abbreviation: PPCLI

Motto: (None)
---
Battle Honours (38)
First World War
YPRES, 1915, '17
Arleux
FREZENBERG
Hill 70
Bellewaarde
PASSCHENDAELE
MOUNT SORREL
AMIENS
Somme, 1916
SCARPE, 1918
FLERS-COURCELETTE
Hindenburg Line
Ancre Heights
Canal Du Nord
Arras, 1917-18
PURSUIT TO MONS
VIMY, 1917
FRANCE AND FLANDERS, 1914-18

Second World War
LANDING IN SICILY
RIMINI LINE
LEONFORTE
SAN FORTUNATO
Agira
Savio Brisgehead
Sicily, 1943
Naviglio Canal
THE MORO
FOSSO MUNIO
THE GULLY
Granarola
Liri Valley
Italy, 1943-1945
HITLER LINE
Appeldoorn
GOTHIC LINE
NORTH-WEST EUROPE 1945

Korea
---
The 2nd Battalion, Princess Patricias Canadian Light Infantry, has a unique distinction. This battalion received the Distinguished Unit Citation from the President of the United States to recognize its stand near Kapyong, Korea, in April 1951. Equating to a battle honour, the Citation is represented by a streamer four feet in length and two and three-quarter inches in width, bearing the name of the action, attached to the pike of the regimental Colour. The use of this streamer in accordance with American practice was authorized by King George VI. In addition to the streamer, the Presidential Citation is also worn on the uniform. It is a small royal blue bar with gold trim. Although battle honours are awarded on a regimental basis, and the whole of the PPCLI carries Kapyong on its colours, the distinction of bearing this streamer belongs to 2 PPCLI alone, and is carried on the battalions regimental colour. The badge is also unique to 2PPCLI.
---
Order of Precedence: 2
---
Options:
---
Go back to the Infantry Regiments page.
Go back to the Army home page.
December 9
1824:
Battle of Ayacucho - Peru defeats Spain
1835:
The Army of the Republic of Texas captures San Antonio
1861:
Joint Committee on the Conduct of the War created by the U.S. Congress
1937:
Second Sino-Japanese War: Battle of Nanjing begins.
1940:
World War II: British Army attacks Italian forces in North Africa.
1941:
China and Provisional Government of the Republic of Korea declares war on Germany, and Italy.
1944:
British Eigth Army suspends offensive in Italy
1945:
American General George S. Patton is injured in an automobile crash in occupied Germany. He dies twelve days later.
1946:
The Trials of War Criminals before the Nuremberg Military Tribunals began with the Doctors' Trial, the trial for war crimes and crimes against humanity began for medical researchers involved in the horrors of Nazi human experimentation.
1961:
Adolf Eichmann found guilty of war crimes in Israel.
1992:
US Marines land in Somalia
» Download the iPhone/iPad Military History app! «