They shall grow not old, as we that are left grow old
662 Guests, 45 Users (8 Hidden)
Sorcerers, Marie92, jollyjacktar, kratz, putz, Danjanou, Beadwindow 7, Altair, Nick15, Alexis, BigTuna, Journeyman, kkwd, WR, tomahawk6, VidaBergin, E.R. Campbell, CBH99, Old Sweat, Colin P, acen, Ostrozac, Wrangler, Crimmsy, MJP, Jed, BobSlob, WestCoaster, RaceAddict, RubyHailes, Bird_Gunner45, AlexanderM, PuckChaser, AbdullahD, poinf, Blackadder1916, PikaChe
Total Members: 57,779
Total Posts: 1,357,287
Total Topics: 70,712
Total Categories: 14
Total Boards: 120
The Queen's Own Cameron Highlanders of Canada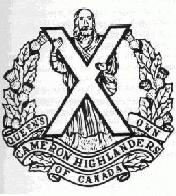 ---
Armorial Description
The figure of St. Andrew holding in his arms a Cross, enclosed by a wreath of thistles and leaves; across the lower part of the wreath are scrolls inscribed QUEEN'S OWN CAMERON HIGHLANDERS OF CANADA.
---
Official Abbreviation: Camerons of C

Motto: Ullamh (Ready)
---
Battle Honours (37)
First World War
YPRES, 1915,'17
PASSCHENDAELE
Festubert, 1915
AMIENS
MOUNTSORREL
Scarpe,1918
SOMME, 1916
Drocourt-Queant
Flers-Courcelette
Hindenburg Line
ANCRE HEIGHTS
CANAL DU NORD
ARRAS, 1917,18
Cambrai, 1918
VIMY, 1917
Pursuit to Mons
Hill 70
FRANCE AND FLANDERS, 1915-1918
Second World War
DIEPPE
The Scheldt
Bourguebus Ridge
WOENSDRECHT
ST. ANDRT-SUR-ORNE
South Beveland
VERRITRES RIDGE -- TILLY-LA-CAMPAGNE
THE RHINELAND
THE HOCHWALD
FALAISE
XANTEN
Falaise Road
The Rhine
The Laison
Groningen
FORET DE LA LONDE
Oldenburg
DUNKIRK, 1944
North-West Europe, 1942,1944-1945
Colonel-in-Chief: Field Marshal His Royal Highness Prince Philip, The Duke of Edinburgh KG, PC, KT, OM, GBE, QSO, CD

Authorized Marches:
Quick March: The Piobaireachd of Donald Dhu and The March of the Cameron Men

Regimental Headquarters:
Minto Armoury
969 St. Matthew Avenue
Winnipeg, Manitoba
R3G OJ7
---
Order of Precedence: 39
---
Go back to the Infantry Regiments page.
Go back to the Army home page.
August 30
1813:
Battle of Kulm - French forces defeated by Austrian-Prussian-Russian alliance.
1862:
Battle of Richmond, Kentucky - Confederates under Edmund Kirby Smith rout a Union army under General Horatio Wright.
1914:
Battle of Tannenberg
1922:
Battle of Dumlupinar, final battle in Greco-Turkish War (1919-1922) ("Turkish War of Independence")
1941:
Siege of Leningrad begins.
1944:
MONTECCHIO, effective dates for battle honour begin (to 31 Aug 44)
1945:
British naval fore arrives in Hong Kong to reoccupy colony
1945:
Supreme Commander of the Allied Forces, General Douglas MacArthur lands at Atsugi Air Force Base.
» Download the iPhone/iPad Military History app! «