They shall grow not old, as we that are left grow old
510 Guests, 48 Users (8 Hidden)
Kirkhill, PPCLI Guy, suffolkowner, milnews.ca, Schindler's Lift, LightFighter, 211RadOp, Infanteer, Sythen, Kilo_302, dangerboy, medicineman, Iceblue, E.R. Campbell, NewMedA, crowbag, AllSmiles, Occam, Jed, Poppa, yoman, Lumber, Crantor, RoyalDrew, NFLD Sapper, Seymour98, BHC1, Watsonglen6, Pencil Tech, blackberet17, Ayrsayle, LunchMeat, EME421, llin_X, Blackadder1916, Chanbomb11, ZxExN, jmt18325, secondchance, xFusilier
Total Members: 52,639
Total Posts: 1,294,031
Total Topics: 69,069
Total Categories: 14
Total Boards: 119
The Queen's Own Cameron Highlanders of Canada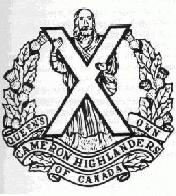 ---
Armorial Description
The figure of St. Andrew holding in his arms a Cross, enclosed by a wreath of thistles and leaves; across the lower part of the wreath are scrolls inscribed QUEEN'S OWN CAMERON HIGHLANDERS OF CANADA.
---
Official Abbreviation: Camerons of C

Motto: Ullamh (Ready)
---
Battle Honours (37)
First World War
YPRES, 1915,'17
PASSCHENDAELE
Festubert, 1915
AMIENS
MOUNTSORREL
Scarpe,1918
SOMME, 1916
Drocourt-Queant
Flers-Courcelette
Hindenburg Line
ANCRE HEIGHTS
CANAL DU NORD
ARRAS, 1917,18
Cambrai, 1918
VIMY, 1917
Pursuit to Mons
Hill 70
FRANCE AND FLANDERS, 1915-1918
Second World War
DIEPPE
The Scheldt
Bourguebus Ridge
WOENSDRECHT
ST. ANDRT-SUR-ORNE
South Beveland
VERRITRES RIDGE -- TILLY-LA-CAMPAGNE
THE RHINELAND
THE HOCHWALD
FALAISE
XANTEN
Falaise Road
The Rhine
The Laison
Groningen
FORET DE LA LONDE
Oldenburg
DUNKIRK, 1944
North-West Europe, 1942,1944-1945
Colonel-in-Chief: Field Marshal His Royal Highness Prince Philip, The Duke of Edinburgh KG, PC, KT, OM, GBE, QSO, CD

Authorized Marches:
Quick March: The Piobaireachd of Donald Dhu and The March of the Cameron Men

Regimental Headquarters:
Minto Armoury
969 St. Matthew Avenue
Winnipeg, Manitoba
R3G OJ7
---
Order of Precedence: 39
---
Go back to the Infantry Regiments page.
Go back to the Army home page.
September 3
1260:
The Mamluks defeat the Mongols at the Battle of Ain Jalut in Palestine, marking their first decisive defeat and the point of maximum expansion of the Mongol Empire.
1651:
English Civil War: Battle of Worcester - Charles I of England is defeated in the last main battle of the war.
1777:
The Flag of the United States flies in battle for the first time, at Cooch's Bridge in Maryland.
1783:
American Revolutionary War ends: Treaty of Paris - A treaty between the United States and the Kingdom of Great Britain is signed in Paris, ending the war.
1798:
Weeklong battle of St. George's Caye begun between Spanish and British off the coast of Belize.
1855:
Indian Wars: In Nebraska, 700 soldiers under American General William Harney avenge the Grattan Massacre by attacking a Sioux village killing 100 men, women, and children.
1861:
American Civil War: Confederate General Leonidas Polk invades neutral Kentucky, prompting the state legislature to ask for Union assistance.
1912:
The Canadian Scottish Regiment (Princess Mary's): Deas Gu Cath (Ready for the fray)
1939:
World War 2 starts
1942:
ITALY, 1943, effective dates for battle honour begin (to 17 Aug 43)
1943:
ITALY, 1943-45, effective dates for battle honour begin (to 22 Apr 45)
1943:
LANDING AT REGGIO
1944:
CORIANO, effective dates for battle honour begin (to 15 Sept 44)
1944:
MISANO RIDGE, effective dates for battle honour begin (to 5 Sept 44)
1994:
Sino-Soviet Split: Russia and the People's Republic of China agree to de-target their nuclear weapons against each other.
2006:
Pte William Cushley KIA
2006:
Sgt Shane Stachnik from 2 CER 23 Field SQ KIA
2006:
WO. Frank Melish KIA 1RCR C-Coy
2006:
WO. Richard Nolan KIA 1RCR C-Coy
» Download the iPhone/iPad Military History app! «