They shall grow not old, as we that are left grow old
624 Guests, 34 Users (4 Hidden)
Quiet~One, DEINP, Halifax Tar, WR, GAP, Journeyman, Flyonthewall11, NeeNo, kratz, navice, SeaKingTacco, 123zxy, LEI_F, dangerboy, MJP, Lightguns, sully139, ridsteram, expwor, Old Sweat, Jed, cavalryman, Kat Stevens, kcoolbee, biernini, MOOXE, Bruce Monkhouse, Chanada, lp711, kkwd
Total Members: 60,426
Total Posts: 1,389,572
Total Topics: 71,748
Total Categories: 13
Total Boards: 120
The Queen's Own Rifles of Canada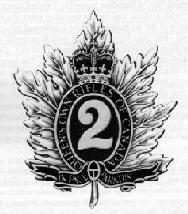 ---
Armorial Description
The Arabic numberal 2 encircled by a scroll inscribed QUEEN'S OWN RIFLES OF CANADA the scroll surmounted by the Crown. Joined to the base of the scroll and clasped with a bucklem, a ribbon scroll bearing the motto IN PACE PARATUS. The whole superimposed on a maple leaf.
---
Official Abbreviation: QOR of C

Motto: In Pace Paratus (In peace prepared)
---
Battle Honours (43)
Early History
NORTH-WEST CANADA, 1885
SOUTH AFRICA, 1898-1900

First World War
Ypres, 1915, '17
Arleux
Gravenstafel
Scarpe, 1917, '18
ST. JULIEN
HILL 70
Festubert, 1915
PASSCHENDAELE
MOUNT SORREL
AMIENS
SOMME, 1916
Drocourt-Queant
Pozieres
Hindenburg Line
FLEURS-COURCELETTE
CANAL DU NORD
Ancre Heights
PURSUIT TO MONS
Arras, 1917, '18
France and Flanders, 1915-1918
VIMY, 1917
Second World War
NORMANDY LANDING
Calais, 1944
LE MESNIL-PATRY
THE SCHELDT
CAEN
Breskens Pocket
Carpiquet
THE RHINELAND
BOURGUEBUS RIDGE
Waal Flats
Faubourg de Vaucelles
THEHOCHWALD
FALAISE
THE RHINE
Quesnay Wood
Emmerich-Hoch Elten
The Laison
Deventer
BOULOGNE, 1944
North-West Europe 1944-1945
Colonel-in-Chief: HRH Princess Alexandra

Authorized Marches:
Quick March: The Buffs
Double Past: Money Musk

Regimental Headquarters:
The Queen's Own Rifles of Canada
Moss Park Armoury
130 Queen St E.
Toronto, Ontario
M5A 1R9
---
Order of Precedence: 3
---
Options:
---
Please direct any questions to John Wilmot (jwilmot@comnet.ca).
---
Go back to the Infantry Regiments page.
Go back to the Army home page.
April 26
1860:
The Queen's Own Rifles of Canada: In Pace Paratus (In peace prepared)
1986:
An explosion of Chernobyl nuclear power plant in Ukraine resulted in a nuclear meltdown sending radioactivity into the atmosphere. The Radiation fallout spread throughout Europe. Chernobyl disaster is considered the largest nuclear accident in history.
» Download the iPhone/iPad Military History app! «