They shall grow not old, as we that are left grow old
720 Guests, 31 Users (5 Hidden)
tyorke0, clownfool, rmc_wannabe, PMedMoe, Old Sweat, Harris, ModlrMike, Chris Pook, buyin_lingerie, cavalryman, Tango2Bravo, Nick15, suffolkowner, MARS, Jferron, Gbert84, AbdullahD, bLUE fOX, exgunnertdo, RaceAddict, expwor, llin_X, edlabonte, Cdn Blackshirt, kratz, dangerboy
Total Members: 58,921
Total Posts: 1,371,654
Total Topics: 71,186
Total Categories: 14
Total Boards: 120
The Queen's Own Rifles of Canada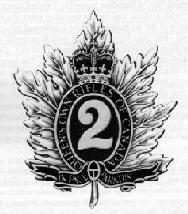 ---
Armorial Description
The Arabic numberal 2 encircled by a scroll inscribed QUEEN'S OWN RIFLES OF CANADA the scroll surmounted by the Crown. Joined to the base of the scroll and clasped with a bucklem, a ribbon scroll bearing the motto IN PACE PARATUS. The whole superimposed on a maple leaf.
---
Official Abbreviation: QOR of C

Motto: In Pace Paratus (In peace prepared)
---
Battle Honours (43)
Early History
NORTH-WEST CANADA, 1885
SOUTH AFRICA, 1898-1900

First World War
Ypres, 1915, '17
Arleux
Gravenstafel
Scarpe, 1917, '18
ST. JULIEN
HILL 70
Festubert, 1915
PASSCHENDAELE
MOUNT SORREL
AMIENS
SOMME, 1916
Drocourt-Queant
Pozieres
Hindenburg Line
FLEURS-COURCELETTE
CANAL DU NORD
Ancre Heights
PURSUIT TO MONS
Arras, 1917, '18
France and Flanders, 1915-1918
VIMY, 1917
Second World War
NORMANDY LANDING
Calais, 1944
LE MESNIL-PATRY
THE SCHELDT
CAEN
Breskens Pocket
Carpiquet
THE RHINELAND
BOURGUEBUS RIDGE
Waal Flats
Faubourg de Vaucelles
THEHOCHWALD
FALAISE
THE RHINE
Quesnay Wood
Emmerich-Hoch Elten
The Laison
Deventer
BOULOGNE, 1944
North-West Europe 1944-1945
Colonel-in-Chief: HRH Princess Alexandra

Authorized Marches:
Quick March: The Buffs
Double Past: Money Musk

Regimental Headquarters:
The Queen's Own Rifles of Canada
Moss Park Armoury
130 Queen St E.
Toronto, Ontario
M5A 1R9
---
Order of Precedence: 3
---
Options:
---
Please direct any questions to John Wilmot (jwilmot@comnet.ca).
---
Go back to the Infantry Regiments page.
Go back to the Army home page.
December 10
1864:
U.S. Civil War: William Tecumseh Sherman reaches Savannah, Georgia, ending his "March to the Sea".
1898:
A treaty is signed in Paris that officially ends the Spanish-American War.
1939:
First Canadian Contingent sails from Halifax for England
1941:
Japanese forces land in the Philippines, capture Guam and sink the British ships HMS Prince of Wales and HMS Repulse.
1943:
THE GULLY, effective dates for battle honour begin (to 19 Dec 43)
1945:
In Aurich, Germany, the trial of SS Brigadier Kurt Meyer on war crimes charges begins before a General Court Martial made up of front-line officers of the Canadian Army.
1949:
Chinese Civil War: The Red Army begins its siege of Chengdu, the last KMT-held city on mainland China. Chiang Kai-shek leaves for Taiwan.
» Download the iPhone/iPad Military History app! «