They shall grow not old, as we that are left grow old
625 Guests, 34 Users (3 Hidden)
GAP, Flyonthewall11, NeeNo, kratz, navice, SeaKingTacco, 123zxy, LEI_F, dangerboy, MJP, Lightguns, sully139, ridsteram, expwor, Old Sweat, Jed, cavalryman, Kat Stevens, kcoolbee, biernini, MOOXE, Bruce Monkhouse, Chanada, lp711, kkwd, Infanteer, the_one_next_door, Journeyman, EME421, Roger123, Halifax Tar
Total Members: 60,426
Total Posts: 1,389,572
Total Topics: 71,748
Total Categories: 13
Total Boards: 120
Royal 22e Regiment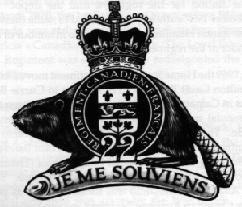 ---
Armorial Description
A beaver, standing on a log inscribed JE ME SOUVIENS; superimposed on the side of the beaver an annulus inscribed REGIMENT CANADIEN FRANCAIS; within the annulus a shield bearing the old coat of arms of the province of Quebec; superimposed on the annulus below the shield is the Arabic numerals 22; the whole surmounted by the Royal Crown.
---
Official Abbreviation: R 22e R

Motto: Je me souviens (I remember)
---
Battle Honours (43)
First World War
MOUNT SORREL
Cote 70
SOMME 1916, '18
YPRES, 1917
FLERS-COURCELETTE
PASSCHENDAELE
Thiepval
AMIENS
Les Hauteurs d'Ancre
Ligne Hindenburg
ARRAS, 1917, '18
Canal du Nord
VIMY, 1917
CAMBRAI, 1918
Arleux
Poursuite a Mons
Scarpe, 1917, '18
FRANCE ET FLANDRES, 1915-18

Second World War
Debarquement en Sicile
Vallee de la Liri
Valguarnera
LIGNE HITLER
Adrano
LIGNE GOTHIC
CATENANUOVA
Borgo Santa Maria
SICILE, 1943
TRAVERSEE DE LA LAMONE
Debarquement a Reggio
Ligne Rimini
Potenza
San Martino-San Lorenzo
Le Sangro
SAN FORTUNATO
CASA BERARDI
Cesena
Torre Mucchio
ITALIE, 1943-45
Cassino II
APPELDOORN
Ligne Gustav
NORD-OUEST DE L'EUROPE 1945
Korea
---
Order of Precedence: 3
---
Options:
---
Go back to the Infantry Regiments page.
Go back to the Army home page.
April 26
1860:
The Queen's Own Rifles of Canada: In Pace Paratus (In peace prepared)
1986:
An explosion of Chernobyl nuclear power plant in Ukraine resulted in a nuclear meltdown sending radioactivity into the atmosphere. The Radiation fallout spread throughout Europe. Chernobyl disaster is considered the largest nuclear accident in history.
» Download the iPhone/iPad Military History app! «