They shall grow not old, as we that are left grow old
552 Guests, 39 Users (10 Hidden)
Chris Pook, jojoe, Old EO Tech, stas054, cavalryman, AmmoTech90, Bruce Monkhouse, sledge, kkwd, MarwanKhan118, Nuggs, cupper, HermanBarf, PuckChaser, xFusilier, thakurchris, Chanada, Mountie, Dimsum, tomydoom, Bird_Gunner45, sidemount, PteFabulous, HB_Pencil, Infanteer, Loachman, Nikola Canada, rotpmom16, Jed
Total Members: 57,805
Total Posts: 1,357,591
Total Topics: 70,724
Total Categories: 14
Total Boards: 120
Royal 22e Regiment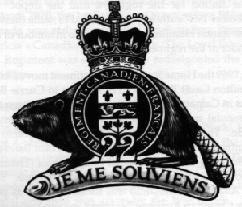 ---
Armorial Description
A beaver, standing on a log inscribed JE ME SOUVIENS; superimposed on the side of the beaver an annulus inscribed REGIMENT CANADIEN FRANCAIS; within the annulus a shield bearing the old coat of arms of the province of Quebec; superimposed on the annulus below the shield is the Arabic numerals 22; the whole surmounted by the Royal Crown.
---
Official Abbreviation: R 22e R

Motto: Je me souviens (I remember)
---
Battle Honours (43)
First World War
MOUNT SORREL
Cote 70
SOMME 1916, '18
YPRES, 1917
FLERS-COURCELETTE
PASSCHENDAELE
Thiepval
AMIENS
Les Hauteurs d'Ancre
Ligne Hindenburg
ARRAS, 1917, '18
Canal du Nord
VIMY, 1917
CAMBRAI, 1918
Arleux
Poursuite a Mons
Scarpe, 1917, '18
FRANCE ET FLANDRES, 1915-18

Second World War
Debarquement en Sicile
Vallee de la Liri
Valguarnera
LIGNE HITLER
Adrano
LIGNE GOTHIC
CATENANUOVA
Borgo Santa Maria
SICILE, 1943
TRAVERSEE DE LA LAMONE
Debarquement a Reggio
Ligne Rimini
Potenza
San Martino-San Lorenzo
Le Sangro
SAN FORTUNATO
CASA BERARDI
Cesena
Torre Mucchio
ITALIE, 1943-45
Cassino II
APPELDOORN
Ligne Gustav
NORD-OUEST DE L'EUROPE 1945
Korea
---
Order of Precedence: 3
---
Options:
---
Go back to the Infantry Regiments page.
Go back to the Army home page.
September 1
1862:
U.S. Civil War: Battle of Chantilly - Confederate General Robert E. Lee leads his forces in an attack on retreating Union troops in Chantilly, Virginia, driving them away.
1864:
U.S. Civil War: Confederate General John Bell Hood evacuates Atlanta, Georgia after a four-month siege mounted by Union General William T. Sherman.
1903:
The Argyll and Sutherland Highlanders of Canada (Princess Louise's): Albainn Cu Brath (Scotland forever)
1939:
The German army invades Poland
1942:
The corvette HMCS MORDEN relentlessly depth charges a submarine off of Iceland. It would not be until a review of records in the late 1980's that U-756 is confirmed sunk.
1944:
Eisenhower establishes HQ in France, Allies liberate Arras, Verdun, Dieppe and Abbeville
» Download the iPhone/iPad Military History app! «