They shall grow not old, as we that are left grow old
526 Guests, 38 Users (4 Hidden)
xFusilier, YZT580, Blake C., Blackadder1916, Bird_Gunner45, PuckChaser, missing1, SupersonicMax, cupper, Nomulous, Flyonthewall11, GK .Dundas, LunchMeat, VidaBergin, ReneBodenw, Teager, loadiecc150, Loachman, WestCoaster, PikaChe, ModlrMike, lp711, Dimsum, Tango18A, kkwd, Greybeard, ballz, Ludoc, Air4ce, AbSIgs, suffolkowner, cavalryman, AbdullahD, Fraz
Total Members: 57,804
Total Posts: 1,357,578
Total Topics: 70,724
Total Categories: 14
Total Boards: 120
The Royal Canadian Regiment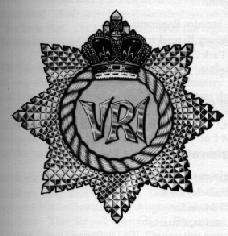 ---
Armorial Description
An eight-pointed diamond cut star; upon the star a raised circle surmounted by the Crown; within the raised circle, the block letters VRI, the Imperial Cypher of Queen Victoria.
---
Official Abbreviation: The RCR

Motto: Pro Patria (For Country)
---
Battle Honours (54)
Early History
SASKATCHEWAN
NORTH-WEST CANADA, 1885
PAARDEBERG
SOUTH AFRICA, 1899-1900

First World War
YPRES, 1915, '17
Gravenstafel
St. Julien
Festubert, 1915
MOUNT SORREL
SOMME, 1916
Pozieres
Flers-Courcelette
ANCRE HEIGHTS
Arras, 1917, '18
VIMY, 1917
Arleux
Scarpe, 1917, 1918
HILL 70
PASSCHENDAELE
AMIENS
Drocourt-Queant
HINDENBURG LINE
Canal du Nord
Cambrai, 1918
PURSUIT TO MONS
France and Flanders, 1915-1918

Second World War
LANDING IN SICILY
Valguarnera
Agira
Adrano
Regalbuto
Sicily, 1943
Landing at Reggio
MOTTA MONTECORVINO
Campobasso
Torella
SAN LEONARDO
The Gully
ORTONA
Cassino II
Guatav Line
Liri Valley
HITLER LINE
GOTHIC LINE
LOMONE CROSSING
Misano Ridge
RIMINI LINE
San Martino-San Lorenzo
Pisciatello
Fosso Vecchio
ITALY, 1943-1945
Appeldoorn
NORTH-WEST EUROPE, 1945

Korea
---
Order of Precedence: 1
---
Options:
---
Go back to the Infantry Regiments page.
Go back to the Army home page.
August 31
1864:
American Civil War: Union forces led by General William T. Sherman launch an assault on Atlanta, Georgia, defended by troops under Confederate General John Bell Hood.
1907:
Great Britain, Russia and France form the Triple Entente alliance.
1916:
Canadian casualties to date: 27,212 wounded, 8,644 dead, 2,005 missing
1939:
Nazi Germany mounts a staged attack on Gleiwitz radio station, giving them an pretext to attack Poland the following day, starting World War II.
1939:
The Royal Canadian Dental Corps is authorized
1992:
Canada sends 750 troops to Somalia
» Download the iPhone/iPad Military History app! «