They shall grow not old, as we that are left grow old
726 Guests, 28 Users (7 Hidden)
BurnDoctor, RocketRichard, xFusilier, F_Freeman, Flavus101, Mike63, Blake C., BC604, MJP, Alpha dog, SupersonicMax, PikaChe, tomydoom, cavalryman, Crimmsy, sidemount, BC Old Guy, colinreid16, E.R. Campbell, yoman, AlexanderM
Total Members: 59,520
Total Posts: 1,381,914
Total Topics: 71,502
Total Categories: 14
Total Boards: 121
The Royal Canadian Regiment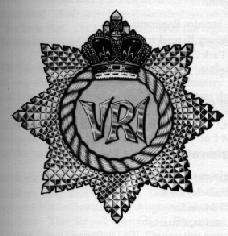 ---
Armorial Description
An eight-pointed diamond cut star; upon the star a raised circle surmounted by the Crown; within the raised circle, the block letters VRI, the Imperial Cypher of Queen Victoria.
---
Official Abbreviation: The RCR

Motto: Pro Patria (For Country)
---
Battle Honours (54)
Early History
SASKATCHEWAN
NORTH-WEST CANADA, 1885
PAARDEBERG
SOUTH AFRICA, 1899-1900

First World War
YPRES, 1915, '17
Gravenstafel
St. Julien
Festubert, 1915
MOUNT SORREL
SOMME, 1916
Pozieres
Flers-Courcelette
ANCRE HEIGHTS
Arras, 1917, '18
VIMY, 1917
Arleux
Scarpe, 1917, 1918
HILL 70
PASSCHENDAELE
AMIENS
Drocourt-Queant
HINDENBURG LINE
Canal du Nord
Cambrai, 1918
PURSUIT TO MONS
France and Flanders, 1915-1918

Second World War
LANDING IN SICILY
Valguarnera
Agira
Adrano
Regalbuto
Sicily, 1943
Landing at Reggio
MOTTA MONTECORVINO
Campobasso
Torella
SAN LEONARDO
The Gully
ORTONA
Cassino II
Guatav Line
Liri Valley
HITLER LINE
GOTHIC LINE
LOMONE CROSSING
Misano Ridge
RIMINI LINE
San Martino-San Lorenzo
Pisciatello
Fosso Vecchio
ITALY, 1943-1945
Appeldoorn
NORTH-WEST EUROPE, 1945

Korea
---
Order of Precedence: 1
---
Options:
---
Go back to the Infantry Regiments page.
Go back to the Army home page.
February 27
1814:
Whilst British troops under Lieutenant-General Hope beseiged Bayonne, Wellington led his main force against the main French field forces in the south of France, commanded by Marshal Soult. Wellington launched his attack with 44,000 men against Soult's 36,000 men drawn up on a ridgeline at Orthes. Sir Rowland Hill led the right wing in a diversionary attack, whilst Sir William Beresford and Sir Thomas Picton led the main assaults on the left and in the centre. After initial successes, both Beresford and Picton's attacks stalled, but Wellington spotted an opening in the disjointed French lines, and himself led three battalions to exploit the weakness. The French defeat was completed by Hill, who had managed to get behind Soult and force him to run for a bridge before his escape route was totally cut. Wellington's victory secured the British presence on French soil, and opened up routes to Bordeaux, which promptly surrendered, and Toulouse.
1881:
During an action with Boers, Lance Corporal Farmer, a medical orderly, stood exposed to enemy fire, holding a white flag over a group of wounded men, in an effort to spare them further attack. The Boers kept up their fire, and Farmer was badly wounded in the arm holding in the flag. However, he rose again to his feet, and continued to hold high the flag with his other arm, until he was shot in that limb as well. His efforts to protect the men, at great personal risk, was recognised with the award of the Victoria Cross.
1900:
Nineteen years later, during the Boer War, troops from the West Yorkshire Regiment attacked up the northern slope of Terrace Hill, near Tugela in Natal. Their advance was met with a barrage of fire, and faltered. Captain Mansel-Jones braved the enemy fire to remuster his men, and, despite suffering a very serious wound, led them once more up the hill in a charge which took the Boer position. He received the Victoria Cross.
1900:
Surrender of Cronje at Paardeburg
1942:
OPERATION BITING - BRUNEVAL - No. 12 Commando
1942:
Start of the Battle of the Java Sea; 13 US warships sunk, 2 Japanese.
1943:
British commandos raid heavy-water plant in Norway
1951:
Canada posts army officer to staff of Supreme Allied Commander; first step in providing Canadian ground troops in Europe for NATO
» Download the iPhone/iPad Military History app! «