They shall grow not old, as we that are left grow old
744 Guests, 36 Users (7 Hidden)
Oldgateboatdriver, Alpha dog, Eagle Eye View, Journeyman, NavyShooter, browen, hartie, Haggis, Remius, Colin P, Rocketryan, kratz, paleomedic, Hamish Seggie, Beadwindow 7, clmarr, BobSlob, Infanteer, AlexanderM, WestGirl36, Lightguns, Old Sweat, MJP, Karel Doorman, words_twice, milnews.ca, Good2Golf, Chinook87, EME421
Total Members: 59,474
Total Posts: 1,381,241
Total Topics: 71,488
Total Categories: 14
Total Boards: 121
Le Regiment de Maisonneuve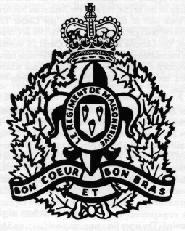 ---
Armorial Description
Within a wreath of maple leaves tied at the bottom with a bow and surmounted by the Crown, a fleur-de-lis. On the fleur-de-lis, the arms of Paul Chomedy de Maisonneuve (argent, three torches, gules) surrounded by a Garter inscribed LE REGIMENT DE MAISONNEUVE. Across the bottom of the wreath a scroll inscribed with the motto BON COEUR ET BON BRAS.
---
Official Abbreviation: R de Mais

Motto: Bon Coeur et Bon Bras (Good heart and strong arm)
---
Battle Honours (26)
First World War
Mount Sorrel
COTE 70
SOMME, 1916
Ypres, 1917
ARRAS, 1917
AMIENS
Second World War
Crete de Bourguebus
Woensdrect
FAUBOURG DE VAUCELLES
Beveland sud
Maltot
CHAUSSEE DE WALCHEREN
Crete de Verrieres -- Tilly-la-Campagne
La Rhenanie
LE REICHSWALD
FALAISE
LE HOCHWALD
Route de la Falaise
XANTEN
FORET DE LA LONDE
GRONINGEN
Dunkerque, 1944
Oldenburg
ANVERS -- CANAL DE TURNHOUT
NORD-OUEST DE L'EUROPE 1944-1945
l'Escaut
---
Order of Precedence: 26
---
Options:
Go back to the Infantry Regiments page.
Go back to the Army home page.
February 22
1797:
The last invasion of Britain; the French at Fishguard
1813:
Battle of Ogdensburg
1881:
Private Osborne of the Northamptonshire Regiment, won the Victoria Cross during an action in the First Boer War, when he rescued a wounded man under very heavy fire.
1917:
British troops succeeded in capturing a number of Turkish trenches at Sanna-i-Yat in Mesopotamia. The Turks launched a vigorous counter-attack, and managed to retake part of the position. However, Sergeant Steele of the Seaforth Highlanders, assisted by another soldier, managed to position a machine-gun in an advantageous spot. Steele then manned the gun and for several hours was able to frustrate Turkish attempts to exploit their success. When finally another Turkish attack did break through, Steele managed to rally the British troops, and led them in a successful counter-attack of their own, during which he suffered a severe wound. His gallantry and leadership was recognised by the award of the Victoria Cross.
1942:
Harris appointed Commander in Chief, RAF Bomber Command
1943:
HMCS Weyburn sunk by U-118
1945:
HMCS Trentonian sunk by U-1004
» Download the iPhone/iPad Military History app! «