They shall grow not old, as we that are left grow old
982 Guests, 45 Users (3 Hidden)
Old Sweat, RoyalDrew, MrsNorris, MrCoffee, MARS, northbound23, Baden Guy, stilicho, ff149, TwoTonShackle, kkwd, agc, mark-space, eliminator, tomgoetz, Gronk, NavyShooter, SirWhite, milnews.ca, Willy, Gunshark, Rifleman62, AlphaBravo, Gunplumber, Zulopol, GrimRX, E.R. Campbell, SarahRad, Sheep Dog AT, Kat Stevens, snasd17, ThermosPotato, PuckChaser, Heraske, CCR, mercius, Teamellis22, chrisweb89, fiddlehead, NSRecruit, Garysingh, Fox87
Total Members: 44,886
Total Posts: 1,233,651
Total Topics: 66,874
Total Categories: 15
Total Boards: 120
Le Regiment de Maisonneuve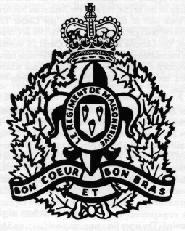 ---
Armorial Description
Within a wreath of maple leaves tied at the bottom with a bow and surmounted by the Crown, a fleur-de-lis. On the fleur-de-lis, the arms of Paul Chomedy de Maisonneuve (argent, three torches, gules) surrounded by a Garter inscribed LE REGIMENT DE MAISONNEUVE. Across the bottom of the wreath a scroll inscribed with the motto BON COEUR ET BON BRAS.
---
Official Abbreviation: R de Mais

Motto: Bon Coeur et Bon Bras (Good heart and strong arm)
---
Battle Honours (26)
First World War
Mount Sorrel
COTE 70
SOMME, 1916
Ypres, 1917
ARRAS, 1917
AMIENS
Second World War
Crete de Bourguebus
Woensdrect
FAUBOURG DE VAUCELLES
Beveland sud
Maltot
CHAUSSEE DE WALCHEREN
Crete de Verrieres -- Tilly-la-Campagne
La Rhenanie
LE REICHSWALD
FALAISE
LE HOCHWALD
Route de la Falaise
XANTEN
FORET DE LA LONDE
GRONINGEN
Dunkerque, 1944
Oldenburg
ANVERS -- CANAL DE TURNHOUT
NORD-OUEST DE L'EUROPE 1944-1945
l'Escaut
---
Order of Precedence: 26
---
Options:
Go back to the Infantry Regiments page.
Go back to the Army home page.
August 22
1485:
The Battle of Bosworth Field decisively ends the War of the Roses.
1642:
Charles I calls the English Parliament traitors. Beginning of the English Civil War.
1775:
King George III declares the American colonies to be in open rebellion.
1798:
French troops land in Ireland to aid the Irish Rebellion.
1864:
Twelve nations sign the First Geneva Convention. The International Red Cross is formed.
1875:
The Treaty of St. Petersburg between Japan and Russia is ratified. Japan ceded Sakhalin to Russia in exchange for the Kuril Islands.
1910:
Japan annexes Korea.
1914:
In Belgium, British and German troops meet in battle for the first time in World War I.
1916:
Lloyd-George announces 35 Zeppelins destroyed by the Allies
1941:
German troops reach Leningrad, leading to the siege of Leningrad.
1942:
Brazil declares war on the Axis powers (Germany, Italy and Japan)
» Download the iPhone/iPad Military History app! «