They shall grow not old, as we that are left grow old
578 Guests, 34 Users (5 Hidden)
muskrat89, Jay4th, PuckChaser, Eagle Eye View, fiddlehead, deskjockey43, CBH99, Blake C., SupersonicMax, Remius, Blackadder1916, PikaChe, kratz, bscriber, RoughGalaxy, CCR, OldTanker, JulesP, Halifax Tar, NavyShooter, AlexanderM, r082316a, PMedMoe, WestCoaster, Lumber, FSTO, Quirky, RocketRichard, kben
Total Members: 57,689
Total Posts: 1,356,405
Total Topics: 70,690
Total Categories: 14
Total Boards: 120
Le Regiment de Maisonneuve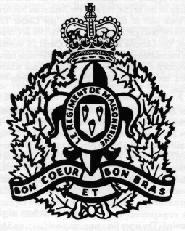 ---
Armorial Description
Within a wreath of maple leaves tied at the bottom with a bow and surmounted by the Crown, a fleur-de-lis. On the fleur-de-lis, the arms of Paul Chomedy de Maisonneuve (argent, three torches, gules) surrounded by a Garter inscribed LE REGIMENT DE MAISONNEUVE. Across the bottom of the wreath a scroll inscribed with the motto BON COEUR ET BON BRAS.
---
Official Abbreviation: R de Mais

Motto: Bon Coeur et Bon Bras (Good heart and strong arm)
---
Battle Honours (26)
First World War
Mount Sorrel
COTE 70
SOMME, 1916
Ypres, 1917
ARRAS, 1917
AMIENS
Second World War
Crete de Bourguebus
Woensdrect
FAUBOURG DE VAUCELLES
Beveland sud
Maltot
CHAUSSEE DE WALCHEREN
Crete de Verrieres -- Tilly-la-Campagne
La Rhenanie
LE REICHSWALD
FALAISE
LE HOCHWALD
Route de la Falaise
XANTEN
FORET DE LA LONDE
GRONINGEN
Dunkerque, 1944
Oldenburg
ANVERS -- CANAL DE TURNHOUT
NORD-OUEST DE L'EUROPE 1944-1945
l'Escaut
---
Order of Precedence: 26
---
Options:
Go back to the Infantry Regiments page.
Go back to the Army home page.
August 24
1814:
British troops invade Washington, D.C. and burn down the White House and several other buildings.
1914:
German troops capture Namur.
1917:
VC won by A/Cpl Filip Konowal, 47th Battalion, CEF (formerly 77th Battalion, CEF), Hill 70, France
1929:
Turkey and Persia sign a friendship treaty.
1931:
France and the Soviet Union sign a neutrality treaty.
1939:
All leave cancelled for war
1942:
The Battle of the East Solomon Islands. Japanese aircraft carrier RYUHO is sunk
1944:
French and Allied troops commence the liberation of Paris.
1949:
Formation of NATO
1949:
The North Atlantic Treaty goes into effect. NATO is created.
1968:
France explodes its first hydrogen bomb, thus becoming the world's fifth nuclear power.
1991:
Ukraine declares itself independent from the Soviet Union.
410:
The Visigoths under Alaric sack Rome for three days.
» Download the iPhone/iPad Military History app! «