They shall grow not old, as we that are left grow old
698 Guests, 32 Users (1 Hidden)
Dimsum, ModlrMike, Tango18A, PMedMoe, YZT580, llin_X, Occam, Loachman, LightFighter, MarkOttawa, milnews.ca, George Wallace, Hamish Seggie, Churchill55, TB, jollyjacktar, WilliamFek, AndrewEME, Rhodesian, WLUArmyBrat, E.R. Campbell, wx_watcher, SGT-RMSCLK, expwor, dangerboy, tomahawk6, eliminator, JonD, MissMercury, PikaChe, Kirkhill
Total Members: 52,556
Total Posts: 1,293,111
Total Topics: 69,026
Total Categories: 14
Total Boards: 119
Le Regiment de Maisonneuve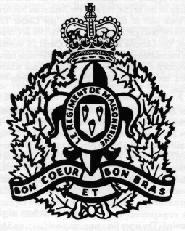 ---
Armorial Description
Within a wreath of maple leaves tied at the bottom with a bow and surmounted by the Crown, a fleur-de-lis. On the fleur-de-lis, the arms of Paul Chomedy de Maisonneuve (argent, three torches, gules) surrounded by a Garter inscribed LE REGIMENT DE MAISONNEUVE. Across the bottom of the wreath a scroll inscribed with the motto BON COEUR ET BON BRAS.
---
Official Abbreviation: R de Mais

Motto: Bon Coeur et Bon Bras (Good heart and strong arm)
---
Battle Honours (26)
First World War
Mount Sorrel
COTE 70
SOMME, 1916
Ypres, 1917
ARRAS, 1917
AMIENS
Second World War
Crete de Bourguebus
Woensdrect
FAUBOURG DE VAUCELLES
Beveland sud
Maltot
CHAUSSEE DE WALCHEREN
Crete de Verrieres -- Tilly-la-Campagne
La Rhenanie
LE REICHSWALD
FALAISE
LE HOCHWALD
Route de la Falaise
XANTEN
FORET DE LA LONDE
GRONINGEN
Dunkerque, 1944
Oldenburg
ANVERS -- CANAL DE TURNHOUT
NORD-OUEST DE L'EUROPE 1944-1945
l'Escaut
---
Order of Precedence: 26
---
Options:
Go back to the Infantry Regiments page.
Go back to the Army home page.
August 29
1916:
British capture of German prisoners since the beginning of the British offensive July 1st, 266 officers, 15,203 men, 86 guns and 160 machine guns
1943:
German-occupied Denmark scuttles most of its navy; Germany dissolves Danish government.
1949:
Soviet atomic bomb project: The Soviet Union tests its first atomic bomb, known as First Lightning or Joe 1, at Semipalatinsk, Kazakhstan.
1958:
United States Air Force Academy opens in Colorado Springs, Colorado.
» Download the iPhone/iPad Military History app! «