They shall grow not old, as we that are left grow old
Total Members: 62,201
Total Posts: 1,403,062
Total Topics: 71,317
Total Categories: 13
Total Boards: 122
The Royal Montreal Regiment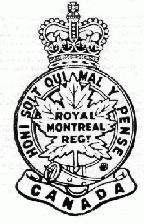 ---
Armorial Description
A mapie leaf inscribed ROYAL MONTREAL REGT within the Garter and motto HONI SOIT QUI MAL Y PENSE surmounted by the Crown and resting on a scroll bearing the word CANADA.
---
Official Abbreviation: RMR

Motto: Honi Soit Qui Mal Y Pense (Evil to he who evil thinks)
---
Battle Honours (25)
First World War
YPRES, 1915,'17
Arleux
Gravenstafel
Scarpe, 1917, '18
ST. JULIEN
Hill 70
FESTUBERT, 1915
PASSCHENDAELE
MOUNT SORREL
AMIENS
SOMME, 1916
DROCOURT-QUTANT
Pozieres
Hindenburg Line
Thiepval
CANAL DU NORD
Ancre Heights
Pursuii To Mons
Arras, 1917,'18
France and Flanders, 1915-18
VIMY, 1917
Second World War
CALAIS, 1944
LEOPOLD CANAL
THESCHELDT
NORTH-WEST EUROPE, 1944-1945
Colonel-in-Chief: None

Authorized Marches:
Quick March: Ca Ira

Regimental Headquarters:
4625 St. Catherine Street West
Westmount, Quebec
H3Z 1S4

Location of Sub Units: Westmount, Quebec

Alliances:
The Prince of Wales' Own
Regiment of Yorkshire
Imphal Barracks
York, England
---
Order of Precedence: 45
---
Options
Infantry Regiments page.
Go back to the Army home page.
August 19
1745:
Jacobite Rising, Prince Charles Edward Stuart lands from a French warship in Glenfinnan, raises his standard, and marches on London - the start of the second Jacobite Rebellion, known as "the 45".
1812:
War of 1812: American frigate USS CONSTITUTION defeats the British frigate HMS GUERRIERE off the coast of Nova Scotia. The British shot is said to have bounced off CONSTITUTION's sides, earning her the nickname "Old Ironsides".
1914:
Kaiser's alleged order for the destruction of "General French's contemptible little army."
1915:
British forces total 3,825,000 including Colonial troops
1942:
DIEPPE
1942:
VC won by A/Capt John Weir Foote, ED, DD, Canadian Chaplain Services attached to The Royal Hamilton Light Infantry, Dieppe, France
1942:
VC won by Lt. Col. Charles Cecil Merritt, The South Saskatchewan Regiment, Dieppe, France
1942:
World War II: Operation Jubilee - The 2nd Canadian Infantry Division leads an allied forces amphibious assault on Dieppe, France.
1945:
Indochina Conflict: Viet Minh led by Ho Chi Minh take power in Hanoi, Vietnam
1981:
First Gulf of Sidra Incident: Two Libyan Su-22 fighters engaged two US F-14 Tomcats off the Libyan coast. The Libyan fighters were destroyed by the F-14's.
» Download the iPhone/iPad Military History app! «