They shall grow not old, as we that are left grow old
609 Guests, 42 Users (10 Hidden)
FSTO, Loachman, RocketRichard, drio, blackpapa, bLUE fOX, PuckChaser, exgunnertdo, Altair, AbdullahD, dangerboy, Brad Sallows, Lilswitche, thakurchris, TheHead, Chris Pook, Mathewtug, Souad, cavalryman, sledge, Teager, Eagle Eye View, Spencer100, clownfool, Norseman, PPCLI Guy, expwor, messupdude, eliminator, Hercules12, Bird_Gunner45, NatM
Total Members: 57,775
Total Posts: 1,357,240
Total Topics: 70,715
Total Categories: 14
Total Boards: 120
The Rocky Mountain Rangers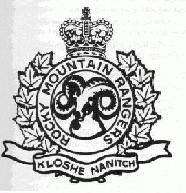 ---
Armorial Description
The head of a mountain sheep within an annulus inscribed ROCKY MOUNTAIN RANGERS; the annulus surmounted by the Crown and flanked by two sprigs of maple leaves; below, a scroll inscribed with the motto KLOSHE NANITCH.
---
Official Abbreviation: RM Rang

Motto: Kloshe Nanitch (Keep a good lookout or ever watch)
---
Battle Honours (6)
First World War
ARRAS, 1917,'18
Hill 70
AMIENS
YPRES, 1917
HINDENBURG LINE
VALENCIENNES
Authorized Marches:
Quick March: The Meeting of the Waters

Regimental Headquarters:
JR Vicars Armoury
Box 3250
Kamloops, BC
V2C 6B8

Location of Sub Units:
Headquarters, A Company, Administration Company
Kamloops, BC

Alliances:
The Green Howards
(Alexandra, Princess of Wale's Own Yorkshire Regiment)
Richmond, North Yorkshire, England

Location of Museums:
Regimental Church
St. Paul's Cathedral
Kamloops, BC
Museum
JR Vicars Armoury
Kamloops, BC
Cenotaphs
Kamloops, BC
Merritt, BC
Salmon Arm, BC
Revelstoke, BC
---
Order of Precedence: 37
---
Go back to the Infantry Regiments page.
Go back to the Army home page.
August 30
1813:
Battle of Kulm - French forces defeated by Austrian-Prussian-Russian alliance.
1862:
Battle of Richmond, Kentucky - Confederates under Edmund Kirby Smith rout a Union army under General Horatio Wright.
1914:
Battle of Tannenberg
1922:
Battle of Dumlupinar, final battle in Greco-Turkish War (1919-1922) ("Turkish War of Independence")
1941:
Siege of Leningrad begins.
1944:
MONTECCHIO, effective dates for battle honour begin (to 31 Aug 44)
1945:
British naval fore arrives in Hong Kong to reoccupy colony
1945:
Supreme Commander of the Allied Forces, General Douglas MacArthur lands at Atsugi Air Force Base.
» Download the iPhone/iPad Military History app! «