They shall grow not old, as we that are left grow old
740 Guests, 36 Users (7 Hidden)
hartie, Haggis, Remius, Colin P, Rocketryan, NavyShooter, Oldgateboatdriver, Journeyman, Alpha dog, kratz, paleomedic, Hamish Seggie, Beadwindow 7, clmarr, BobSlob, browen, Infanteer, AlexanderM, WestGirl36, Lightguns, Old Sweat, MJP, Karel Doorman, words_twice, milnews.ca, Good2Golf, Chinook87, EME421, autohitllw
Total Members: 59,474
Total Posts: 1,381,240
Total Topics: 71,488
Total Categories: 14
Total Boards: 121
The Royal Newfoundland Regiment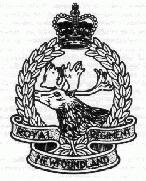 ---
Armorial Description
A caribou head, within a wreath of laurel leaves surmounted by the Crown; below, and supporting the wreath, a scroll inscribed ROYAL NEWFOUNDLAND REGIMENT, mounted on a claret background.
---
Official Abbreviation: R Nfld R

Motto (Unofficial): Better Than the Best
---
Battle Honours (16)
First World War
GALLIPOLI, 1915-16
Egypt, 1915-16
YPRES, 1917,'18
LANGEMARCK, 1917
France and Flanders, 1916-18
POELCAPELLE
ALBERT (BEAUMONT HAMEL), 1916
CAMBRAT, 1917
Somme, 1916
LYS
LE TRANSLOY
BAILLEUL
Arras, 1917
Kemmel
Scarpe,1917
COURTRAI
Colonel-in-Chief: Her Royal Highness Princess Anne, The Princess Royal, GCVO

Authorized Marches:
Quick March: The Banks of Newfoundland

Regimental Headquarters:
Box 2028
St john's, Newfoundland
A1C 6B5

Location of Sub Units:
1st Battalion
HQ, A Company, Band
St. john's, Nfld
2nd Battalion
HQ, B Company, Band
Grand Falls, Nfld
A Company
Corner Brook, Nfld
C Company
Stephenville, Nfld

Alliances:
The Royal Scots (The Royal Regirnent)
The Castle
Edinburgh, Scotland
The Royal New South Wales Regiment
New South Wales, Australia
---
Order of Precedence: 48
---
Go back to the Infantry Regiments page.
Go back to the Army home page.
February 22
1797:
The last invasion of Britain; the French at Fishguard
1813:
Battle of Ogdensburg
1881:
Private Osborne of the Northamptonshire Regiment, won the Victoria Cross during an action in the First Boer War, when he rescued a wounded man under very heavy fire.
1917:
British troops succeeded in capturing a number of Turkish trenches at Sanna-i-Yat in Mesopotamia. The Turks launched a vigorous counter-attack, and managed to retake part of the position. However, Sergeant Steele of the Seaforth Highlanders, assisted by another soldier, managed to position a machine-gun in an advantageous spot. Steele then manned the gun and for several hours was able to frustrate Turkish attempts to exploit their success. When finally another Turkish attack did break through, Steele managed to rally the British troops, and led them in a successful counter-attack of their own, during which he suffered a severe wound. His gallantry and leadership was recognised by the award of the Victoria Cross.
1942:
Harris appointed Commander in Chief, RAF Bomber Command
1943:
HMCS Weyburn sunk by U-118
1945:
HMCS Trentonian sunk by U-1004
» Download the iPhone/iPad Military History app! «