They shall grow not old, as we that are left grow old
927 Guests, 52 Users (4 Hidden)
Infantryman2b, Journeyman, PanaEng, DAA, kratz, LonNick, Loachman, KyleAM, Mike5, Master Corporal Steven, Lame, mark1993, Gurmaster, navygirl770, RedcapCrusader, Mike Bobbitt, Gunshark, Larry Strong, CGNS, Ayrsayle, JesseWZ, JoshD87, fiddlehead, Seanjj, Sarah_H, HULK_011, acen, kkwd, Old Sweat, medic45, Sheep Dog AT, expwor, dangerboy, jollyjacktar, George Wallace, aiaiai, Jayjaycf, lawchick16, Pistos, Headcrab, RoyalRider, Tristan Blakemore, nwhite654, quadrapiper, elennaasfed, Petard, runormal, snasd17
Total Members: 45,114
Total Posts: 1,235,340
Total Topics: 66,961
Total Categories: 15
Total Boards: 120
The Royal Newfoundland Regiment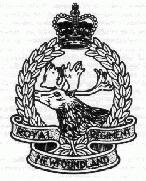 ---
Armorial Description
A caribou head, within a wreath of laurel leaves surmounted by the Crown; below, and supporting the wreath, a scroll inscribed ROYAL NEWFOUNDLAND REGIMENT, mounted on a claret background.
---
Official Abbreviation: R Nfld R

Motto (Unofficial): Better Than the Best
---
Battle Honours (16)
First World War
GALLIPOLI, 1915-16
Egypt, 1915-16
YPRES, 1917,'18
LANGEMARCK, 1917
France and Flanders, 1916-18
POELCAPELLE
ALBERT (BEAUMONT HAMEL), 1916
CAMBRAT, 1917
Somme, 1916
LYS
LE TRANSLOY
BAILLEUL
Arras, 1917
Kemmel
Scarpe,1917
COURTRAI
Colonel-in-Chief: Her Royal Highness Princess Anne, The Princess Royal, GCVO

Authorized Marches:
Quick March: The Banks of Newfoundland

Regimental Headquarters:
Box 2028
St john's, Newfoundland
A1C 6B5

Location of Sub Units:
1st Battalion
HQ, A Company, Band
St. john's, Nfld
2nd Battalion
HQ, B Company, Band
Grand Falls, Nfld
A Company
Corner Brook, Nfld
C Company
Stephenville, Nfld

Alliances:
The Royal Scots (The Royal Regirnent)
The Castle
Edinburgh, Scotland
The Royal New South Wales Regiment
New South Wales, Australia
---
Order of Precedence: 48
---
Go back to the Infantry Regiments page.
Go back to the Army home page.
September 2
1862:
U.S. Civil War: President Abraham Lincoln reluctantly restores Union General George McClellan to full command after General John Pope's disastrous defeat at the Battle of Second Bull Run.
1864:
U.S. Civil War: Union forces under General William T. Sherman enter Atlanta, Georgia a day after the Confederate defenders fled the city.
1870:
Franco-Prussian War: Battle of Sedan - Prussian forces defeat the French armies and take emperor Napoleon III and 100,000 of his soldiers prisoner at Sedan.
1898:
Battle of Omdurman - British and Egyptian troops led by General Horatio Kitchener defeat Sudanese tribesmen led by Khalifa Abdullah al-Taashi, thus establishing British dominance in the Sudan.
1918:
DROCOURT-QUEANT, effective dates for battle honour begin (to 3 Sept 18)
1918:
VC won by A/Sgt Arthur George Knight, `10th Battalion, CEFm Villers-lez-Cagnicourt (near Arras), France (posthumous)
1918:
VC won by Capt Bellenden Seymour Hutcheson, MC, Canadian Army Medical Corps attached to the 75th Battalion, CEF, Drocourt-Queant Support Line, France
1918:
VC won by L/Cpl William Henry Metcalf, MM, 16th Battalion, CEF, Arras, France
1918:
VC won by LCol Cyrus Wesley Peck, DSO, 16th Battalion, CEF, Villers-lez-Cagnicourt, France
1918:
VC won by Pte Claude Joseph Patrick Nunney, DCM, MM, 38th Battalion, CEF, Drocourt-Queant Line, France (posthumous)
1918:
VC won by Pte John Francis Young, 87th Battalion, CEF, Dury-Arras Sector, France
1939:
Following the invasion of Poland, Freie Stadt Danzig Danzig (now Gda?sk, Poland) is annexed to Nazi Germany.
1939:
RCAF authorized to recruit to full establishment
1942:
The Royal Canadian Infantry Corps is authorized: Ducimus (We lead)
1945:
Japanese and allies sign surrender agreement aboard the USS Missouri in Tokyo Bay
1945:
Vietnam declares its independence, forming the Democratic Republic of Vietnam (North Vietnam).
1945:
World War II ends: The final official surrender of Japan was accepted by General Douglas MacArthur and Admiral Chester Nimitz aboard the battleship USS MISSOURI in Tokyo Bay.
1998:
A United Nations court finds Jean-Paul Akayesu, the former mayor of a small town in Rwanda, guilty of nine counts of genocide, marking the first time that the 1948 law banning genocide is enforced.
31BC:
Roman Civil War: Battle of Actium - Off the western coast of Greece, forces of Octavian defeat troops under Mark Antony and Cleopatra.
» Download the iPhone/iPad Military History app! «