They shall grow not old, as we that are left grow old
590 Guests, 38 Users (10 Hidden)
SaizEi, stokely, MARS, SeinEi, GK .Dundas, rmc_wannabe, cavalryman, CCR, Sheep Dog AT, NFLD Sapper, Beka, Jules Gittens, Good2Golf, SupersonicMax, Zombie, WestCoaster, SGT-RMSCLK, paleomedic, PuckChaser, SashaQ, OldTanker, Iceblue, captloadie, Anira_09, h3tacco, milnews.ca, FRSQRN, Privateer
Total Members: 56,519
Total Posts: 1,339,033
Total Topics: 70,217
Total Categories: 14
Total Boards: 120
The Royal Newfoundland Regiment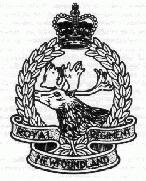 ---
Armorial Description
A caribou head, within a wreath of laurel leaves surmounted by the Crown; below, and supporting the wreath, a scroll inscribed ROYAL NEWFOUNDLAND REGIMENT, mounted on a claret background.
---
Official Abbreviation: R Nfld R

Motto (Unofficial): Better Than the Best
---
Battle Honours (16)
First World War
GALLIPOLI, 1915-16
Egypt, 1915-16
YPRES, 1917,'18
LANGEMARCK, 1917
France and Flanders, 1916-18
POELCAPELLE
ALBERT (BEAUMONT HAMEL), 1916
CAMBRAT, 1917
Somme, 1916
LYS
LE TRANSLOY
BAILLEUL
Arras, 1917
Kemmel
Scarpe,1917
COURTRAI
Colonel-in-Chief: Her Royal Highness Princess Anne, The Princess Royal, GCVO

Authorized Marches:
Quick March: The Banks of Newfoundland

Regimental Headquarters:
Box 2028
St john's, Newfoundland
A1C 6B5

Location of Sub Units:
1st Battalion
HQ, A Company, Band
St. john's, Nfld
2nd Battalion
HQ, B Company, Band
Grand Falls, Nfld
A Company
Corner Brook, Nfld
C Company
Stephenville, Nfld

Alliances:
The Royal Scots (The Royal Regirnent)
The Castle
Edinburgh, Scotland
The Royal New South Wales Regiment
New South Wales, Australia
---
Order of Precedence: 48
---
Go back to the Infantry Regiments page.
Go back to the Army home page.
May 4
1471:
Battle of Tewksbury
1910:
Canadian Navy was created by the Naval Service Act
1942:
Battle of Coral Sea (to 8 May 42); first naval battle fought entirely with aircraft from carriers out of each others sight
1982:
"HMS Sheffield hit by Argentinian Exocet Missile"
» Download the iPhone/iPad Military History app! «