They shall grow not old, as we that are left grow old
806 Guests, 32 Users (375 Spiders, 5 Hidden)
SupersonicMax, Army25, tango22a, qkytal8x, MSEng314, Ostrozac, Old Sweat, WR, myhusky, Stuff, 26point2, DrewMC36, jollyjacktar, Wallace, marinemech, E.R. Campbell, riggermade, CCR, Tibbson, tomgoetz, dangerboy, MARS, mrjasonc, chrisweb89, kkwd, CK0003, NinerSix, MSN (5), Google (AdSense), Google (114), Baidu (255)
Total Members: 39,207
Total Posts: 1,185,817
Total Topics: 65,079
Total Categories: 15
Total Boards: 118
The Royal Newfoundland Regiment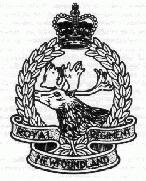 ---
Armorial Description
A caribou head, within a wreath of laurel leaves surmounted by the Crown; below, and supporting the wreath, a scroll inscribed ROYAL NEWFOUNDLAND REGIMENT, mounted on a claret background.
---
Official Abbreviation: R Nfld R

Motto (Unofficial): Better Than the Best
---
Battle Honours (16)
First World War
GALLIPOLI, 1915-16
Egypt, 1915-16
YPRES, 1917,'18
LANGEMARCK, 1917
France and Flanders, 1916-18
POELCAPELLE
ALBERT (BEAUMONT HAMEL), 1916
CAMBRAT, 1917
Somme, 1916
LYS
LE TRANSLOY
BAILLEUL
Arras, 1917
Kemmel
Scarpe,1917
COURTRAI
Colonel-in-Chief: Her Royal Highness Princess Anne, The Princess Royal, GCVO

Authorized Marches:
Quick March: The Banks of Newfoundland

Regimental Headquarters:
Box 2028
St john's, Newfoundland
A1C 6B5

Location of Sub Units:
1st Battalion
HQ, A Company, Band
St. john's, Nfld
2nd Battalion
HQ, B Company, Band
Grand Falls, Nfld
A Company
Corner Brook, Nfld
C Company
Stephenville, Nfld

Alliances:
The Royal Scots (The Royal Regirnent)
The Castle
Edinburgh, Scotland
The Royal New South Wales Regiment
New South Wales, Australia
---
Order of Precedence: 48
---
Go back to the Infantry Regiments page.
Go back to the Army home page.
December 5
1875:
General Arthur Currie, future commander of the Canadian Expeditionary Force in World War I, is born in Napperton, Ontario.
1934:
Abyssinia Crisis: Italian troops attack Wal Wal in Abyssinia, taking four days to capture the city.
1943:
THE MORO, effective dates for battle honour begin (to 7 Dec 43)
1964:
Vietnam War: For his heroism in battle earlier in the year, Captain Roger Donlon of Saugerties, New York is awarded the first Medal of Honor of the war.
1978:
The Soviet Union signs a 'friendship treaty' with the Democratic Republic of Afghanistan.
» Download the iPhone/iPad Military History app! «