They shall grow not old, as we that are left grow old
515 Guests, 30 Users (5 Hidden)
Keepsprayin, onlytyy, AlexanderM, Krissa, PuckChaser, ballz, Occam, bLUE fOX, dangerboy, SHONIT123, Bird_Gunner45, cupper, lp711, Fraz, SupersonicMax, MARS, E.R. Campbell, Altair, tomahawk6, Chris Pook, robins.acj, Elliott44, cowboy628, kkwd, MacleodEE
Total Members: 57,738
Total Posts: 1,356,881
Total Topics: 70,700
Total Categories: 14
Total Boards: 120
The Royal Westminster Regiment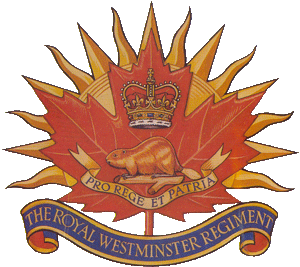 ---
Armorial Description
On a demi sun resting on a scroll inscribed The Royal Westrninster Regiment, a maple leaf surcharged with a beaver ensigned with the imperial crown and resting on a scroll inscribed PRO RECE ET PATRIA.
---
Official Abbreviation: R Westmr R

Motto: Pro Rege et Patria (For King and Country)
---
Battle Honours (28)
First World War
Mount Sorrel
SOMME, 1916
Ancre Heights
Ancre, 1916
ARRAS, 1917,'18
VIMY, 1917
HILL 70
YPRES, 1917
PASSCHENDAELE
AMIENS
Scarpe,1918
DROCOURT-QUTANT
Hindenburg Line
CANAL DU NORD
VALENCIENNES
France and Flanders, 1916-18
Second World War
Liri Valley
MELFA CROSSING
GOTHIC LINE
CORIANO
LAMONE CROSSING
MISANO RIDGE
Casale
NAVIGLIO CANAL
ITALY, 1944-1945
IJSSELMEER
DELFZIJL POCKET
NORTH-WEST EUROPE, 1945
Colonel-in-Chief: The Duke of Westminster, Col Gerald Grosvnor

Authorized Marches:
Quick March: The Maple Leaf Forever

Regimental Headquarters:
The Armoury
530 Queens Avenue
New Westminster, BC
V3L 1K3

Location of Sub Units:
Headquarters, A Company, Band
New Westminster, BC
B Company
Matsqui, BC

Alliances:
The Royal Regiment of Fusiliers
HM Tower of London
London, England

Location of Museums:
Regimental Museum
The Armoury
New Westminster, BC
---
Order of Precedence: 40
---
Options:
Infantry Regiments page.
Go back to the Army home page.
August 27
1776:
Battle of Long Island, in present day Brooklyn, New York British forces under General William Howe defeat Americans under General George Washington.
1813:
Napoleon defeats the Austrians, Russians and Prussians at the Battle of Dresden.
1828:
The Russians defeat the Turks at Akhaltzikke.
1861:
U.S. Civil War: Union forces attack Cape Hatteras, North Carolina.
1896:
The shortest war in history (0902h - 0940h) between the United Kingdom and Zanzibar. Zanzibar surrenders.
1928:
Kellogg-Briang Pact: 15 nations (including Britain, France, Germany, Italy, Japan, USA - and later most members of the League of Nations) agree to renounce war as a means of settling international disputes; but agree there is no means of enforcing t
1944:
MONTECICCARDO, effective dates for battle honour begin (to 28 Aug 44)
1979:
An IRA bomb kills Lord Mountbatten and 3 others on holiday in Sligo, Republic of Ireland. Another near Warrenpoint, Northern Ireland kills 18 British soldiers.
» Download the iPhone/iPad Military History app! «