They shall grow not old, as we that are left grow old
538 Guests, 29 Users (3 Hidden)
Schindler's Lift, Kirkhill, sidemount, Tuan, azoute, MJP, Teager, dbarr078, Chanbomb11, Good2Golf, KJK, Old EO Tech, LunchMeat, wx_watcher, X Royal, Hamish Seggie, agc, WLUArmyBrat, Crantor, milnews.ca, jmt18325, dlmiskowicz, PikaChe, Steelheader, Blackadder1916, Fraz
Total Members: 52,564
Total Posts: 1,293,186
Total Topics: 69,030
Total Categories: 14
Total Boards: 119
The Royal Westminster Regiment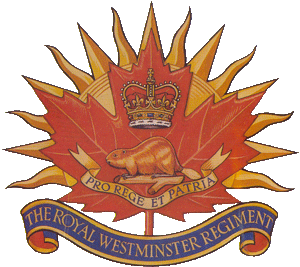 ---
Armorial Description
On a demi sun resting on a scroll inscribed The Royal Westrninster Regiment, a maple leaf surcharged with a beaver ensigned with the imperial crown and resting on a scroll inscribed PRO RECE ET PATRIA.
---
Official Abbreviation: R Westmr R

Motto: Pro Rege et Patria (For King and Country)
---
Battle Honours (28)
First World War
Mount Sorrel
SOMME, 1916
Ancre Heights
Ancre, 1916
ARRAS, 1917,'18
VIMY, 1917
HILL 70
YPRES, 1917
PASSCHENDAELE
AMIENS
Scarpe,1918
DROCOURT-QUTANT
Hindenburg Line
CANAL DU NORD
VALENCIENNES
France and Flanders, 1916-18
Second World War
Liri Valley
MELFA CROSSING
GOTHIC LINE
CORIANO
LAMONE CROSSING
MISANO RIDGE
Casale
NAVIGLIO CANAL
ITALY, 1944-1945
IJSSELMEER
DELFZIJL POCKET
NORTH-WEST EUROPE, 1945
Colonel-in-Chief: The Duke of Westminster, Col Gerald Grosvnor

Authorized Marches:
Quick March: The Maple Leaf Forever

Regimental Headquarters:
The Armoury
530 Queens Avenue
New Westminster, BC
V3L 1K3

Location of Sub Units:
Headquarters, A Company, Band
New Westminster, BC
B Company
Matsqui, BC

Alliances:
The Royal Regiment of Fusiliers
HM Tower of London
London, England

Location of Museums:
Regimental Museum
The Armoury
New Westminster, BC
---
Order of Precedence: 40
---
Options:
Infantry Regiments page.
Go back to the Army home page.
August 30
1813:
Battle of Kulm - French forces defeated by Austrian-Prussian-Russian alliance.
1862:
Battle of Richmond, Kentucky - Confederates under Edmund Kirby Smith rout a Union army under General Horatio Wright.
1914:
Battle of Tannenberg
1922:
Battle of Dumlupinar, final battle in Greco-Turkish War (1919-1922) ("Turkish War of Independence")
1941:
Siege of Leningrad begins.
1944:
MONTECCHIO, effective dates for battle honour begin (to 31 Aug 44)
1945:
British naval fore arrives in Hong Kong to reoccupy colony
1945:
Supreme Commander of the Allied Forces, General Douglas MacArthur lands at Atsugi Air Force Base.
» Download the iPhone/iPad Military History app! «