They shall grow not old, as we that are left grow old
Total Members: 57,777
Total Posts: 1,357,253
Total Topics: 70,712
Total Categories: 14
Total Boards: 120
The Stormont, Dundas and Glengarry Highlanders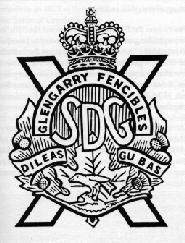 ---
Armorial Description
Superimposed upon a background of thistle leaves and flowers the letters SDG; below, a raven on a rock superimposed upon a maple leaf. A half scroll to the left of the maple leaf inscried DILEAS; another to the right inscribed GU BAS; above, a semi-annulus inscribed GLENGARRY FENCIBLES, and surmounted by the Crown. The whole superimposed upon a St Andrew's cross.
---
Official Abbreviation: SD&G Highrs

Motto: Dileas Gu Bas (Faithful unto death)
---
Battle Honours (25)
First World War
Hill 70
Arras, 1918
YPRES, 1917
Hindenburg Line
AMIENS
PURSUIT TO MONS
Second World War
NORMANDY LANDING
Savojaards Plaat
CAEN
BRESKENS POCKET
The Orne (Buron)
THE RHINELAND
Bourguebus Ridge
Waal Flats
Faubourg de Vaucelles
THE HOCHWALD
FALAISE
THE RHINE
The Laison
Zutphen
Chambois
LEER
BOULOGNE, 1944
North-West Europe. 1944-45
THE SCHELDT
---
Regimental Headquarters:
505 Fourth Street East
Cornwall, Ontario
K6H 2J7
---
Order of Precedence: 17
---
Go back to the Infantry Regiments page.
Go back to the Army home page.
August 30
1813:
Battle of Kulm - French forces defeated by Austrian-Prussian-Russian alliance.
1862:
Battle of Richmond, Kentucky - Confederates under Edmund Kirby Smith rout a Union army under General Horatio Wright.
1914:
Battle of Tannenberg
1922:
Battle of Dumlupinar, final battle in Greco-Turkish War (1919-1922) ("Turkish War of Independence")
1941:
Siege of Leningrad begins.
1944:
MONTECCHIO, effective dates for battle honour begin (to 31 Aug 44)
1945:
British naval fore arrives in Hong Kong to reoccupy colony
1945:
Supreme Commander of the Allied Forces, General Douglas MacArthur lands at Atsugi Air Force Base.
» Download the iPhone/iPad Military History app! «