They shall grow not old, as we that are left grow old
708 Guests, 32 Users (5 Hidden)
Harris, Chris Pook, buyin_lingerie, tyorke0, cavalryman, Tango2Bravo, Nick15, suffolkowner, MARS, Jferron, Gbert84, AbdullahD, bLUE fOX, exgunnertdo, RaceAddict, expwor, llin_X, edlabonte, Cdn Blackshirt, kratz, PMedMoe, dangerboy, PikaChe, GK .Dundas, milnews.ca, Rifleman62, PuckChaser
Total Members: 58,921
Total Posts: 1,371,653
Total Topics: 71,185
Total Categories: 14
Total Boards: 120
The Algonquin Regiment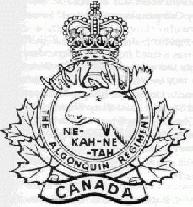 ---
Armorial Description
Within an annulus inscribed THE ALGONQUIN REGIMENT, the head of a bull moose, facing dexter; below the head of a bull moose, the motto NE-KAH-NE-TAH; supporting the annulus, on either side, two maple leaves; below the annulus, a scroll inscribed CANADA the whole surmounted by the Crown.
---
Official Abbreviation: ALQ R

Motto: Ne-Kah-Ne-Tah (We lead, others follow)
---
Battle Honours (28)
First World War
YPRES, 1915,'17
HINDENBURG LINE
FESTUBERT, 1915
Epehy
Arras, 1917
ST. UENTIN CANAL
Hill 70
BEAUREVOIR
SOMME, 1918
CAMBRAI, 1918
ST. QUENTIN
FRANCE AND FLANDERS, 1915, 1917-18
BAPAUME, 1918
Second World War
Falaise
THE LOWER MAAS
FALAISE ROAD
THE RHINELAND
The Laison
THE HOCHWALD
Chambois
VEEN
THE SEINE, 1944
KUSTEN CANAL
MOERKERKE
BAD ZWISCHENAHN
THE SHCELDT
North-West Europe, 1944-1945
Breskens Pocket
---
Order of Precedence: 32
---
Go back to the Infantry Regiments page.
Go back to the Army home page.
December 10
1864:
U.S. Civil War: William Tecumseh Sherman reaches Savannah, Georgia, ending his "March to the Sea".
1898:
A treaty is signed in Paris that officially ends the Spanish-American War.
1939:
First Canadian Contingent sails from Halifax for England
1941:
Japanese forces land in the Philippines, capture Guam and sink the British ships HMS Prince of Wales and HMS Repulse.
1943:
THE GULLY, effective dates for battle honour begin (to 19 Dec 43)
1945:
In Aurich, Germany, the trial of SS Brigadier Kurt Meyer on war crimes charges begins before a General Court Martial made up of front-line officers of the Canadian Army.
1949:
Chinese Civil War: The Red Army begins its siege of Chengdu, the last KMT-held city on mainland China. Chiang Kai-shek leaves for Taiwan.
» Download the iPhone/iPad Military History app! «