They shall grow not old, as we that are left grow old
495 Guests, 51 Users (5 Hidden)
muskrat89, Dimsum, dangerboy, Halifax Tar, Marie92, Motaba88, Alexis, GK .Dundas, Red 6, ModlrMike, kungfupanda, Louisn27, Tango18A, thakurchris, Remius, Norseman, sidemount, captloadie, CBH99, Hamish Seggie, cac1993, Journeyman, Blackadder1916, Larry Strong, CCR, jollyjacktar, Rick Goebel, downhillslide, armyman7877, CountDC, Hockey22, Lightguns, Old Sweat, milnews.ca, AlexanderM, CCCB, MeaganW554, will398, PuckChaser, cavalryman, DAA, PikaChe, ringo, Lil_T, E.R. Campbell, Fluff
Total Members: 57,683
Total Posts: 1,356,327
Total Topics: 70,684
Total Categories: 14
Total Boards: 120
The Algonquin Regiment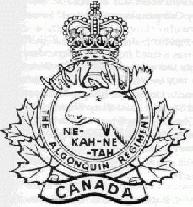 ---
Armorial Description
Within an annulus inscribed THE ALGONQUIN REGIMENT, the head of a bull moose, facing dexter; below the head of a bull moose, the motto NE-KAH-NE-TAH; supporting the annulus, on either side, two maple leaves; below the annulus, a scroll inscribed CANADA the whole surmounted by the Crown.
---
Official Abbreviation: ALQ R

Motto: Ne-Kah-Ne-Tah (We lead, others follow)
---
Battle Honours (28)
First World War
YPRES, 1915,'17
HINDENBURG LINE
FESTUBERT, 1915
Epehy
Arras, 1917
ST. UENTIN CANAL
Hill 70
BEAUREVOIR
SOMME, 1918
CAMBRAI, 1918
ST. QUENTIN
FRANCE AND FLANDERS, 1915, 1917-18
BAPAUME, 1918
Second World War
Falaise
THE LOWER MAAS
FALAISE ROAD
THE RHINELAND
The Laison
THE HOCHWALD
Chambois
VEEN
THE SEINE, 1944
KUSTEN CANAL
MOERKERKE
BAD ZWISCHENAHN
THE SHCELDT
North-West Europe, 1944-1945
Breskens Pocket
---
Order of Precedence: 32
---
Go back to the Infantry Regiments page.
Go back to the Army home page.
August 24
1814:
British troops invade Washington, D.C. and burn down the White House and several other buildings.
1914:
German troops capture Namur.
1917:
VC won by A/Cpl Filip Konowal, 47th Battalion, CEF (formerly 77th Battalion, CEF), Hill 70, France
1929:
Turkey and Persia sign a friendship treaty.
1931:
France and the Soviet Union sign a neutrality treaty.
1939:
All leave cancelled for war
1942:
The Battle of the East Solomon Islands. Japanese aircraft carrier RYUHO is sunk
1944:
French and Allied troops commence the liberation of Paris.
1949:
Formation of NATO
1949:
The North Atlantic Treaty goes into effect. NATO is created.
1968:
France explodes its first hydrogen bomb, thus becoming the world's fifth nuclear power.
1991:
Ukraine declares itself independent from the Soviet Union.
410:
The Visigoths under Alaric sack Rome for three days.
» Download the iPhone/iPad Military History app! «