They shall grow not old, as we that are left grow old
614 Guests, 18 Users (3 Hidden)
dvfisher, AmmoTech90, Black Enigma, GAP, CAF Applicant 2001, TailorSailor, ballz, ModlrMike, Umetalius, KJK, colinreid16, Jiminito, Ostrozac, kratz, MJP
Total Members: 69,221
Total Posts: 1,449,075
Total Topics: 71,685
Total Categories: 13
Total Boards: 124
4e,6e Battalion, Royal 22e Regiment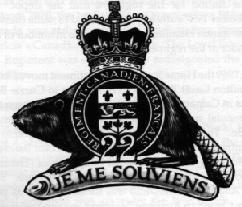 ---
Armorial Description
A beaver, standing on a log inscribed JE ME SOUVIENS; superimposed on the side of the beaver an annulus inscribed REGIMENT CANADIEN FRANCAIS; within the annulus a shield bearing the old coat of arms of the province of Quebec; superimposed on the annulus below the shield is the Arabic numerals 22; the whole surmounted by the Royal Crown.
---
Official Abbreviation: R 22e R

Motto: Toujours Pret (Always Ready) Je me souviens (I remember)
---
Battle Honours (43)
First World War
MOUNT SORREL
Cote 70
SOMME 1916, '18
YPRES, 1917
FLERS-COURCELETTE
PASSCHENDAELE
Thiepval
AMIENS
Les Hauteurs d'Ancre
Ligne Hindenburg
ARRAS, 1917, '18
Canal du Nord
VIMY, 1917
CAMBRAI, 1918
Arleux
Poursuite a Mons
Scarpe, 1917, '18
FRANCE ET FLANDRES, 1915-18

Second World War
Debarquement en Sicile
Vallee de la Liri
Valguarnera
LIGNE HITLER
Adrano
LIGNE GOTHIC
CATENANUOVA
Borgo Santa Maria
SICILE, 1943
TRAVERSEE DE LA LAMONE
Debarquement a Reggio
Ligne Rimini
Potenza
San Martino-San Lorenzo
Le Sangro
SAN FORTUNATO
CASA BERARDI
Cesena
Torre Mucchio
ITALIE, 1943-45
Cassino II
APPELDOORN
Ligne Gustav
NORD-OUEST DE L'EUROPE 1945
Korea
---
Order of Precedence: 20
---
Go back to the Infantry Regiments page.
Go back to the Army home page.
September 21
1866:
Sherbrooke Hussars: In Hoc Signo Vinces
1917:
Three successive attacks on a German strongpoint by a company of the British Columbia Regiment failed, with heavy casualties, including all the officers. Company Sergeant-Major Hanna gathered the survivors and organised a successful fourth assault, leading the way through the barbed wire and machine-gun fire. He received the Victoria Cross.
1918:
Lieutenant Honey, the only surviving officer, took command of a company of the Manitoba Regiment and led it in a series of successful attacks at Bourlon Wood in France. He twice went ahead alone to eliminate troublesome machine-gun nests, and finally fell mortally wounded. Elsewhere on the front, Lance-Corporal Lewis, Northamptonshire Regiment, who had previously distinguished himself in the destruction of a machine-gun post, also fell mortally wounded leading from the front in an attack on another formidable German position. Both Honey and Lewis were awarded a posthumous Victoria Cros.
» Download the iPhone/iPad Military History app! «