They shall grow not old, as we that are left grow old
Total Members: 62,585
Total Posts: 1,405,405
Total Topics: 71,258
Total Categories: 13
Total Boards: 122
Les Fusiliers de Sherbrooke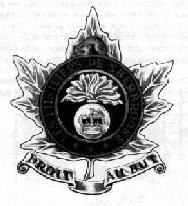 ---
Armorial Description
A grenade with the Crown superimposed upon the ball within an annulus inscribed LES FUSILIERS DE SHERBROOKE, surmounted by a beaver and super- imposed upon a maple leaf; the whole resting on a scroll inscribed DROIT AU BUT.
---
Official Abbreviation: Fus de Sher

Motto: Droit au But (To the point)
---
Battle Honours (23)
First World War
Second World War
D'EBARQUEMENT EN NORMANDIE
Anvers-Canal de Tumhout
AUTHIE
L'ESCAUT
CAEN
Meuse inferieure
L'Ome
LA RHTNANIE
COTE DE BOURGUEBUS
Le Hochwald
Faubourg de Vaucelles
XANTEN
Saint-Andre-sure
LE RHIN
FALAISE
Emmerich-Hoch Elton
Route de la Falaise
ZUTPHEN
Clair Tizon
Deventer
La Laison
Nord-Ouest de l'Europe, 1944-1945
Colonel-in-Chief: None

Authorized Marches:
Quick March: The Queen City

Location of Sub Units: Sherbrooke and Granby, Quebec

Alliances:
The Devonshire and Dorset Regiment
Topshom Barracks
Exeter, England

---
Order of Precedence: 42
---
Go back to the Infantry Regiments page.
Go back to the Army home page.
September 21
1866:
Sherbrooke Hussars: In Hoc Signo Vinces
1917:
Three successive attacks on a German strongpoint by a company of the British Columbia Regiment failed, with heavy casualties, including all the officers. Company Sergeant-Major Hanna gathered the survivors and organised a successful fourth assault, leading the way through the barbed wire and machine-gun fire. He received the Victoria Cross.
1918:
Lieutenant Honey, the only surviving officer, took command of a company of the Manitoba Regiment and led it in a series of successful attacks at Bourlon Wood in France. He twice went ahead alone to eliminate troublesome machine-gun nests, and finally fell mortally wounded. Elsewhere on the front, Lance-Corporal Lewis, Northamptonshire Regiment, who had previously distinguished himself in the destruction of a machine-gun post, also fell mortally wounded leading from the front in an attack on another formidable German position. Both Honey and Lewis were awarded a posthumous Victoria Cros.
» Download the iPhone/iPad Military History app! «