They shall grow not old, as we that are left grow old
Total Members: 65,808
Total Posts: 1,431,568
Total Topics: 71,414
Total Categories: 13
Total Boards: 123
Les Fusiliers du St-Laurent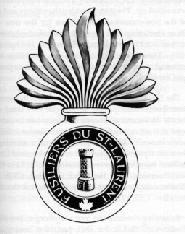 ---
Armorial Description
On a gold grenade fired proper of fifteen, a blue annulet edged gold, inscribed with the words FUSILIERS DU ST-LAURENT and marked at base by a gold maple leaf. Within the annulet a tower proper.
---
Official Abbreviation: Fus du St-L

Motto: J'y Suis En Garde (I am on guard)
---
Battle Honours (1)
First World War
---
Order of Precedence: 18
---
Go back to the Infantry Regiments page.
Go back to the Army home page.
April 22
1915:
GRAVENSTAFEL, effective dates for battle honour begin
1915:
Poison gas first used by Germans, German advance checked by Canadians following French retreat
1915:
The 10th Bn CEF fight in the Battle of St. Julien.
1915:
YPRES, 1915, effective dates for battle honour begin (to 25 May 15)
1951:
KAPYONG, effective dates for battle honour begin (to 25 Apr 51)
1951:
THE IMJIN, effective dates for battle honour begin (to 25 Apr 51)
» Download the iPhone/iPad Military History app! «