They shall grow not old, as we that are left grow old
524 Guests, 40 Users (7 Hidden)
241, tomahawk6, JulesB, Journeyman, Altair, MARS, BC Old Guy, jfposada, ssrb653, mariomike, PikaChe, AEng909, Gazoo362, Rampo, torg003, Teager, NFLD Sapper, expwor, bllusc, n3o, WR, SeaKingTacco, Romain Arcand, MJP, Chief Stoker, sidemount, suffolkowner, ThreadCookie, Loachman, kev994, winnipegoo7, Remius, Blackadder1916
Total Members: 65,895
Total Posts: 1,432,157
Total Topics: 71,423
Total Categories: 13
Total Boards: 123
The Grey and Simcoe Foresters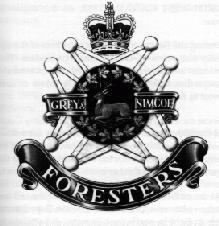 ---
Armorial Description
A Maltese Cross surmounted by the Crown; in the centre a circular medallion bearing a stag lodged on the ground, within a wreath of maple leaves; on the lwft arm of the Cross and upon the left branch of the wreath a half scroll inscribed GREY &; on the right arm of the cross and right branch of the wreath, a half scroll inscribed SIMCOE, below the Cross a scroll inscribed FORESTERS.
---
Official Abbreviation: Grey & Sim For

Motto: Tenacious and Versitile
---
Battle Honours (7)
Early History
First World War
ARRAS, 1917, '18
AMIENS
Hill 70
HINDENBURG LINE
YPRES, 1917
PURSUIT TO MONS
---
Order of Precedence: 13
---
Go back to the Infantry Regiments page.
Go back to the Army home page.
April 26
1860:
The Queen's Own Rifles of Canada: In Pace Paratus (In peace prepared)
1986:
An explosion of Chernobyl nuclear power plant in Ukraine resulted in a nuclear meltdown sending radioactivity into the atmosphere. The Radiation fallout spread throughout Europe. Chernobyl disaster is considered the largest nuclear accident in history.
» Download the iPhone/iPad Military History app! «