They shall grow not old, as we that are left grow old
616 Guests, 26 Users (4 Hidden)
danteh, Hucker, kevinring, coyote489, Rampo, Ludoc, Kalash, pheonix1995, Khaizer, ballz, Quirky, vehtech411, RocketRichard, PuckChaser, Cdn Blackshirt, dangerboy, Pavloskcc, kratz, Ken Eddy, Altair, NavyShooter, ringo
Total Members: 67,727
Total Posts: 1,441,422
Total Topics: 71,567
Total Categories: 13
Total Boards: 124
The Grey and Simcoe Foresters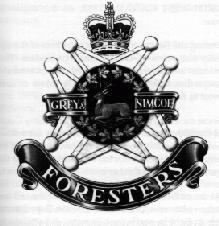 ---
Armorial Description
A Maltese Cross surmounted by the Crown; in the centre a circular medallion bearing a stag lodged on the ground, within a wreath of maple leaves; on the lwft arm of the Cross and upon the left branch of the wreath a half scroll inscribed GREY &; on the right arm of the cross and right branch of the wreath, a half scroll inscribed SIMCOE, below the Cross a scroll inscribed FORESTERS.
---
Official Abbreviation: Grey & Sim For

Motto: Tenacious and Versitile
---
Battle Honours (7)
Early History
First World War
ARRAS, 1917, '18
AMIENS
Hill 70
HINDENBURG LINE
YPRES, 1917
PURSUIT TO MONS
---
Order of Precedence: 13
---
Go back to the Infantry Regiments page.
Go back to the Army home page.
July 15
1410:
Battle of Grunwald, allied forces of the Kingdom of Poland and the Grand Duchy of Lithuania defeat the army of the Teutonic Order.
1918:
World War I: Second Battle of the Marne - The battle begins near the River Marne with a German attack
1943:
GRAMMICHELE
» Download the iPhone/iPad Military History app! «