They shall grow not old, as we that are left grow old
558 Guests, 16 Users (3 Hidden)
tomydoom, TBrooks, Petard, AlexanderM, Overboard, StygianFire, doomed_78, kkwd, SeaKingTacco, Howie1, CAF Applicant 2001, AbdullahD, ballz
Total Members: 72,417
Total Posts: 1,459,233
Total Topics: 71,921
Total Categories: 13
Total Boards: 124
The Princess Louise Fusiliers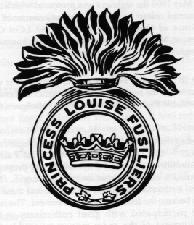 ---
Armorial Description
A grenade with ninteen-pointed flame; on the ball of the grenade an annulus inscribed PRINCESS LOUISE FUSILIERS; on the lower curve, two maple leaves with stems crossed; within the annulus the coronet of a princess.
---
Official Abbreviation: PLF

Motto: Fideliter (Faithfully)
---
Battle Honours (16)
Early History
NORTH-WEST CANADA 1885
SOUTH AFRICA, 1899-1900

First World War
SOMME, 1916
YPRES, 1917
AMIENS
ARRAS, 1917
HILL 70

Second World War
Arnhem 1945 LIRI VALLEY
MISANO RIDGE
MELFA CROSSING
ITALY, 1944-1945
GOTHIC LINE
CORIANO
LAMONE CROSSING
DELFZIJL POCKET
NORTH-WEST EUROPE, 1945

---
Order of Precedence: 22
---
Go back to the Infantry Regiments page.
Go back to the Army home page.