They shall grow not old, as we that are left grow old
608 Guests, 17 Users (4 Hidden)
x808080, AbdullahD, jayyble, Blackadder1916, Navy_Pete, YZT580, SupersonicMax, sidemount, r.k89, Historybuff22, kkwd, MJP, Target Up
Total Members: 76,417
Total Posts: 1,489,257
Total Topics: 72,434
Total Categories: 13
Total Boards: 124
The Royal Regina Rifles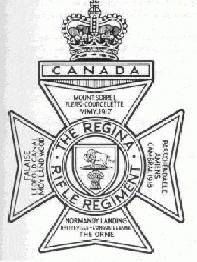 ---
Armorial Description
A maltese Cross surmounted by a bar bearing the word CANADA with the Crown above; superimposed upon the cross an annulus inscribed THE REGINA RIFLE REGIMENT. On a shield within the annulus, the arms of the City of Regina (on the upper half a buffalo, on the lower half a sheaf of wheat); the arms of the cross inscribed with battle honours of the regiment selected to be borne on the badge.
---
Official Abbreviation: RRR

Motto: Celler et Audax (Swift and bold)

Battle Cry: 1-2-3 UP THE JOHNS!
---
Battle Honours (38)
First World War
MOUNT SORREL
YPRES, 1917
Somme, 1916,'18
PASSCHENDAELE
FLERS-COURCELETTE
AMIENS
Thiepval
Drocourt-Queant
Ancre Heights
Hindenburg Line
ARRAS, 1917,'18
Canal du Nord
VIMY, 1917
CAMBRAI, 1918
Scarpe, 1917, '18
PURSUIT TO MONS
Hill 70
FRANCE AND FLANDERS, 1915-18
Second World War
NORMANDY LANDING
THESCHELDT
BRETTEVILLE-LORGEUILLEUSE
LEOPOLD CANAL
CAEN
Breskens Pocket
THEORNE
The Rhineland
Bourguebus Ridge
Waal Flats
Faubourg de Vaucelles
MOYLANDWOOD
FALAISE
The Rhine
The Laison
EMMERICH-HOCH ELTEN
The Seine, 1944
Deventer
CALAIS, 1944
North-West Europe, 1944-1945
Colonel-in-Chief: Her Royal Highness Princess Anne, The Princess Royal, GCVO

Authorized Marches:
Quick March: Lutzow's Wild Hunt
Double Past: Keel Row
---
Regimental Headquarters
THE ROYAL REGINA RIFLES
THE ARMOURY
1600 ELPHINSTONE STREET
REGINA SASKATCHEWAN S4T 3N1

---
Order of Precedence: 36
---
Go back to the Infantry Regiments page.
Go back to the Army home page.
December 9
1824:
Battle of Ayacucho - Peru defeats Spain
1835:
The Army of the Republic of Texas captures San Antonio
1861:
Joint Committee on the Conduct of the War created by the U.S. Congress
1937:
Second Sino-Japanese War: Battle of Nanjing begins.
1940:
World War II: British Army attacks Italian forces in North Africa.
1941:
China and Provisional Government of the Republic of Korea declares war on Germany, and Italy.
1944:
British Eigth Army suspends offensive in Italy
1945:
American General George S. Patton is injured in an automobile crash in occupied Germany. He dies twelve days later.
1946:
The Trials of War Criminals before the Nuremberg Military Tribunals began with the Doctors' Trial, the trial for war crimes and crimes against humanity began for medical researchers involved in the horrors of Nazi human experimentation.
1961:
Adolf Eichmann found guilty of war crimes in Israel.
1992:
US Marines land in Somalia
» Download the iPhone/iPad Military History app! «