They shall grow not old, as we that are left grow old
506 Guests, 17 Users (2 Hidden)
GAP, bk066, Blackadder1916, Kcomar, FJAG, Old EO Tech, MJP, CBH99, Good2Golf, ballz, AlexanderM, Jed, HelaineBar, PPCLI Guy, AbdullahD
Total Members: 68,520
Total Posts: 1,446,083
Total Topics: 71,696
Total Categories: 13
Total Boards: 124
The Algonquin Regiment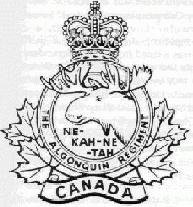 ---
Armorial Description
Within an annulus inscribed THE ALGONQUIN REGIMENT, the head of a bull moose, facing dexter; below the head of a bull moose, the motto NE-KAH-NE-TAH; supporting the annulus, on either side, two maple leaves; below the annulus, a scroll inscribed CANADA the whole surmounted by the Crown.
---
Official Abbreviation: ALQ R

Motto: Ne-Kah-Ne-Tah (We lead, others follow)
---
Battle Honours (28)
First World War
YPRES, 1915,'17
HINDENBURG LINE
FESTUBERT, 1915
Epehy
Arras, 1917
ST. UENTIN CANAL
Hill 70
BEAUREVOIR
SOMME, 1918
CAMBRAI, 1918
ST. QUENTIN
FRANCE AND FLANDERS, 1915, 1917-18
BAPAUME, 1918
Second World War
Falaise
THE LOWER MAAS
FALAISE ROAD
THE RHINELAND
The Laison
THE HOCHWALD
Chambois
VEEN
THE SEINE, 1944
KUSTEN CANAL
MOERKERKE
BAD ZWISCHENAHN
THE SHCELDT
North-West Europe, 1944-1945
Breskens Pocket
---
Order of Precedence: 32
---
Go back to the Infantry Regiments page.
Go back to the Army home page.
August 22
1485:
The Battle of Bosworth Field decisively ends the War of the Roses.
1642:
Charles I calls the English Parliament traitors. Beginning of the English Civil War.
1775:
King George III declares the American colonies to be in open rebellion.
1798:
French troops land in Ireland to aid the Irish Rebellion.
1864:
Twelve nations sign the First Geneva Convention. The International Red Cross is formed.
1875:
The Treaty of St. Petersburg between Japan and Russia is ratified. Japan ceded Sakhalin to Russia in exchange for the Kuril Islands.
1910:
Japan annexes Korea.
1914:
In Belgium, British and German troops meet in battle for the first time in World War I.
1916:
Lloyd-George announces 35 Zeppelins destroyed by the Allies
1941:
German troops reach Leningrad, leading to the siege of Leningrad.
1942:
Brazil declares war on the Axis powers (Germany, Italy and Japan)
» Download the iPhone/iPad Military History app! «