Infantry
From Army.ca Wiki
The Infantry is one of the
combat arms
of the Canadian Forces. The Royal Canadian Infantry Corps is an administrative entity which oversees the needs of all component regiments.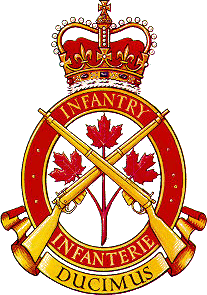 General
The role of Canadian infantry units has been unchanged for hundreds of years, despite technological and organizational changes: to close with and destroy the enemy as footsoldiers.
Role of the Infantry
To close with and destroy the enemy.
Well armed individuals with fighting spirit and dogged determination constitute the backbone of the infantry battalion. All the rest - vehicles, stores and equipment - merely exist to assist the infantry soldier to carry out the mission. It is by determination and the skilful use of weapons and ground that the battalion succeeds in battle
Tasks of the Infantry
To destroy the enemy in close combat
To defend a position by the holding of ground
To fight as covering force troops
To act as all or part of a reserve to counter-attack or block
To participate in airmobile, airborne and amphibioius operations
To establish surveillance and conduct patrols
To conduct security tasks, including rear area security; and
To exploit the effects of NBC weapons
Motto of the Infantry
DUCIMUS (We Lead)
The "Pillars" of the Infantry
Speed, violence and aggression.
Regiments
Regiments are listed in Order of Precedence.
Regular Force
Reserve Force
Historical Progression
Many Infanty Regiments have come and gone since Confederation. Canada did not have designated infantry regiments until May 1900, when all existing Militia battalions were redesignated. In 1920, a massive reorganization of Canada's land forces saw all infantry regiments redesignated and the archaic system of numbering the regiments was abandoned. Many reorganizations were also made, reflecting the need to perpetuate the histories, traditions and battle honours won by the Canadian Expeditionary Force in the First World War.
A second set of sweeping reorganizations occurred in 1936 as the Canadian military modernized; again, many older designations were lost and many small regiments were amalgamated (combined) into larger regiments.
During the Second World War, many former infantry regiments converted to armour, and some regiments changed roles in the post-war period also, as the process of evolution continued through the Cold War and Canada's defence needs changed.
By the 1970s, the designations and roles of Canadian infantry regiments stabilized, and other than minor changes in designation, only two major changes have occurred since 1968.
Although traditionally called Infantrymen or Infantrywoman, Infanteer has gained in popular usage. This term specifies any soldier employed in any infantry role.
Equipment of the Infantry