Intelligence Branch
Jump to navigation
Jump to search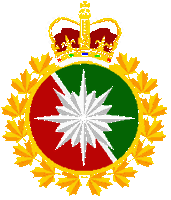 General
Role
The role of intelligence is to provide advice to the commander to enable him/her to make appropriate decisions.
Branch Motto
E Tenebris Lux (From Darkness, Light)
Branch March Past
Eine Kleine Nacht Musik (Mozart)
Branch History
1885 - The Royal Corps of Guides is formed to perform light cavalry and scouting duties during the Northwest Rebellion. The guides are represented by the scarlet in the current branch badge.
WWI - The Canadian Intelligence Corps (C Int C) is formed. The corps is represented by the green in the current branch badge.
1968 - Unification of the forces results in the demise of the C Int C, and the remnants are lumped in with the security branch. This period in branch history is represented by the thin white line in the current branch badge.
29 October 1982 - The intelligence branch stands up in its current form.
Regular Force
Intelligence is a purple trade, meaning members may serve in all 3 elements, regardless of their "home" element.
Qualification Requirements
From DND recruiting website:
INT OPs must be able to maintain and operate Command, Control, Communications, Computers and Intelligence (C4I) Systems. They must have a superior ability to collect, evaluate, analyse and integrate information and intelligence. They must be inquisitive, accurate, possess a superior memory for detail and be objective when processing intelligence. INT OPs must be able to work with a minimum of supervision, always exercising sound judgement, initiative and resourcefulness. They must possess superior oral and written communication skills.
INT OPs must have fundamental knowledge of military intelligence, gained through formal courses and professional development.
Entry Plans: The Intelligence Operator occupation is usually available through Occupation Transfer. Preferred candidates should have at least a high school diploma or equivalent. Knowledge of other languages, multi-cultural experience and operational experience are considered an asset.
Other applicants to be considered are:
Civilian personnel who have formerly served in the CF
Component Transfer applicants who are re-enrolling or transferring from the Reserve
Candidates must meet the CF medical standards and successfully complete a selection process. During the selection phase applicants must demonstrate excellent written and oral communication skills. The minimum security clearance required for the Basic Qualification Level Intelligence Course (QL5A) is level 2, but INT OPs must qualify for level 3, Special Access clearance.
Reserve Force
Reserve Force units seek occupational transfers, but some units may also hire Int Ops and Intelligence Officers "off the street", depending on current requirements, staffing levels, and individual qualities potential recruits present.
Units
6 Int Coy (HQ in Edmonton, with detachments in Vancouver and Winnipeg)
2 Int Coy (Toronto)
2 Int Pl (Ottawa)
4 Int Coy (Montreal)
3 Int Coy (Halifax)
External Links