Career Progression - Reserve NCM
From Army.ca Wiki
Career Progression - Non Commissioned Members
Two commonly asked questions by both prospective recruits, and serving soldiers alike, are
How do I get promoted?
How do I qualify for a raise in pay?
Pay
Bear in mind that raises in pay are based on two things - current qualification, as represented by the soldier's rank, and the number of years of service. Each rank has up to five pay incentive categories, meaning that a newly promoted Corporal will make less money than a Corporal with three years of experience. Each progression in rank increases the basic pay level as well.
The pay levels of the junior ranks are as follows, effective 1 April 2005. Note that new recruits start at Pay Incentive 1. In the Reserves, you are not paid an hourly wage; you receive either a half day's pay (typically for a morning, afternoon, or evening session of training) or a full day's pay.
Full Day Pay Rates
Rank
Basic Daily Pay
Pay Incentive 1
(1 year's service)
Pay Incentive 2
(2 years service)
Pay Incentive 3
(3 years service)
Pay Incentive 4
(4+ years service)
Private
none
77.90
88.30
99.38
none
Corporal
113.70
115.38
117.04
118.68
120.24
Master Corporal
118.46
120.10
121.68
123.38
125.06
Promotions
The system by which soldiers in the Canadian Army are promoted has changed many times, and as of 2004, has changed once again. Career development is now divided into Development Periods. The basic outline for Non Commissioned Members is sketched out below. The purpose of military training, aside from the benefits to the individual, is to transform a Canadian citizen into a military professional, or as the Army philosophy would say, to "impart and integrate knowledge and skills unique to the leadership and management of armed forces in war and peace."
Development Period 1
During Development Period 1, the newly recruited soldier is trained up to the point where they have qualified in their trade.
This is basic military training, and is the first course the new recruit will be required to complete. Very basic knowledge is presented here; basic military drill and courtesy, military law, physical training (PT), weapons handling with the C7A1 Service Rifle, navigation, first aid, basic fieldcraft, and the essentials of living as a soldier in garrison and in the field.
Once BMQ is complete, the soldier will then be required to take:
This course completes the basic military training, including basic familiarity with the other weapons in an infantry platoon such as the C6 and C9 machineguns, the M72 rocket launcher, and the fragmentation hand grenade, as well as advanced field training, military law and general military knowledge.
After SQ is complete, the soldier then is required to qualify in their chosen trade. We will use Infantry in the following examples.
BIQ (Basic Infantry Qualification)
This is training unique to the soldier's MOSID. Here the soldier will learn to operate as a full member of the eight-man infantry section and will qualify in a variety of weapons as well as learning much about small unit tactics and procedures.
Once a soldier has qualified BIQ (ie completed the course), they will be promoted to Private (Trained) and be entitled to wear one rank chevron on the uniform.
Development Period 2
At this stage, the soldier will no longer be part of a training unit and will be assigned permanently as a rifleman in one of the rifle platoons of the Regiment. From this point on, they will train with their new platoon, and for career development courses will be taken away from the unit temporarily to attend these courses. Courses will form only one component of a soldier's career; their training and experience with the Regiment will be essential in their development as a soldier and leader.
The goals and missions of the Regiment will also define how the individual soldier is employed. The Regiment is judged annually on how well it performs its tasks of training both individuals and units. On an individual basis, such things as regular range qualification with the service rifle and "Warrior" training (demonstrating basic working knowledge of all weapons in a platoon, navigation, first aid, mine awareness, NBC defence, and physical fitness standards) will be assessed. The Regiment is also assessed on unit exercises and the individual, as part of the team, will help decide whether the Regiment meets or fails the goals set out for it at the start of the training year.
DP2A (Platoon Support Weapons)
This course is required for promotion to Corporal in the Infantry, and instructs the candidate in the various weapons used at the platoon level. In BIQ the soldier learned how to operate as part of the 8-man infantry section. A platoon is a grouping of three such sections, with a Weapons Detachment consisting of 60mm Mortar, C6 General Purpose Machine Gun, and 84mm Carl Gustav anti-armour weapon.
Once a soldier has qualified DP2A, they are eligible to be promoted to Corporal, given sufficient Time in Rank, meaning they have served as a Private for at least one year, as well as having the recommendation of their superiors.
A Corporal in the Canadian Forces is considered a Non-Commissioned Officer, meaning they may be given minor leadership taskings. But the Corporal is not yet considered a leader and must undergo specific training to develop their leadership skills.
The qualified Corporal may also now find themself with duties outside that of rifleman in an infantry section, especially if other courses are taken while awaiting their leadership training. These courses take place outside the Development Period cycle, for example, the driver's course, Basic Communicators course, reconnaissance patrolman course, etc. Soldiers qualifying in these courses may find themselves employed in a company Reconnaissance Detachment (Recce Det), as a signaller (radioman), driver, heavy weapons gunner in the platoon Weapons Detachment, as well as other opportunities such as Combat Storesman working for the Company Quartermaster Sergeant.
With regards to Career Progression, the soldier now has a choice of two courses, both of which may be completed, but either one may be completed first.
DP2B (Section 2 i/c)
This course will qualify the soldier to be Second in Command (2 i/c) of an eight-man infantry section, and is specific to the Infantry trade.
PLQ (Primary Leadership Qualification)
This course teaches basic essentials of leadership, both in the classroom and in the field and is common to all trades. The candidate will learn how to give basic drill, oversee small leadership taskings, and prepare and give lectures.
Once a soldier has DP2B and PLQ, they are eligible to be appointed Master Corporal, given sufficient Time in Rank, as well as having the recommendation of their superiors. The trained Master Corporal is now prepared to be employed as the second in command of an infantry section, gaining experience with the unit in garrison and the field as he prepares for the next phase of his career development. As a Master Corporal, the soldier will find themself faced with leadership taskings and will be responsible no longer for just their own actions, but those of their subordinates as well.
Development Period 3
DP3A (Infantry Section Commander Qualfication (ISCQ))
This course is required for promotion to Sergeant in the Infantry, the prescribed rank for a section commander. A Sergeant is considered a Senior Non-Commissioned Officer. Up until this point, the soldier has belonged to the Junior Ranks Club - the social institution at the Armoury defined by the soldier's status as a private or junior NCO. Upon promotion to Sergeant, the Senior NCO then becomes a member of the Sergeants' and Warrant Officers' Mess, where there will be higher expectations placed on them with regards to social commitments within the Regiment. In their role as a Sergeant, the NCO will be burdened with great responsibility as well as administrative demands. The Sergeant may find themself tasked outside the rifle platoon, such as with the Regimental Clothing Stores, Transport Section, etc.
Once a soldier has qualified DP3A, they are eligible to be promoted to Sergeant, given sufficient Time in Rank and the recommendation of their superiors.
After qualifying DP3A, the NCO once again has a choice of two courses, both of which may be completed, but either one may be completed first.
DP3B (Infantry Platoon 2 i/c Qualification (IP2ICQ))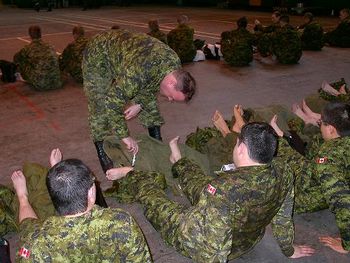 This course will qualify the soldier to be Second in Command (2 i/c) of a 30+ man infantry platoon, and is specific to the Infantry trade. The Platoon 2 i/c not only must be able to lead a section and platoon in battle, but be able to administer the platoon as well. This course teaches advanced techniques for leadership and instruction.
ILQ (Intermediate Leadership Qualification)
Once a soldier has qualfied IP2ICQ and ILQ, they are eligible to be promoted to Warrant Officer, given sufficient Time in Rank, as well as having the recommendation of their superiors.
Warrant Officer is the rank at which the NCO is expected to be able to oversee those not only in their own trade, but soldiers of all trades within the regiment. The warrant officer will likely find themself moving between roles within the unit, filling such appointments as Transport NCO, Company Quartermaster Sergeant, and Platoon Second-in-Command, as he or she is groomed for higher rank and appointments, including appointment as Company Sergeant Major (for which the rank of Master Warrant Officer is held), the appointment of Quarter Master Senior Instructor, and finally, appointment as Regimental Sergeant Major and promotion to Chief Warrant Officer.
Once an NCO has served as RSM of the Regiment, they have several options; some have opted to commission directly into the officer ranks (usually in the rank of Captain, recognizing the long service and experience of the former RSM), others have gone on to higher appointments as Chief Warrant Officers, such as Brigade RSM.