Army.ca Relic
Subscriber
Donor
Reaction score

7,635
Points

1,160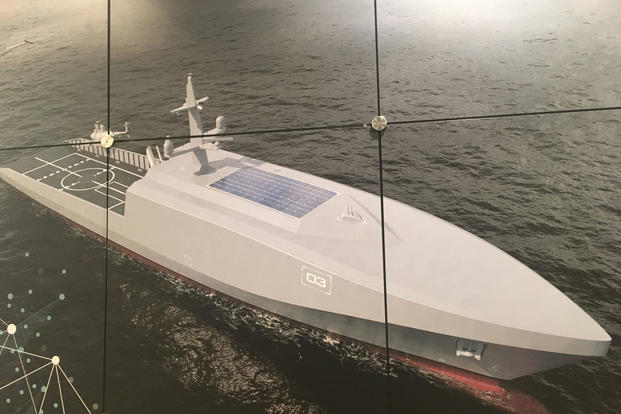 This Unmanned Rolls Royce Ship Concept Could Launch Drone Choppers
Military.com 12 Jan 2018 By Hope Hodge Seck
As the Navy strives toward its goal of a 355-ship fleet, Chief of Naval Operations Adm. John Richardson has said unmanned systems may be a key to that growth.

For the service's consideration: a fully unmanned ship concept by Rolls-Royce that can spend 100 days at sea without a port visit, and launch and recover unmanned helicopters from a small rear deck.

Last September, Rolls-Royce rolled out the plan for a 60-meter unmanned naval vessel, shown in concept art sporting a sleek stripe and surrounded by quadcopters.

At the Surface Navy Association's annual symposium near Washington, D.C., this week, the company displayed concept art for a variant designed like a Navy ship, with Northrop Grumman MQ-8 Fire Scout unmanned helicopters on its helo deck.

While the Navy is pursuing unmanned surface vessels, such as Textron's Common Unmanned Surface Vehicle, for missions including harbor security and minesweeping, the size of the Rolls-Royce unmanned concept puts it in a separate category.

"I think when you're getting that big, it's a ship," said Davis Sanford, naval campaigns lead for Rolls-Royce.

In addition to providing a launching platform for the Fire Scout, the as-yet unnamed unmanned ship could be used for asymmetric warfare, mine countermeasures, or gear transport, Sanford told Military.com.
https://www.military.com/defensetech/2018/01/12/unmanned-rolls-royce-ship-concept-could-launch-drone-choppers.html
And I keep hearing discussions about the need for large crews to manage damage control at the same time as I hear people lamenting that the navy can't find bodies to fill existing billets.