Moderator
Staff member
Directing Staff
Subscriber
Mentor
Reaction score

1,197
Points

1,260
Saw this in another thread.
As an outsider, but coming from a police service, interesting development. My reaction would be similar to my reactions when police services started allowing beards, earrings, tattoos and the like, and reflected my generation - I didn't like it. I have this notion that professions should look, well, . . . professional, that cops shouldn't look like bikers, but fully realizing that my preferred image is pretty much undefinable. However, I recognize that, at the time,

concerns that our constituency - rural and small town residents who actually pay the bills

- would not accept the changes, did not happen in any significant way.

I suppose my bottom line is that the image being projected shouldn't be the individual's, it should be the organization that they are very visibly representing, and if the organization is okay with it, then fine. I have my doubts that it will increase recruiting, but I guess that remains to be seen.
Same constituents we relied on to encourage their councillors to support our pay and benefit packages.
Performance - and "first impression" - both counted.
This study of "
Public Perceptions of Police Grooming Standards
" was done in British Columbia.
PDF | Tinsley, P.N., D.B. Plecas and G.S. Anderson. Studying public perceptions of police officer grooming standards. The Police Chief. 70(11): 42-45, 2003. | Find, read and cite all the research you need on ResearchGate
www.researchgate.net
Many law enforcement agencies have long had policies or regulations regarding grooming standards for police officers. These agencies have argued that strict grooming standards are necessary to ensure safety, discipline, and uniformity; to promote an esprit de corps; and to foster public respect for police. Courts have widely accepted these reasons as legitimate and rational.
Some might say taxpayers should be satisfied enough that you show up.
But, it was more than that. Especially when serving your community inside their homes. In my experience, they liked the "clean-cut" look. Smile and a shoe shine.
I recall a time when our members with below the elbow tattoos had to wear long-sleeve shirts when outside the station. Year round.
The OPP has (or at least had) rules that beards must closely shaven and hair must be a natural colour. Members looking like ZZ Top and purple hair on a senior commander pretty much negated the effectiveness of every policy point.
See also,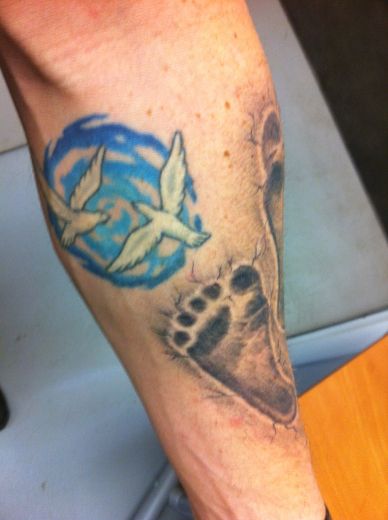 Provincial police still don't have an official tattoo policy, two years after Commissioner Chris Lewis imposed a ban on ink when a senior member mistook a…

ottawasun.com
The whole idea of 'appropriate' visible tattoos strikes me as problematic.
Recruiters have time to study ink, ask what it means, take photos if in doubt, and forward them to the decsion makers.
The public doesn't have time for that. Some may just see a lot of ink, and come to their own conclusion.
Like the old "ink-blot" ( Rorschach ) test.
Best advice on tattoos, for those that want them, I heard is wait until you pass the Interview - they are going to want to see any skin not covered by a T-shirt - and finish your probation.
The answer on hiring is simple and straightforward – an employer can legally choose not to hire based on any (visible) tattoos or piercings. There would be no violation of the Human Rights Act and the Charter of Rights and Freedoms is not relevant. This simple statement applies whether it is a unionized workplace or a union free workplace.
As far as daily shaving goes,
Specifications for the N95 mask require that users be clean-shaven where the mask contacts the skin, both during fit testing and during use in the operational field.
Besides, if you get

a tattoo that is later ruled as inappropriate

, isn't it a little late?
I remember a couple of scenes in "Sons of Anarchy" how they handled that.