Reaction score

12,625
Points

1,160
The end of the day, there needs to be a GLOBAL culture shift to do anything meaningful - a carbon tax in Canada isn't going to do diddly in the grand scheme - and while it can be great to be a roll model - there needs to be pressure on the worst offenders (again see China) before anything that actually means more than a hill of beans.
Chinese coal consumption and US Steel production - quite the contribution. Regardless, although the COVID crisis is responsible for huge drops in industrial activity and CO2 emissions it's only likely to be temporary.
At this rate the 'climate pearl clutchers' are going to need a few new strings.
Temporary reduction in daily global CO2 emissions during the COVID-19 forced confinement​
The estimated decrease in daily fossil CO2 emissions from the severe and forced confinement of world populations of –17% (–11 to –25%) at its peak are extreme and probably unseen before. Still, these only correspond to the level of emissions in 2006. The associated annual decrease will be much lower (–4.2 to –7.5% according to our sensitivity tests), which is comparable to the rates of decrease needed year-on-year over the next decades to limit climate change to a 1.5 °C warming
32
,
33
. These numbers put in perspective both the large growth in global emissions observed over the past 14 years and the size of the challenge we have to limit climate change in line with the Paris Climate Agreement.
Furthermore, most changes observed in 2020 are likely to be temporary as they do not reflect structural changes in the economic, transport or energy systems. The social trauma of confinement and associated changes could alter the future trajectory in unpredictable ways
34
, but social responses alone, as shown here, would not drive the deep and sustained reductions needed to reach net-zero emissions. Scenarios of low-energy and/or material demand explored for climate stabilization explicitly aim to match reduced demand with higher well-being
34
,
35
, an objective that is not met by mandatory confinements. Still, opportunities exist to set structural changes in motion by implementing economic stimuli aligned with low carbon pathways.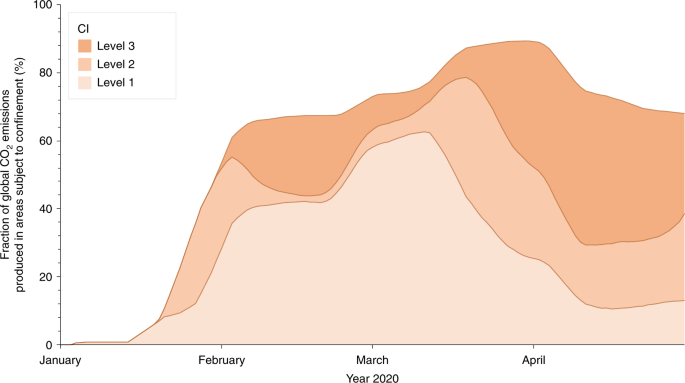 COVID-19 pandemic lockdowns have altered global energy demands. Using government confinement policies and activity data, daily CO2 emissions have decreased by ~17% to early April 2020 against 2019 levels; annual emissions could be down by 7% (4%) if normality returns by year end (mid-June).
www.nature.com