Reaction score

9,522
Points

1,260
Ironically, it looks like a flight attendant uniform with ranks.  Apparently the RAAF and RAN have something like this as well.
'Polys' will soon include a dress option for women after a successful six-month uniform trial, which ended on 31 July.

Modelled on RAAF VIP aircrew uniforms, cut from a light-stretch fabric in garrison brown and produced by Farage, the dress is short-sleeved, scoop-necked and knee-length, styled with a black belt and court shoes.

"Feedback has been overwhelmingly positive," trial participant Major General Kathryn Toohey said.

"The dress is a contemporary style and fit, providing Army women a choice for their dress of the day."The uniform aligns with options recently introduced in the other services – Navy's in black and RAAF's in navy.

Colours considered for Army included forest green, similar to previous Army dresses, and Army's corporate colour – red.

The trial was carried out with 17 Canberra-based participants and another in Sydney, ranging from corporal to major general across full-time and Reserve service.

"It's a good step forward for Army, giving women the option of a dress," participant Colonel Melanie Cochbain said.

"It's a professional-looking uniform that allows women to be feminine while maintaining their corporate identity as soldiers or officers."

Ranks on the garment are worn on epaulettes for officers and other ranks.

No breast pockets mean there are no lanyards and, during the trial, members had the option of wearing their ribbon bars to confirm what accoutrements are finally worn with the dress.

"I enjoy being the master of my own destiny when it comes to the embellishments I wear," Colonel Cochbain said.

"Usually I just have my nametag and rank for day-to-day use, but if I have a meeting with someone external to the organisation, I will wear my other embellishments."

The Army general-duty dress will be available for issue from January 2021.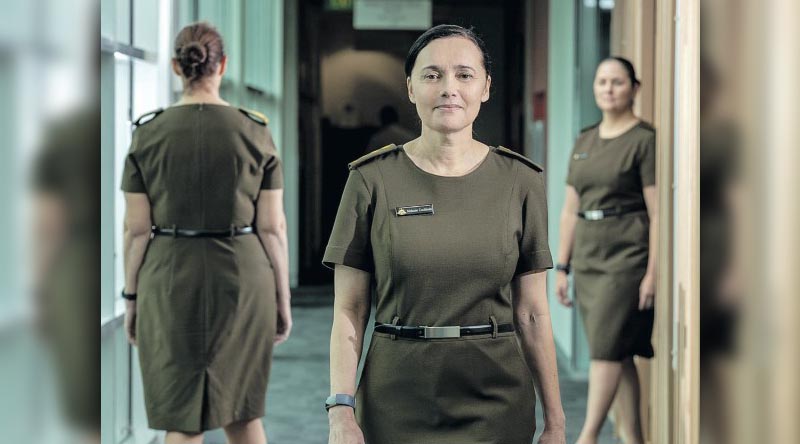 https://www.contactairlandandsea.com/2020/08/18/new-poly-uniform-dress-for-army-females/