Army.ca Relic
Subscriber
Donor
Reaction score

7,598
Points

1,160
More on the Stand Up.
The 11th Airborne Division, the

Army

's newest major unit, will be formed June 6 out of an assortment of soldiers in Alaska.

"It's long overdue; this is a compilation of years of effort to get us to a functional organization," Maj. Gen. Brian Eifler, commander of U.S. Army Alaska, told Military.com.

But that new designation will not add any additional airborne capabilities to

the Arctic region, which U.S. adversaries are already trying to lay claim to

.
Are they Canada's adversaries as well? Are US adversaries seen in the same light in Ottawa? Those are questions that have seldom arisen since 1940.
Currently, there are two major Army formations in Alaska: the 1st Stryker Brigade Combat Team, 25th Infantry Division, and the 4th Infantry Brigade Combat Team (Airborne), 25th Infantry Division. Those will be redesignated the 1-11 Airborne and 2-11 Airborne, respectively. U.S. Army Alaska will also be absorbed into the new division.

Army officials are in the middle of finalizing a plan to get rid of its roughly 320 Strykers in Alaska,

possibly using them for spare parts for other units

. In the meantime, the Stryker brigade in Alaska will convert to a regular light infantry force, but could be converted into an air assault element down the road.
If Canada wanted extra LAVs, perhaps for the Militia, it seems the US is creating surplus.
"This isn't going to be like any other division. Here, we are having an airborne brigade, and there will probably be an air assault brigade," said Eifler, who will command the 11th Airborne Division. "It'll be different."

Eifler noted that plans for how the division will be organized aren't ironed out yet. Getting half of the division's soldiers air assault-qualified and setting up logistics for the training those soldiers could take years.

The new division will also see the creation of a sustainment headquarters and an aviation task force headquarters. But the overall current size of the Army's presence in Alaska is expected to remain roughly the same, at around 12,000 soldiers, because a light infantry brigade is smaller than a Stryker brigade.
A US Division of 12,000 all ranks and all branches yields 2 Brigades with 5 Light Infantry Battalions. 2 of the Battalions are Jumpers.
The 5 Battalions command 15 Rifle Companies and 5 Weapons Companies.
In addition there are 2 Cavalry/ISR Squadrons (Cdn Rgts) with a total of 4 "mounted' Troops (Cdn Sqns) and 2 "dismounted" Troops. The mounted Troops are looking for a new mount more in keeping with the needs of the Arctic than the Strykers. The Strykers are not deemed suitable for the Arctic.
There are also 2 Artillery Battalions with a total of 4 105mm Lt Gun M119 Batteries and 2 155mm M777 Batteries.
On the aviation front there is one attack reconnaissance squadron (ARS) ( with 30 OH-58??) and one general support aviation battalion (GSAB) (8 UH-60 Command Aviation, 12 CH-47 Chinook and 15 HH-60M) as well as one UAV company with Gray Eagles.
It doesn't seem a thousand miles away from Canadian capabilities.
The plan for forming Alaska's two major brigades under a new patch is largely about giving U.S. Army Alaska

a clear identity

, Eifler said. Currently, the two brigades wear the 25th Infantry Divison's patch, which is associated with that division's focus on jungle warfare, the opposite of Alaska's Arctic mission.

"Soldiers in Alaska haven't had an identity. It has been a bunch of units with different patches," Eifler said. "Now, we'll have a unified legacy we can continue on."

Being a division, EIfler hopes, will open up easier access to resources from the Pentagon, with the soldiers getting more attention from planners. The Army's so-called Arctic strategy put those units in the spotlight, with the force's refocus on conventional warfare and the need for a unit dedicated to fighting in the frigid environments where Russia and China are trying to claim dominance.
A common identity for the Division. Interesting concept. Very un-Canadian.
Alaskan troops will have some of the busiest schedules in the Army over the next year, working with allied nations who are developing their own Arctic doctrines.

In March, Alaska troops, as well as U.S.

special operations

and some foreign units, conducted a first-of-its-kind, large-scale training event putting its troops and gear to the test. Right now, many of Alaska's soldiers are training in Norway. There is also a planned exercise in Japan known as North Wind later this year. And, in early 2023, soldiers will repeat the major training exercise in Alaska.

"We have Nepal, Mongolia, India, northern Japan, [South] Korea -- we have these countries that have mountainous and extreme cold weather terrain and we're going to start working with them more,'' Eifler said.
What on earth would Canadians do in the Arctic?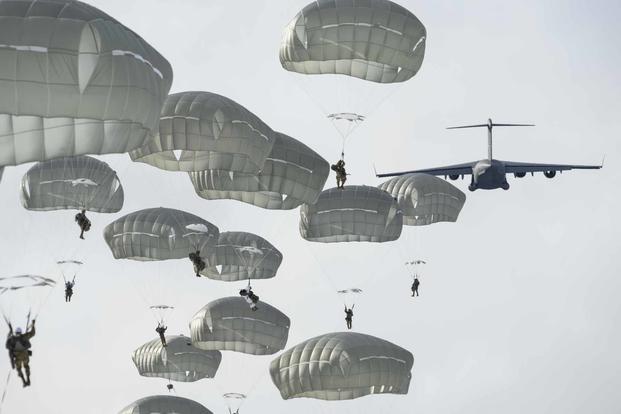 The plan for forming Alaska's two major brigades under a new patch is largely about giving U.S. Army Alaska a clear identity.
www.military.com
Final observation:
Getting half of the division's soldiers air assault-qualified and setting up logistics for the training those soldiers

could take years.
Perhaps the Americans, and us, should hire more Ukrainians. They seem to be able to launch brigades in weeks (a couple of months)